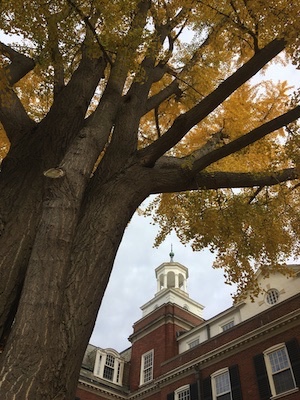 Dear Red Lions,
Believe it or not, it's our last week in residence on campus!  Our community has done an amazing job staying healthy and well and I cannot be more proud and relieved that we have made it to this point.  Great job, Red Lions, and let's finish out this week strong!
You should have picked up your packing boxes for either travel home or storage at Yale.  If not, please contact deanna.caplan@yale.edu during business hours (9-4pm) for assistance.
We had an incredible 2-hour long virtual tea with Avatar co-creator, Bryan Konietzko, last Wednesday where he answered many of your questions about the show's creative process and possible future.  Not only did we get fun homemade snacks representing the four nations but we had over 125 people turn out for the tea!  He promises to come back for an in-person talk and dinner once we are allowed to do such events.
 
Our "photo of the week" is from Dr. B and features our beloved gingko tree.  It is a beautiful sunny fall day and our gingko is showing of its full golden splendor – just in time to say farewell. 
Please don't forget that Tuesday 11/17 from 5:30-8pm will be our TD first-year celebration featuring La Chalupa for our wonderful TD class of 2024.
  Service will be staggered and by Froco group.  The Dining Hall will be featuring a special "chocolate fondue kit" for the occasion so please swipe in for your kit – and 2nd

 

dinner if you like – while you're waiting for your turn to go to the food truck.  Because the campus is on "orange" we will have to make this a "grab and go" event so we won't be able to gather in the courtyard as a class. 

 

TD upper-years should plan to eat at the DH (wasabi flank steak and peanutty tofu on the menu) and also enjoy the chocolate fondue kits. 

 

Everyone is welcome to the Taco Truck once all first-years are served and if there is food left over.
Pick up your DIY Mott Tailgate kits in the Packages Storeroom starting this Thursday 11/19.  This weekend would normally be the Harvard-Yale game and our Mott Woolley council would have hosted yet another one of their famous TD tailgates.  But rather than throwing in the towel, they have assembled "DIY Mott Tailgate kits" so come on by the TD package room to pick one up while they last. 

 
Without further ado, here is a word from Dean Mahurin…
Àshe,
HL
***
"In order to be great, you just have to care." (Katori Hall)
PERTINENT DATES AND DEADLINES
Nov. 20


 

F


 

November recess begins after classes end.


 

Nov. 30


 

M


 

Classes resume online.


 

Dec. 4


 

F


 

Fall-term online classes end; online reading period begins.


 
 
LIBRARY WORKSHOPS
Connect, Color, and De-stress with the Arts Library!
Tuesday, November 17 | 3:00pm - 4:00pm EST | Register: schedule.yale.edu/event/7268769
Join the Arts Library for a virtual coloring event, where we can connect, color and de-stress together.
 
30 Minutes to a Better Bibliography
Wednesday, November 18 | 4:00pm - 4:30pm EST | Register: schedule.yale.edu/event/7044972
Learn how to cite resources in your research papers more accurately and efficiently.
 
Online Dance Fitness
Friday, November 20 | Noon – 1:00pm EST | Register: schedule.yale.edu/event/7263913
Take a break with a 45-minute Dance Fitness class streamed from Sterling Memorial Library!
REPRESENT YALE/TD ON JEOPARDY!
My name is Sayat Ozcan and I'm a casting producer in Los Angeles for the Jeopardy! National College Championship. I've worked on numerous shows including Shark Tank and Top Chef. I'm also a proud New Englander (Watertown, MA) :) You can vet me on IG: syozcan.  As you can imagine, it's been a very difficult week for us with the passing of our beloved host. However, we feel he would've wanted us to continue on with his amazing legacy.
 
I'm reaching out because we are currently casting for an all-new competition featuring 15 colleges from across the country and of course I'd love Yale to be one of those schools. The Jeopardy! National College Championship promises to be a competition like you've never seen before. Think NCAA tournament, but Jeopardy!  Below is a link where students can learn more and take the test. They should set aside at least 15 minutes to take it. We'd love for them to do so ideally by Saturday 11/21. Once they've taken it, producers will decide whom they want to move forward and we'll reach out with next steps.
 
TAKE THE TEST HERE!
 
 
ACADEMIC STRATEGIES WORKSHOPS
Time Management
Monday, Nov. 16 @ 4 pm ET
Time management is key for lowering stress at Yale. Set priorities and develop a weekly schedule that can lead to an active and balanced academic life.               
 
Exam Study Strategies
Monday, Nov. 16 @ 7 pm ET
Reduce exam stress by learning new strategies for preparing and studying for midterms and finals. This workshop offers suggestions for preparing for and taking problem-based, short answer, and essay exams.
 
Public Speaking for Undergraduates
Tuesday, November 17 @ 7 pm ET
Professors are increasingly asking students to engage in public speaking, from leading class discussion to more formal presentations. This workshop suggests preparation and performance strategies to help you do your best.
 
Creating a Timeline for Your Senior Project (for Spring 2021 thesis writers)
Tuesday, November 17 @ 9 pm ET
Learn how to plan your writing and research, and how to access support resources for your senior thesis. 
 
Procrastination: How to Work Through It
Wednesday, November 18 @ 4 pm ET
This workshop offers strategies for identifying the sources of procrastination and pursuing productive habits that can get you back on track.
 
**NEW Workshop** Approaches to Your Leave of Absence
Wednesday, November 18 @ 7 pm ET
Planning to take a leave of absence this spring? Join our discussion about how to transition in and out of your leave and practices that can help you make your leave meaningful and productive for you.
 
Cultivating Faculty Mentors/Recommendations
Wednesday, November 18 @ 9 pm ET
Initiate conversations, ask for assistance, request recommendations, and build mentoring relationships with Yale faculty, teaching fellows and staff.
 
**NEW Workshop** Ease Into Spring 2021 Bluebooking with Academic Strategies Mentors
Sunday, November 29 @ 2:00 pm ET
Meet individually with ASP Mentors in STEM, Social Science, or Arts & Humanities. Develop a plan for approaching course selection with our Academic Strategies mentors. Preview your pre-registration options, make plans to meet with college and departmental advisors, and balance your course selection with your other academic work.