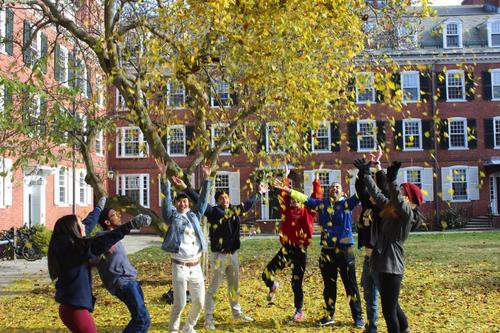 Winter is coming!  But before it fully arrives, here is our "photo of the week" from Sophia Hall '22 that celebrates our beautiful TD gingko tree and its once a year event of changing into its fall colors!
Many thanks to the Yale Peabody Museum for hosting this year's "Dino Snore" for the TD class of 2023!  We especially want to thank David Heiser, Director of Student Programs, for organizing and hosting us.  Here's a great photo of our first-years getting a behind-the-scenes look at the invertebrate zoology collection with Eric Lazo-Wasem, Senior Collections Manager, showing off a giant squid tentacle!  
Here are our events for this coming week:
Tuesday 11/12 4-5:15pm Tea with Abdul-Razak Zachiariah TD '17 (TD House)
Tuesday 11/12 6pm TD Senior Mellon Forum (TD House)
Very excited to launch our first Mellon Forum presentations for the Class of 2020!  We kick off the year with three great presentations and a catered dinner featuring a local New Haven restaurant!
Thursday 11/14 Guacamole Cart Pop Up dinner (TD Dining Hall)
Friday 11/15 6:50am TD Community Service Trip to Sunrise Café (depart from TD Courtyard to 57 Olive Street)
Ashwin
Friday 11/15 to Wednesday 11/20 TD Clothing Swap (Outside of Multipurpose Room)
Here are our great events next week:
Sunday 11/17 10pm TD Dumpling Night (TD Buttery)
Tuesday 11/19 5:30pm TD Senior Mellon Forum (TD House)
Our second and last Senior Mellon Forum of the 2019 year!  Please note we go back to a 5:30pm start time for dinner with presentations starting at 5:45pm.  We will resume with our presentations schedule in the spring 2020 semester!
Wednesday 11/20 7:30pm Open Evening Rehearsal with Yale Philharmonia (Woolsey Hall)
Without further ado, here is a word from Dean Mahurin…
Áshe,
HL
***
"None of us want to be in calm waters all our lives." (Jane Austen, Persuasion)
UPCOMING DATES AND DEADLINES
| | | |
| --- | --- | --- |
| November 23, Sunday |   | November recess begins, 9 p.m. |
| November 30, Sunday |   | Last day to relinquish on-campus housing for the spring term without charge. See Undergraduate Regulations. |
MELLON-MAYS AND BOUCHET FELLOWSHIPS INFO SESSION
Wednesday, Nov. 13, 5-6 pm
Lyceum Room, Saybrook College
Attention sophomores! Come learn about the Mellon Mays Undergraduate Research Program and the Edward A. Bouchet Undergraduate Research Program and its application process. These programs support minority students and others committed to addressing racial disparities in the pursuit of PhDs and subsequent careers in academia. They offer mentorship, funds for research, and other supports for students potentially interested in academic careers.
DOMESTIC SUMMER AWARD: APPLICATIONS OPEN
Eligible students include Yale College first-years, sophomores, and juniors on Yale financial aid seeking an unpaid or underfunded ($1,500 or less) U.S. summer opportunity with one of the following: a 501(c)(3) nonprofit including non-profit Universities; a government entity including public Universities; a non-governmental organization (NGO); an Arts Apprenticeship; or a Science, Laboratory, or Other Research Opportunity. Learn more about eligibility and how to apply here.
ACADEMIC STRATEGIES WORKSHOPS
 
Public Speaking for Undergraduates        
Tuesday, November 12, 6:00 PM, CTL M104A      
Professors are increasingly asking students to engage in public speaking, from leading class discussion to more formal presentations. This workshop suggests preparation and performance strategies to help you do your best.               
Fresh Start: Midterm Edition       
Tuesday, November 12, 7:30 PM, CTL M104A      
Want to refresh your approaches to your academic work? Our mentors will lead you through a series of activities to help you identify your current strengths and develop new strategies for meeting the new challenges presented by your current semester's courses.             
Summer Funding and Fellowships             
Wednesday, November 13, 11:45 AM, CTL 120A 
Have some ideas about what you want to do this summer? Now figure out how to pay for it. Attend this introductory workshop on pursuing funding for your summer experiences.
Procrastination: How to Work Through it               
Wednesday, November 13, 4:00 PM, CTL M104A               
We all procrastinate. When your procrastination habits get in the way of your goals, however, it's time for a change. This workshop offers strategies for identifying the sources of procrastination and pursuing productive habits that can get you back on track.    
Cultivating Faculty Mentors         
Thursday, November 14, 6:00 PM, CTL M104A     
Reduce exam stress by learning new strategies for preparing and studying for midterms and finals. This workshop offers suggestions for preparing for and taking problem-based, short answer, and essay exams  
FELLOWSHIP EVENTS
Summer Fellowships and Funding Information Session
Wednesday, November 13, 11:45am – 12:45pm
Yale Poorvu Center for Teaching and Learning, 301 York St, Rm 120A
Summer STEM Fellowship OpportunitiesDr. Alexia Belperron will discuss, How to Find a Lab.
Wednesday, November 13, 5:00pm – 6:30pm
Stiles Dining Hall
Summer STEM Fellowships – How to Write a Research Proposal Dr. Alexia Belperron will discuss, How to Find a Lab.
Friday, November 15, 3:00pm – 4:00pm
LC104
Planning Research and Independent Projects
Monday, November 18, 4:00pm-5:00pm
Yale Poorvu Center for Teaching and Learning, 301 York St, Rm 120A
MacMillan Center: Informational Session for Undergraduate, Graduate and Professional Students
Wednesday, November 20, 4:00pm – 5:00pm
Luce Hall Auditorium, Rm 101