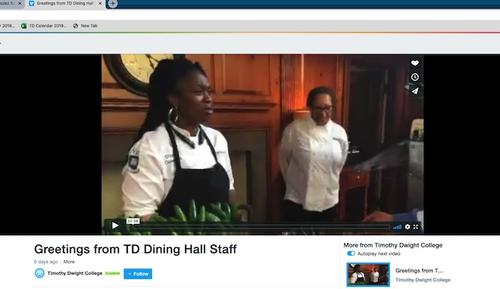 Dear Red Lions,
We have made it to the last week of the 2019-2020 academic year!  
Congratulations to our TD seniors!  We had a wonderful celebration of TD 2020 last Tuesday night on our virtual senior dinner over zoom.  We had seniors tuning in from all over the country including Hawai'i as well as overseas from Taipei and London.  The class put together a hilarious superlatives slideshow and a senior class video to celebrate one another.  We also had some fun surprises including video messages from their Frocos and our wonderful TD Dining Hall staff who were sad to not be able to put on this year's dinner.  To get an idea of how much our community pitched in to celebrate our seniors, this week's "photo of the week" comes from our TD Dining Hall staff's video message to our graduating seniors.  Many thanks to our Dining Hall Manager Matthew Beard and Kingrey Sullens TD '21 for putting it together.  Featured in the still image from the video are Cristal Hinton and Wanda Underwood.
And now to the youngest members of our TD community – TD 2023 – I also want to say congratulations on finishing your first year at Yale!  I know many of you were disappointed to have missed out on the first-year Olympics as well as the beautiful springtime in the TD courtyard with our Berry Brunch and spectacular TD Day.  Please know that all these great events will still be here when we are back.  The staff and I look forward to sharing them with all of you!  
TD Sophomores and Juniors we miss all of you dearly and can't wait to have you all back in the courtyard!  With our seniors graduating, you will now carry on our TD traditions and will be critical in helping us welcome our next year's incoming class into the college – TD '24! 

 
Many thanks to our great SAC leaders, Maya Kerfoot '22 and Makenzie Birkey '23, for bringing us so many fun study breaks and activities these last few weeks.  I am delighted to announce the following winners who will be receiving some great TD swag.
 
TD Trivia Night
1st place Harry Rubin '21
2nd place Michelle Barsukov '22
3rd place Angel Mora '21
TD Corona Fitness Challenge
Winners: Faren Roth '22, Lia Eggleston '22, Michelle Barsukov, and Grace MacDonald '22
Runners Up: Yasmin Alamdeen '21, Katerina Melnyk '22, Jessica Li '22, and Franklin Bertellotti '22
Congratulations to everyone!  May we all finish out the remaining days of the semester strong and in good health! 

 
Without further ado, here is a note from Dean Mahurin.
Àshe,
HL
***
 
Enough
Ellen Bass
No. It will never be enough. Never
enough wind clamoring in the trees,
sun and shadow handling each leaf, never enough clang
of my neighbor hammering,
the iron nails, relenting wood, sound waves
lapping over roofs, never enough
bees purposeful at the throats
of lilies. How could we be replete
with the flesh of ripe tomatoes, the unique
scent of their crushed leaves. It would take many
births to be done with the thatness of that.
Oh blame life. That we just want more.
Summer rain. Mud. A cup of tea.
Our teeth, our eyes. A baby in a stroller.
Another spoonful of crème brûlée, sweet burnt crust crackling.
And hot showers, oh lovely, lovely hot showers.
Today was a good day.
My mother-in-law sat on the porch, eating crackers and cheese
with a watered-down margarita
and though her nails are no longer stop-light red
and she can't remember who's alive and dead,
still, this was a day
with no weeping, no unstoppable weeping.
Last night, through the small window of my laptop,
I watched a dying man kill himself in Switzerland.
He wore a blue shirt and snow was falling
onto a small blue house, onto dark needles of pine and fir.
He didn't step outside to feel the snow on his face.
He sat at a table with his wife and drank poison.
Online I found a plastic bag complete with Velcro
and a hole for a tube to a propane tank. I wouldn't have to
move our Weber. I could just slide
down the stucco to the flagstones, where the healthy
weeds are sprouting through the cracks.
Maybe it wouldn't be half-bad
to go out looking at the yellowing leaves of the old camellia.
And from there I could see the chickens scratching—
if we still have chickens then. And yet…
this little hat of life, how will I bear
to take it off while I can still reach up? Snug woolen watch cap,
lacy bonnet, yellow cloche with the yellow veil
I wore the Easter I turned thirteen when my mother let me
    promenade
with Tommy Spagnola on the boardwalk in Atlantic City.
Oxygen, oxygen, the cry of the body—and you always want to
    give it
what it wants. But I must say no—
enough, enough
with more tenderness
than I have ever given to a lover, the gift
of the nipple hardening under my fingertip, more
tenderness than to my newborn,
when I held her still flecked
with my blood. I'll say the most gentle refusal
to this dear dumb animal and tighten
the clasp around my throat that once was kissed and kissed
until the blood couldn't rest in its channel, but rose
to the surface like a fish that couldn't wait to be caught.
END OF TERM WORK: IMPORTANT!
Again I'll remind you that Yale College has set the final possible date for all coursework as this Wednesday, May 6.  Of course, individual instructors may set deadlines for earlier than this date, even as they have full discretion to set deadlines as late as this date.  See here.  Beyond Wednesday, May 6, coursework may be submitted only with a Temporary Incomplete from me; your instructor cannot set deadlines or issue extensions for beyond Wednesday, May 6, even in graduate or professional school courses.  Yale College considers such deadlines and extensions invalid, and the work will not be counted.  Please note that, as with Dean's Excuses, the Academic Regulations authorize TIs in only a limited range of circumstances; contact me if you have any concerns.  
Scheduled final examinations may be rarer this term, but if you do have a scheduled examination and your circumstances do not allow you to take it as scheduled, please let me know ASAP so that we can discuss your situation.
DOMESTIC SUMMER AWARD
Yale's Domestic Summer Award is still happening for Summer 2020! In light of COVID-19, students can use their DSA for remote work. Guidelines found here.  For 2020 only, the Domestic Summer Award may be used for Yale Summer Session.
An award of $4,000 for Yale undergraduate students on financial aid who complete the equivalent of at least two 1-credit courses in Yale Summer Session. Students taking a 1.5-credit language courses must also take a second 1-credit (or 1.5-credit) course to be eligible. Courses can be taken together in a single session or may be taken in both Session A and Session B. Students may enroll in the Flatiron program, which meets the DSA requirements because it carries 2 credits. Please note that courses may not be selected Credit/D/Fail unless a student is enrolled in 2 courses in one session, one credit of which is for a letter grade. See YSS Student Handbook for C/D/F regulations. In addition to Yale Summer Online, Yale Summer Session will be converting many of the courses offered in New Haven and abroad to a remote online format.
Yale College students on financial aid during the academic year are eligible to receive both 50% off full YSS tuition (up to two course credits) and the DSA (if they have not yet used their DSA).  Apply your DSA to Yale Summer Session here.
APPROACHING FELLOWSHIP APPLICATION DEADLINES 
May 15 - Einstein Fellowship National Deadline | Eligible: Seniors & Graduates aged under 35
May 20 - Schwarzman Scholars Program China | Eligible: Juniors, Seniors, and recent graduates who are citizens or permanent residents of China, Taiwan, Hong Kong, & Macao
May 31 - Rotary Peace Fellowship District Deadline| Eligible: Seniors 
July 31, Midnight GMT - Scotland's Saltire Scholarships National Deadline | Eligible: Seniors & Graduates who are citizens of Canada, India, Japan, USA, Pakistan, or China
June 12, 1pm EST - Global Rhodes Campus Deadline | Eligible: International Seniors & Recent Graduates who are not citizens of existing Rhodes Regions
August 17, 1pm EST - Marshall, Mitchell, and Rhodes Common Application Campus Deadline | Eligible: Seniors & Recent Graduates 9   (NOTE: Preliminary deadline: August 3, 1PM)
September 8, 1pm EST - Fulbright US Student Grants Campus Deadline | Eligible: Class of 2021 are strongly encouraged to participate in campus review process; Class of 2020 and alumni although eligible to apply, will not participate in campus review process
September 15 - The German Chancellor Fellowship for tomorrow's leaders National Deadline | Eligible: Seniors & Recent Graduates
September 22, 11:59pm EST - Schwarzman Scholars Program for U.S. And Global applicants | Eligible: Juniors, Seniors, and recent graduates
 
Wednesday, May 6, 7:00pm. Login is