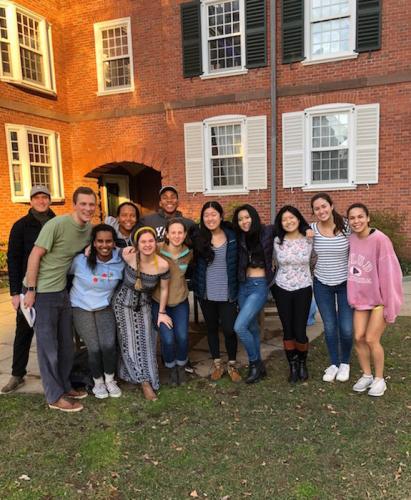 Notes and News – Week of 2/26/2018
HL's Pieces
Dear Red Lions,
We have a quiet week in the courtyard as we get ready for spring break.  We only have our Tuesday Senior Mellon Forum scheduled for this week.
Please note that  TD offices will open Monday through Friday, 9am to 4pm, during the break.  The TD Community Outreach Aides are working on a TD Spring Break Guide to New Haven to be sent out later this week.  KC Mills, TD Operations Manager, and Melissa Debies-Carl, TD Facilities Superintendent, will be sending out a checklist to help us maintain the TD spaces while we're on break.
To truly get you all in the mood for Spring, here is our "photo of the week" from Kahlil Greene, TD '21.  He writes: "Here are a bunch of first years celebrating the warmth of the upcoming springtime."
Congratulations, to Sem Kroon, Tongil Ko, and Jack Atwater who will once again represent TD in the semifinals for the Yale College Final Cut cooking competition!  Sophomores Michael Ai and Valentina Connell gave the veteran team a run for their money.  We will look to them to represent TD in future years!   The semi-finals against 6 other residential colleges will take place when we're back from spring break.  
When we return from break, TD will be co-sponsoring a talk on Wednesday 3/28 with New York Times journalist Nikole Hannah-Jones who writes about housing and school segregation (and recently won a Macarthur).  The talk will be at the Yale Law School Auditorium from 4:30-6. You can read more about her work here.  We have 5 spots available for the post-talk dinner from 6:30-8pm at the TD House.  Please email Education Studies Director Mira Debs mira.debs@yale.edu to RSVP for a post-talk dinner, first come, first-serve!   
Without further ado, here is a word from Dean Mahurin…
Áshe,
HL 
***
 
"But there was no use pretending: I was not the sort of person who counted blessings; I was the sort of person for whom there could never be enough blessings."
(Jamaica Kincaid, Lucy)
UPCOMING DATES AND DEADLINES:
Mar. 5 (Monday) Deadline to apply for a fall-term 2018 Term Abroad or a 2018–2019 Year Abroad. See Special Arrangements. 
Mar. 9 (Friday) Midterm.  Spring recess begins, 5:30 p.m.
Last day to withdraw from a full-term course without the course appearing on the transcript. See Withdrawal from Courses and Grades.
Deadline to apply for double credit in a single-credit course. See Special Arrangements.
Withdrawal from Yale College on or before this date entitles a student to a rebate of one-quarter of the term's tuition. See Undergraduate Regulations.
PEABODY MUSEUM INTERNSHIPS 
The Yale Peabody Museum is excited to offer summer internships for Yale undergraduate students! New this year are two joint internships with the Smithsonian Institution. Descriptions of the specific internships and the broader internship program, as well as the online application form, are available at: http://peabody.yale.edu/yale-students/summer-internships. Application deadline is Monday, March 26, with applications accepted later on a rolling basis if internships have not been filled.
 
WALDEN PEER COUNSELORS
Walden Peer Counseling is a confidential and anonymous counseling service for undergraduates. Walden is currently accepting applications for prospective counselors for the 2018-2019 school year. All first years, sophomores, and juniors are welcome to apply. The application (priority deadline, March 9th, and final deadline, March 30th) can be found here: http://walden.sites.yale.edu/get-involved. For more information, please visit http://walden.sites.yale.edu or contact us at walden.counseling@gmail.com.
ACADEMIC STRATEGIES WORKSHOPS: MIDTERMS
Research Strategies for Undergraduate Essays
Want to get a jump start your end-of-the-semester research essays? Narrow down your topic and get advice on conducting research with Yale Library resources.  
Monday, March 5, 6:00 PM, Room M104A, Center for Teaching and Learning, 301 York St.
Pathways for Sophomores 
Sophomore year offers new challenges, including increased course loads, upper-level classes, and identifying a major. This interactive workshops helps students set goals and make long-term plans for the year. 
Tuesday, March 6, 7:30 PM, Room M104A, Center for Teaching and Learning, 301 York St.
Cultivating Faculty Mentors/Recommendations 
Initiate conversations, ask for assistance, request recommendations, and build mentoring relationships with Yale faculty, teaching fellows and staff.
Wednesday, March 7, 6:00 PM, Room M104A, Center for Teaching and Learning, 301 York St.