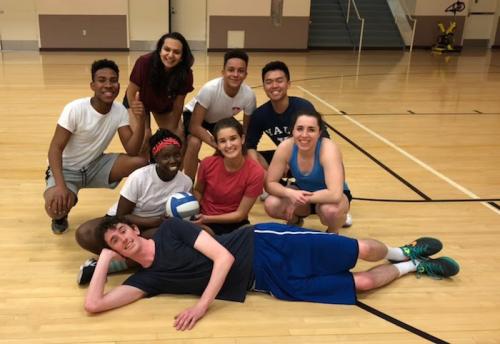 Notes and News – Week of 3/26/2018
HL's Pieces
Dear Red Lions,
Welcome back to the Courtyard!  I hope everyone had a great break and is returning rested and energized for the rest of the semester. 
We have a lot of great events lined up for this half of the semester.  Please save the date for SAC's spring formal scheduled for Friday 4/6.  Our annual "Berry Brunch" is scheduled for Sunday 4/8.  We will also unveil the amazing art works created with our spring Chubb Fellow, Faith Ringgold. 
TD is sponsoring 10 runners for "Julia's Run" on Sunday, April 15th at Yale University's Cross Campus. Proceeds from the run benefit LEAP, a leadership development organization dedicated to empowering New Haven's children and youth. Julia's Run is a New Haven tradition that celebrates the memory of Julia Rusinek, a rising senior at Yale University at the time of her death in July 1999. The event combines Julia's passion for running with her commitment to making a difference in the lives of children.  Go to their online registration site and enter the code TD4JULIA to participate. First come first served!
Speaking of running, Spring intramurals is in full swing!  TD is currently battling it out for third place so let's finish the year strong!!!  We have a number of events including: badminton, dodgeball, soccer, softball, spikeball, and ultimate Frisbee.  And we need as many TDers to come out as we can!  Please sign up here.  
We also have new IM t-shirts coming in, so come to a game and get an awesome new jersey!  To get you all pumped for the end of the season, our "photo of the week" from volleyball team co-captain, Rebecca Amonor, shows our victory at the semi-finals just before break!!!
Last call for TD fellowship applications!!! The Richter Fellowship is due at 1pm on 3/28.  The Chubb and Bergin fellowships are due at 5pm on 3/29.
Here are some important events for this week:
Tuesday 3/27 5:30pm  Senior Mellon Forum (TD House)
We continue with our spring forum series to celebrate the work of our TD seniors.
Wednesday 3/28 4:30pm Nikole Hannah-Jones Lecture (Law School Auditorium)
TD is excited to co-sponsor a lecture with New York Times journalist and Macarthur prize winner, Nikole Hannah-Jones.  She will discuss her most recent work on the ongoing problems of school segregation in the U.S.
Here are great events for the following week:
Tuesday 4/3 5:30pm Senior Mellon Forum (TD House)
Second from the last mellon forum session of the year.  Do not miss it!
Wednesday 4/4 4:30pm Tea with Luka Sabbat, photographer and fashion designer (TD House)
TD is very excited to host Luka Sabbat, self-proclaimed "cultural entrepreneur" who has explored and worked in nearly all facets of the culture industry today: stylist, creative director, design director, model, actor, etc. 
Friday 4/6 10pm-1am SAC Spring Formal (HGS)
Save the date for the big spring formal!!!  More information forthcoming!!!
Saturday 4/7 4:30pm Susan Wang Senior Piano Recital (TD House)
Come cheer on Susan Wang as she performs some of her favorite piano pieces for her graduation recital.  Light reception will follow.
Sunday 4/8 11-1:30pm TD Berry Brunch
One of our favorite TD traditions will feature a fabulous brunch menu.  Make sure you all have your TD stickers for your ID cards.  Family dinner protocol will be in effect so all off-campus TDers are welcome to dine for free.  We'll also take time out to unveil the beautiful art work from the Faith Ringgold art workshop. 
Without further ado, here is a word from Dean Mahurin…
Áshe,
HL
***
The loneliness comes and goes, but the blue holds,   
Permeating the early leaves that flutter in the sunlight   
As the air dances up and down the street. Some kids yell.   
A white dog rolls over on the grass and barks once. And   
Although the incidents vary and the principal figures change,   
Once established, the essential tone and character of a season   
Stays inwardly the same day after day, like a person's.   
The clouds are frantic. Shadows sweep across the lawn   
And up the side of the house. A dappled sky, a mild blue   
Watercolor light that floats the tense particulars away   
As the distraction starts. Spring here is at first so wary,   
And then so spare that even the birds act like strangers,   
Trying out the strange air with a hesitant chirp or two,   
And then subsiding. 
(from "The Late Wisconsin Spring," John Koethe )
UPCOMING DATES AND DEADLINES:
Apr. 6

 Friday
 Last day to convert from the Credit/D/Fail option in a full-term course to a letter grade. See 
Grades
.
Last day to withdraw from a course offered in the second half of the term without the course appearing on the transcript. See 
Withdrawal from Courses
 and 
Grades
.
Apr. 20 Friday Last day to convert from the Credit/D/Fail option to a letter grade in a course offered in the second half of the term. See Grades. 
Apr. 27 Friday Classes end, 5:30 p.m.; reading period begins.
Last day to withdraw from a full-term course or a course offered in the second half of the term. See Withdrawal from Courses and Grades.
FIRST GENERATION YALE 
Blazing the Trail:  Being the First
1stGenYale is an alumni-led AYA Shared Interest Group which supports our students. We share your diverse backgrounds including being among the first in our families and/or from underserved backgrounds to attend college or graduate school. As alumni from all schools and career professions, we want to ease your transition, help you navigate and take advantage of all that Yale has to offer, including its alumni.
2:30pm-3:30pm
Career Explorations - Networking event for Yale College and G&P students to share your unique talents, perspectives and experiences with corporate & non-profit sponsors: Macquarie, AQR Capital Management, Honest Tea, Girls, Inc., LEDA (Leadership Enterprise for an Diverse America), KIPP Schools, MLT (Management Leadership for Tomorrow), and New Haven Promise (to date).
3:30pm-4:30pm 
Yale Student Panel:  Campus Life Today for Students Being First
Participate in our "flip classroom" discussion in which students from Yale College and G&P Schools share their perspectives with alumni and students.
4:30pm-5:30pm 
Students, Alumni, and Sponsors Networking Reception
Continue the conversation and connect with alumni, sponsors & fellow students with refreshments!
RSVP –  All students must register in advance no later than April 6, 2018. RSVP to 1stgenyale@gmail.com with your name, class year, field of study, and both email addresses (Yale and personal email address). There is no charge for students to attend. Thank you. We all look forward to seeing you!
FELLOWSHIP EVENTS
The Rhodes may be the most famous, but there are many other options - whether you're a US citizen or an international student here at Yale, there are many terrific postgraduate opportunities for degree courses in almost any subject. Campus application deadlines begin in early August, so now is the time to start thinking about applying! 
A Regulatory Analyst from the Human Subjects Committee will guide you through the IRB application process. There will be time for Q and A in this session, so feel free to come along with any questions specific to your application.
Staff from CIPE and Student Financial Services will be on hand to answer all your questions about the ISA. Please watch ISA Funding 101 in advance.
Applying to Stanford for graduate school (any of their 125 programs – MBA, MD too)? Come hear about the Knight-Hennessy Scholars program, the largest fully-endowed scholars program in the world. 
Seating is limited. Register at: https://apply.knight-hennessy.stanford.edu/register/Yale2018
NEW! Spring Clean Your Schedule
Bring your calendar and set your priorities for the second half of the semester.
Monday, March 26, 2018 6:00 PM
Yale Center for Teaching & Learning
301 York St. (SML), RM. M104A
Fresh Start: Midterm Edition
Identify what's working (and what's not), and develop new strategies for meeting your academic goals.
Tuesday, March 27, 2018 7:30 PM
Yale Center for Teaching & Learning
301 York St. (SML), RM. M104A
Time Management
Develop a weekly schedule that can lead to an active and balanced academic life.
Wednesday, March 28, 2018 6:00 PM 
Yale Center for Teaching & Learning
301 York St. (SML), RM. M104A
Research Strategies for Undergraduate Essays
Narrow your topic, create a work timeline, and learn more about Yale libraries and other research resources.
Thursday, March 29, 2018 7:30 PM
Trumbull College Seminar Room
For Juniors: Creating a Timeline for Your Senior Thesis
Learn how to plan your research and writing, and how to access support resources for your senior project.
Tuesday, April 3, 2018 6:00 PM
Yale Center for Teaching & Learning
301 York St. (SML), RM. M104A
NEW! Public speaking for undergraduates: Academic and Professional Presentations
Learn strategies for developing and presenting brief talks, including shaping content, using visuals, and engaging your audience.
Wednesday, April 4, 2018 7:30 PM
Yale Center for Teaching & Learning
301 York St. (SML), RM. M104A