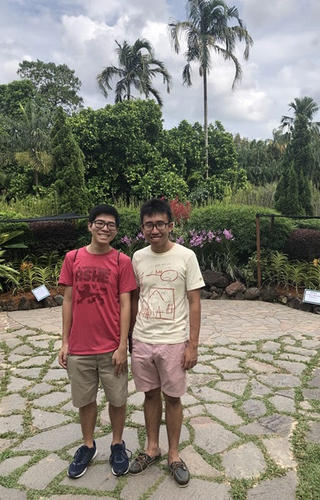 Notes and News – Week of 1/28/2019
 
HL's Pieces
 
Dear Red Lions,
 
Shopping period has officially concluded!  We can now dig into our classes and look forward to our spring TD Community Night this Tuesday at 8:30pm in the TD Dining Hall. 
 
Over the weekend I received pictures of TDers in Singapore who are currently there working or studying.  So our "photo of the week" is titled "Àshe from Singapore" and features Kento Tanaka '20 who is at Yale-NUS this semester.  (Note the vintage TD Day shirt!)  On the right is Jun Yan Chua SY '18, whose history senior essay I advised.  Yan is from Singapore and kindly met up with Kento for a tour of the Singapore Botanic Gardens. 
We are still #2 in the Tyng Cup standings!  Tonight, we can use all of our TD swimmers for the IM Swimming Preliminaries from 9-10pm at PWG!  If you are able to go please meet in the TD courtyard at 8:40pm.  Any questions, please email angel.mora@yale.edu.
 
It looks like the 20 spots for the the IRIS 5k run I now taken.  But we are adding 5 more spots!  So go ahead and use the same code (TDYALE) to sign up for one of the 5 new spots.  And we may also sponsor one more race later in the spring.  So TD runners there should be one more opportunity to do a group race this spring.
 
Here are the important events for this week:
 
Monday 1/28 7-8:30pm "Financial Life After Yale" (TD Thompson Room)
Questions about budgeting, saving, investing and taxes? Need rules of thumb?  Join Yale alumnus/financial planner John Caserta '01 for "Financial Life After Yale." Started in 2013, Blum has done more than 170 of these sessions and worked with more than 4,000 Yalies. To register, RSVP here and complete a very quick one-minute survey.  Feel free to also drop-in.  Hot chocolate and cookies will be served!
 
Monday 1/28 First-Years Fireside Chats (TD House)
 
Second and last session of this year's Fireside Chats.  So this is your last chance! If you need to check the signup list, please go to this link.
 
Tuesday 1/29 5:30pm TD Senior Mellon Forum (TD House)
 
First Mellon Forum of the spring semester!  The series will continue to take place on Tuesday nights throughout the semester so please mark your calendars!  Last Mellon Forum will be on 4/9.
 
Tuesday 1/29 8:30-10:30pm TD Spring Community Night (TD Dining Hall)
 
Come get your seats for a great evening of performances from the TD community!  We have a full schedule of music, magic, comedy, and much more!  We'll have our usual pizza intermission at the halfway point!
Wednesday 1/30 4:30pm Tea with Professor Peter Loge (TD House)
 
Our first tea of the semester features Professor Peter Loge of George Washington University who will be talking on the topic "Return to Ethics in Political Communication."  Professor Loge is the Assistant Director in the School of Media and Public Affairs and has had a long career in Washington, D.C. serving under Senator Edward Kennedy and three members of the US House of Representatives, and in the Obama administration contributing to the passing of the Affordable Care Act.  His new book, Political Communication Ethics: Theory and Practice will be due out in 2020 and he will also serve as the Director of the Project on Ethics in Political Communication, which is launching on March 5th of this year. 
We still have a couple of spots for dinner after the tea.  Please email me at mary.lui@yale.edu if you would like to join the dinner.
 
Friday 2/1 5pm TD Knitting Circle (TD Common Room)
 
Last week's  meet up was a great success!  Our graduate affiliate, Sumita Ghosh, has kindly offered to meet weekly.  Beginners are definitely welcome to join in and learn to knit. Please email sumita.ghosh@yale.edu if you would like to join in or just stop by the knitting circle.
 
And here is what we have going on for the following week:
 
Sunday 2/3 IRIS 5K
 
Race packet pick-up at 8:30am and the run begins at 10am at Wilbur Cross High School, at the base of East Rock Park and a nice walk from TD.  Even if you are not running, it's a great to go out and support and cheer! Go here for more information.
 
Tuesday 2/5 4pm Tea with James Hatch
 
We welcome James Hatch, retired Navy SEAL and author, who has chronicled his struggles with war, physical injury, trauma, and mental health in his book, Touching the Dragon.  Hatch is also the founder of Spikes K9 Fund, dedicated to the care and support of service dogs working in the military and law enforcement.
  
Saturday 2/9, 2-3:30PM Calligraphy Workshop (TD Art Studio)
 
Join the art studio aides for a calligraphy workshop! Bring your favorite quote or any combination of words that holds meaning for you! We will provide card stock, markers, and guidance so that you can make a card in time for Valentine's Day or a poster to hang on your wall.
 
Without further ado, here is a word from Dean Mahurin…
  
Àshe,
HL
 
***
 
"When you write, it's like braiding your hair. Taking a handful of coarse unruly strands and attempting to bring them unity. Your fingers have still not perfected the task. Some of the braids are long, others are short. Some are thick, others are thin. Some are heavy. Others are light. Like the diverse women of your family. Those whose fables and metaphors, whose similes and soliloquies, whose diction and je ne sais quoi daily slip into your survival soup, by way of their fingers." (Edwidge Danticat)
UPCOMING DATES AND DEADLINES:
January 28, Monday: Final deadline to apply for a spring-term Leave of Absence. See Leave of Absence, Withdrawal, and Reinstatement.
Withdrawal from Yale College on or before this date entitles a student to a full rebate of spring-term tuition. See Undergraduate Regulations.
February 1, Friday Last day to withdraw from a course offered in the first half of the spring term without the course appearing on the transcript. See Withdrawal from Courses and Grades.
Last day to convert from a letter grade to the Credit/D/Fail option in a course offered in the first half of the spring term. See Grades.
February 7, Thursday Withdrawal from Yale College on or before this date entitles a student to a rebate of one-half of spring-term tuition. See Undergraduate Regulations.
February 15, Friday Last day to withdraw from a course offered in the first half of the spring term. See Withdrawal from Courses and Grades.
Deadline for applications for Yale Summer Session Programs Abroad.
Transfer of College Affiliation process
To request a transfer from TD to another residental college, you must submit an application that can be accessed via this link: 
https://yalesurvey.ca1.qualtrics.com/jfe/form/SV_b139eKydARxPcy1
Here are a few things you should know before requesting a transfer of residential college:
1) Transfer requests are not guaranteed, and you are strongly encouraged to have a housing option within your own college should your transfer be declined.
2) In order to transfer to another residential college, you will need to have a current student in that residential college sponsor your transfer and agree to live with you for the next academic year. Please note that any single student may sponsor no more than two candidates to transfer into their college in an academic year.
3) If your transfer is approved it is a binding decision, so please consider your request carefully before submitting your application.
4) If your transfer is approved and you later change your mind about the housing arrangement you had committed to on your form, your transfer may be revoked. You may also be subject to the policies and penalties of the applicable residential college housing rules.
5) Each residential college will decide whether or not they wish to interview potential transfer candidates, and if they do interview them, how and when they might do so. It is your responsibility to check with the staff of the residential college you wish to transfer to.
6) Only completed applications may be submitted and the deadline is Friday, February 8, 2019. Students will be notified of the transfer decisions by the end of February.
Cultural Connections counselor applications open
Cultural Connections is one of the pre-orientation programs at Yale. Cultural Connections brings in together students of all backgrounds and cultures and empowers participants with a community, knowledge of resources, and early conversations centered around the salient identities of students. This summer, the program will welcome students from the Class of 2022 from August 17-22. Rising sophomores and juniors are welcome to apply. While previous experience is valued, it is not an exclusionary factor. We are looking to recruit a pool of candidates that reflects as many experiences found at Yale as possible. Selected candidates must be able to arrive on campus on
August 15th and participate in the entirety of the program and attend Spring training on March 29thfrom 12-2pm.
  Applications are due on February 8th at 5pm (EST).
Academic Strategies Workshops
All workshops are held in the Poorvu Center (the new name for the CTL)
Reading Analytically for Social Science   
Monday, January 28, 4:00 PM, Poorvu Center Room 120A
Pathways for First-Years
Monday, January 28, 6:00 PM, Poorvu Center Room M104A
Wednesday, February 6, 7:30 PM, Poorvu Center Room M104A   
        
Succeeding in Intro Econ Courses: Problem Sets & Exams 
Monday, January 28, 6:00 PM, Poorvu Center Room 120A
Succeeding in Seminars & Lectures         
Monday, January 28, 7:30 PM, Poorvu Center Room M104A      
Monday, February 4, 4:00 PM, Poorvu Center Room M104A    
Creating a Timeline for Your Senior Thesis   
Tuesday, January 29, 6:00 PM, Poorvu Center Room M104A
Monday, February 4, 6:00 PM, Poorvu Center Room M104A             
Procrastination: How to Work Through It   
Tuesday, January 29, 7:30 PM, Poorvu Center Room M104A
Wednesday, February 6, 6:00 PM, Poorvu Center Room M104A
Succeeding in Intro Math Courses: Problem Sets & Exams
Wednesday, January 30, 4:00 PM, Poorvu Center Room M104A   
Strategies for Reading Literature            
Wednesday, January 30, 4:00 PM, Poorvu Center Room 120C     
Time Management           
Wednesday, January 30, 6:00 PM, Poorvu Center Room M104A  
Tuesday, February 5, 6:00 PM, Poorvu Center Room M104A      
Cultivating Faculty Mentors/Recommendations    
Wednesday, January 30, 7:30 PM, Poorvu Center Room M104A
Thursday, February 7, 6:00 PM, Poorvu Center Room M104A
Managing a Heavy Reading Load         
Thursday, January 31, 7:30 PM, Poorvu Center Room M104A
Wednesday, February 6, 4:00 PM, Poorvu Center Room M104A
Exam Study Strategies   
Thursday, January 31, 4:00 PM, Poorvu Center Room M104A  
Tuesday, February 5, 4:00 PM, Poorvu Center Room M104A      
Pathways for Sophomores          
Thursday, January 31, 6:00 PM, Poorvu Center Room M104A 
Tuesday, February 5, 7:30 PM, Poorvu Center Room M104A 
Fresh Start         
Monday, February 4, 7:30 PM, Poorvu Center Room M104A