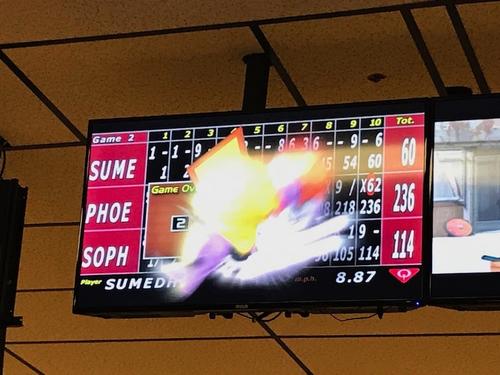 Happy Year of the Rat!  Please know that our neighbor, the Yale-China Association, has another wonderful Lunarfest program planned with numerous campus and community partners in the vicinity of TD.  They will launch their community celebration at 10am on Saturday February 8th beginning with the 9th

 

Annual Lion and Dragon Dance parade that will go up Church/Whitney Avenues. 

 

For a full program, please go to the Lunarfest site! 
I hope everyone saw my Spring Chubb Fellow Announcement this past Friday!  We are thrilled to partner with Yale Athletics and bring

 

Coach Jill Ellis

 

to campus for her Chubb address on 4/15 at 4:30pm.  We are still working out the lecture location and student dinner so stay tuned. 
Speaking of sports … winter IMs are in full swing and we are a force to reckon with in bowling!  This week's "photo of the week" is from IM bowling captain, Harry Rubin TD '21, and shows our first-year star bowler, Pheonix Dalto, blowing up the automated score board with an amazing score of 236! 
Here is our wonderful bowling team from last Friday.  From left to right: Sophia Ross '21, Won Jung and Elayna Garner '20, Harry Rubin '21, and first-years Sumedha Chowdhury, Phoenix Dalto, and Harrison Bushnell.
 
If you want to join this happy group of bowlers and go out for bowling on future Friday afternoons, just email

 

harry.rubin@yale.edu.  Transportation, lane fees, and shoes are all provided by the college so TDers get to bowl for free.  Only the top 3 scores count for the team so come on out and fun! 

 
And congratulations to Caroline Ho '22 for winning the Carbon Charge Recess Checklistraffle! In these cold winter months, please remember to close windows, turn off unused lights, and keep your radiator set to a reasonable level. For any comments or questions about sustainability in TD, contact your sustainability liaisons, Ryan Tsedevsuren (ryan.tsedevsuren@yale.edu) or Katrina Starbird (katrina.starbird@yale.edu)
Here are some exciting events for this week:
Tuesday 1/28 5:30pm TD Senior Mellon Forum (TD House)
Let's go Senior Lions!  It's your last semester, folks, so time to bring home those senior projects and share them with your class!  As always, great food and company await!!!
Tuesday 1/28 8-10pm TD Spring Community Night (TD Dining Hall)
The Community Night sign-ups are now full!  Look forward to another amazing night of magic, music, humor, spirit, and talents from our incredible TD community!  This one will be emceed by our Senior lions with our usual pizza intermission at the halfway point!
Saturday 2/1 5:30am Departure Mott Ski Trip to Mt. Snow (Temple Street Gate)
All skiiers need to get a good night sleep!!!  Get ready to board the bus at 5:20am – before the sun comes up – and wake up at the glistening slopes of Mt. Snow!  You should all be receiving more instructions from Mott president, Angel Mora, so be sure to look out for that email! 
Sunday 2/2 IRIS Run for Refugees
All free entries for the IRIS run have been taken at this point.  Actually, the response was so enthusiastic that we doubled the amount of sponsored entries to 40!  If you are not running, please consider coming out to support the race starting at the base of East Rock Park at Wilbur Cross High School. 
Sunday 2/2 4-5:30pm TD Orchestra Rehearsal (TD House)
We begin a new season of rehearsals under the baton of Charlie Troup, TD Graduate Affiliate and 2nd year History PhD candidate.  We always welcome new players so come on by if you'd like to join the orchestra.  Or please feel free to email assistant conductor, Sam Christopher TD '22, at sam.christopher@yale.edu if you'd like more information.
Without further ado, here is a word from Dean Mahurin…
Àshe,
HL
***
 
"It is strange how in some things honest people can be dishonest without the slightest compunction."  (James Weldon Johnson)
UPCOMING DATES AND DEADLINES
Jan. 27


 

M


 
Final deadline to apply for a spring-term Leave of Absence. See Leave of Absence, Withdrawal, and Reinstatement.
Withdrawal from Yale College on or before this date entitles a student to a full rebate of spring-term tuition. See Undergraduate Regulations.
 

Feb. 4


 

T


 
Last day to withdraw from a course offered in the first half of the spring term without the course appearing on the transcript. See Withdrawal from Courses and Grades.
Last day to convert from a letter grade to the Credit/D/Fail option in a course offered in the first half of the spring term. See Grades.
 

Feb. 6


 

TH


 
Withdrawal from Yale College on or before this date entitles a student to a rebate of one-half of spring-term tuition. See 

Undergraduate Regulations

.
 

Feb. 15


 

S


 

Deadline for applications for Yale Summer Session Programs Abroad.


 

Feb. 19


 

W


 
Last day to withdraw from a course offered in the first half of the spring term. See Withdrawal from Courses and Grades. 
 

Feb. 27


 

TH


 

Classes begin for courses offered in the second half of the spring term.


 

Mar. 1


 

SU


 

Deadline to apply for Non-Yale Summer Abroad.


 
CLASS OF 2021: Interested in applying to become a first-year counselor?
Remember that the deadline to apply is January 31st! You can learn more about frocoing at https://yalecollege.yale.edu/communities/student-leadership/first-year-counselor-program-froco.  
MMUF/BOUCHET FELLOWSHIPS
Mellon Mays and Bouchet Fellowship Application workshop and writing session (dinner provided)
Tuesday, January 28th, 5:30 – 7 pm, Poorvu Center Room 121
Join Dr. Karin Gosselink, Academic Strategies Director and writing instructor, for a workshop and writing session to help you prepare and revise your Mellon Mays or Bouchet Fellowship application and interview. The workshop will last 45 minutes, followed by a 45-minute work session with Writing Partners and Academic Strategies Mentors available to provide feedback and support.
 
WOMEN IN SCIENCE AT YALE (WSAY)
Research Chats
Thursday, January 30th, 2020 | 6:00pm-7:30pm
SSS 410 (1 Prospect St.)
Interested in STEM research, meeting fellow women scientists, and/or exploring career paths?  If so, you won't want to miss out on Research Chats organized by Women in Science at Yale (WISAY)!! Join us on Thursday, Jan. 30th from 6-7:30 PM at SSS 410 (1 Prospect St.) as Melanie Reschke and Smita Gopinath, Ph.D., share their career paths and research. Melanie is a graduate student in Molecular Biophysics & Biochemistry/Biomedical Engineering working on engineering human endothelial cells to grow capillary-sized blood vessels that can be incorporated into lab grown tissue grafts or whole organs. Smita is a postdoc (starting faculty position in April 2020) with experience in Microbiology, Immunology, and Infectious Disease fields. She is interested in studying the ways that invading pathogens interact with our body's defense mechanisms and the ecosystem of bacteria and viruses that live with us.
Each informal talk will be 30 minutes with time afterward to mingle with students and postdocs in the sciences. Pizza is provided! RSVP here: https://forms.gle/1gkykSyDpTKfVXx29.
This event is funded and sponsored by Associate Dean Sandy Chang and Science and Quantitative Reasoning Education. Email wisay.grad.mentoring@gmail.com with any questions.   
PROJECT MANAGEMENT WORKSHOP
Tuesday, February 4, 11:00am-2:00pm
Office of Career Strategy
Do you want to become more efficient at taking care of your tasks as a student? Are you a leader in an organization that could use improved organization and productivity? Come learn ways to become more efficient, more organized, and more satisfied with your projects. This is a workshop taught by a professional with over 30 years of project management experience, and it condenses down a full day workshop into just 3 hours. Register in Yale Career Link.