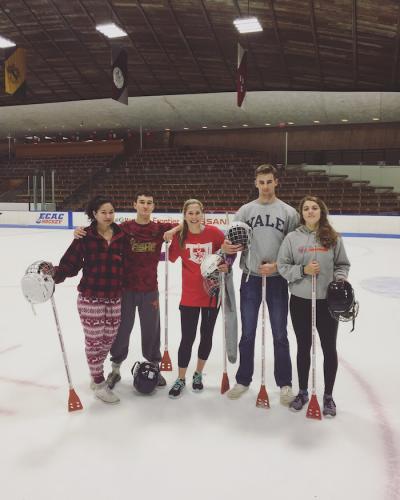 TD Notes and News – Week of 1/23
Head of College's Pieces
Dear Red Lions,
Welcome to week 2 of shopping period!  Hopefully, most of you have settled on your classes and are ready to turn in your schedules. 
We have another quiet week in TD as we get the spring semester off the ground.  But please know that IMs are up and running!  This week's "photo of the week" titled "Unkown 5" show our wonderful team (from left to right) of Kaitlin Cardon '19, Max Yuhas '20, Maggie Wellborn '18, Jack Atwater '19, and Maraya Keny-Guyer '19 victorious in our first ever Broom Ball match.  TD is currently in third place and we can easily close the gap with a lot of enthusiastic participation! 
We would love to get all TD swimmers to come out tonight for the one-night swim competition at Payne Whitney Gym.  For more information, feel free to write your IM secretaries at kaitlin.cardon@yale.edu, david.amanfu@yale.edu, briggs.bulkeley@yale.edu, or maraya.keny-guyer@yale.edu.  
Speaking of competitions, we now have 2 teams signed up for the Final Cut competition!  Please come to the dining hall this Wednesday night, to see the two teams compete for the honor of representing TD at the big Iron Chef Competition on Tuesday 2/21/2017! 
Here are wonderful events coming up for next week:
Tuesday 1/31 6-7:30pm Senior Sushi Night (TD House)
All TD seniors are invited to the TD House for a wonderful celebration of your class.  The count down to graduation starts now so we'll take this night to celebrate all that you have already done … and will do in your last semester at Yale.
Wednesday 2/1 4:30pm Tea with Simona Petrova (TD House)
TD is honored to host Ms. Petrova of the United Nations Chief Executives Board which brings together the leaders of all UN system organizations, including the World Bank and the IMF. Originally from Bulgaria, she holds a degree in international law from the Fletcher School of Law and Diplomacy in MA and has worked at the UN for nearly 25 years. Throughout her UN career, she has served as Director of the Executive Office of the Secretary-General, worked as Chief of Staff of the Under-Secretary-General for Management and worked at the UN Development Programme, where, in the early 1990s, she opened the UN offices in the five Central Asian countries. She was also a member of the team that established the UN Peacebuilding Support Office.  This event is jointly co-sponsored by the Yale Women's Leadership Initiative.
Wednesday 2/1 8pm TD Community Night (TD Dining Hall)
Our wonderful TD tradition is back!  Please sign up for a slot to share your wonderful gift of music, laughter, dance, juggling, etc.  Once again we are fortunate to have TD sophomore Dennis Vu organize this amazing night!  Help him out by signing up on this survey early!!!
Without further ado, here is a word from Dean Mahurin…
Áshe,
HoC Lui
******
Bilbea
Carl Sanburg
Bilbea, I was in Babylon on Saturday night.
I saw nothing of you anywhere.
I was at the old place and the other girls were there, but no Bilbea.
Have you gone to another house? or city?
Why don't you write?
I was sorry. I walked home half-sick.
Tell me how it goes.
Send me some kind of a letter.
And take care of yourself.
---
IMPORTANT DEADLINES
Jan. 25

W

Final course schedules due for the Class of 2020.

Jan. 26

TH

 Final course schedules due for the Classes of 2018 and 2019.

Jan. 27

F

Final course schedules due for the Class of 2017.
Last day for students in the Class of 2017 to petition for permission to compete the requirements of two majors.

Jan. 31

T

Final deadline to apply for a spring-term Leave of Absence. See Leave of Absence, Withdrawal, and Reinstatement.
Withdrawal from Yale College on or before this date entitles a student to a full rebate of spring-term tuition. See Undergraduate Regulations.
Feb. 3

F

Last day to withdraw from a course offered in the first half of the term without the course appearing on the transcript. See Withdrawal from Courses and Grades.

Feb. 10

F

Withdrawal from Yale College on or before this date entitles a student to a rebate of one-half of spring-term tuition. See Undergraduate Regulations.
Last day to convert from the Credit/D/Fail option to a letter grade in a course offered in the first half of the term. See Grades.
---
FRESHMEN AND SOPHOMORES
The Yale Freshman Outdoor Orientation Trips (FOOT) program has begun to look for our new class of FOOT leaders! Every year, FOOT gives over one third of the freshman class the chance to trek through the beautiful New England mountains, making close friendships and forming wonderful memories before college even begins. If you're interested in becoming a FOOT leader to help make these memories happen, come learn about FOOT and the leader application process at our info session on Tuesday, Jan. 24 at 9 p.m. in the Saybrook dining hall. You can also download the application at yale.edu/foot starting on Jan. 24. You don't need to have gone on FOOT as a freshman to apply! If you have any questions, feel free to send them over to poobahs@gmail.com. We look forward to meeting you!
Facebook Event: https://www.facebook.com/events/687341281434664/ 
---
JUNIORS
FRESHMAN COUNSELOR APPLICATIONS
The Freshman Counselor application is now available online. All juniors in good academic standing are eligible to apply until 11:59 p.m. on Jan. 27.
---
CIPE
YALE SUMMER SESSION
The 2017 Yale Summer Session application for courses in New Haven and online is open!
Be a Residential Counselor this Summer!
Yale's residential colleges are an exciting place to be during the summer. In addition to the Yale students taking summer classes, we have an extremely talented and diverse group of students from all over the U.S. and the world. Spend your summer living and guiding these students through their Yale summer experience. We are looking for motivated and energetic students to share their love of Yale with all of the summer students. Please click here for the detailed job description and application.
The Global Summer Program in New Haven & Abroad
Take courses taught in English here in New Haven or abroad. Select courses for Yale credit/transfer credit and ISA eligible. Click here to learn more!
STUDY ABROAD
Summer Study Abroad at LSE or the Pembroke-King's Programme
When: Friday, January 27, 3 – 4 pm
Where: CIPE Room 305
Come learn more about these two popular summer study abroad destinations. To learn more, visit:
·         LSE: http://studyabroad.yale.edu/programs/london-school-economics-political
·         PKP: http://studyabroad.yale.edu/programs/pembroke-kings-summer-programme
Study Abroad Walk-In Hours
When: Friday, January 27, 2 – 4 pm
Where: 55 Whitney Avenue, 3rd Floor
Study abroad advisers will be available for walk-ins every Friday from 2–4 pm during the Spring 2017 semester. These meetings are 15 minutes in length and will be offered on a first-come, first-served basis.
FELLOWSHIP PROGRAMS
YALE YEAR-LONG FELLOWSHIPS Q & A
Drop-in hours for students applying to the Year-long Fellowships, who may have questions or concerns before the final application deadline of January 31, 2017, are happening @ CIPE on Tuesday, January 24th at 1:00 pm. All are welcome. Can't make it? Come to regular drop-in hours on Fridays from 2 - 4 PM. 
PROPOSAL WRITING WORKSHOPS @ CIPE
What goes into an effective fellowship proposal? In these workshops, we will discuss the things committees look for when evaluating fellowship proposals. We will go over what can turn a 'decent' proposal into a 'great' one, how to approach creating a budget and we will review resources you can use to construct a successful application. The first proposal writing workshop of the semester is Wednesday, January 25th from 3 - 4 PM.
GLOBAL HEALTH SHOWCASE
Interested in Global Health? Join faculty and students representing all disciplines share opportunities for Global Health summer experiences. Students who have completed projects, internships or research either within the U.S. or abroad during the summer of 2016 will be available to share their experiences. Friday, January 27 from 2 - 4 PM in Loria 250. Please check the Global Health Calendar of Events to confirm the location as the event approaches.
OFFICE OF CAREER STRATEGY
Introducing the New OCS Website:
Log-on today and check out the new OCS website!  All the content from the previous site is included plus much more, in an easy to navigate format.  If you have any questions please contact careerstrategy@yale.edu.
Walk-in Advising 
Monday-Thursday, 10:00am-4:00pm, Office of Career Strategy
Friday, 10:00am-4:00pm, Hall of Graduate Studies, Room 122
Common Good & Creative Careers
Read about this new OCS initiative in YaleNews, Common Good and Creative Careers (CGCC), and how you can access these many unique resources and services.
Mastering Employer Interviews Workshop
Thursday, January 26, 5:00pm-6:00pm, Office of Career Strategy
Develop strategies to prepare for your interviews and best position your experiences to employers. This workshop will give you an understanding of the types of interviews students can encounter, and the differences in interviewing approaches.
Summer 2017 Yale-coordinated Internship Opportunities – First deadline is Tuesday, January 24 at 9:30am
Yale-coordinated Internship opportunities for summer 2017 are live in Yale Career Link, powered by Symplicity.  Students must complete the "Yale-coordinated Internship Programs Policies and Registration" in the Document Library of Yale Career Link, powered by Symplicity. 
Yale-coordinated Internships: Open Hours
Do you have specific questions about the Yale-coordinated Internship Program? The Office of Career Strategy has added supplementary open hours with Julia Bourque and Janelle Lewis to answer any questions relating to international or domestic Yale-coordinated Internships.  Come see us on Mondays, Tuesdays, and Thursdays from 10:00am-12:00pm.
Careers, Life and Yale: The Art of Public Speaking
Friday, February 10, 1:30pm–4:00pm, Afternoon snacks on hand
Workshop leader: Robert Russell '89 (actor, comedian, director/producer, Yale Drama School grad)
Requirement: Be ready to give a 2-3 minute pitch on whatever you want (e.g., informative, persuasive, autobiographical)
Apply to attend at https://clyartofspeaking.eventbrite.com– $9 deposit ($10 to be refunded at event)
Careers, Life and Yale: Finance and Consulting: Career and Life Skills
Friday, February 10, 5:00pm–9:00pm PLUS Saturday, February 11, 1:00pm–5:00pm
Friday evening (February 10) keynote informal dinner alumni-led life-skills workshops (choose 2): Mock interviews, Networking, Resumes. Saturday afternoon (February 11) continuation–keynote (Yale Senior VP/Operations Jack Callahan '80) alumni-led career workshops (choose 2):  Banking, Alternative Finance, In-house Finance, Consulting
Concluding reception (with food): networking with alumni Apply to attend at https://www.surveymonkey.com/r/CLYFCFeb2017
Space for both events is limited. Contact AYA Senior Director Steve Blum '74 with questions atstephen.blum@yale.edu.
Yale School of Management: OPEN Research Assistant Position
In celebration of Yale SOM's 5thDecade, Dean Snyder seeks a part-time research assistant for four months to research, organize, annotate, and summarize world news.  The successful candidate will have strong research and writing skills and be able to successfully identify and highlight themes across news sources.  Powerpoint skills are a plus.  Pay is $25/hr for a set number of hours per week. Please submit a resume and cover letter to Julia Zupko, Assistant Dean, Yale SOM.
1vyG Conference@Yale, Tuesday, February 24-Thursday, February 26
Initiated in March 2016, 1stGenYale is an AYA Shared Interest/Identity Group of Yale alumni who are among the first in their families to attend college or graduate school, share similar life experiences, or just want to make a difference and give back to the Yale community. For more information on the Conference visit http://www.1vyg.org/conference.
San Francisco Career Forum 2017
Saturday, February 11-Sunday, February 12, San Francisco Marriott Marquis
On-Campus Recruiting (OCR)
Applications are open for spring OCR.  OCR employers will be on campus conducting interviews for post-graduation and internship opportunities beginning on February 1. Click on 'Interviews I Qualify For' from the Advanced Search in the 'Jobs' section of Yale Career Link, powered by Symplicity to view the OCR positions and deadline dates.  
Taking Time Off Before Law School, Or Not
Thursday, February 2, 4:00pm-5:00pm, Office of Career Strategy
Jordana Cofino (Yale '12, YLS 15) and Ravi Ramanathan, (Brown '09, YLS '14) will be discussing their decisions about taking time off before law school and matriculating directly after undergrad and how it impacted their law school experience. RSVP
What is a Career in Criminal Law?
Wednesday February 8, 4:15pm-5:15pm, Office of Career Strategy
Join a federal defender, state prosecutor, public defender and an attorney in private practice as they talk about their careers in criminal law. RSVP
Visit the Calendar of Events for a full list of upcoming events. Log in to Yale Career Link, powered by Symplicity under Events/Employer Information Sessions to RSVP.