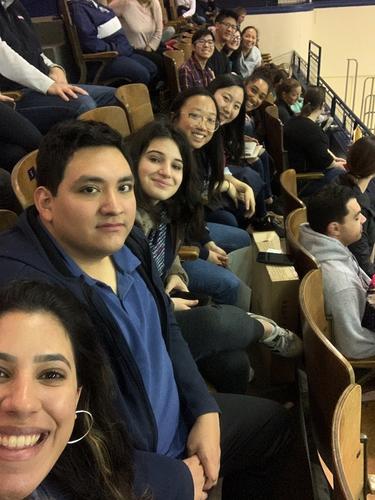 Dear Red Lions,
I know everyone is eagerly anticipating the results of the Kaling/Noble Tea lottery.  I will be announcing it later today so please stay tuned!
Our "photo of the week" comes from Nikita Raheja '20 who captured a great turnout to celebrate "Senior Day" for Yale Women's Gymnastics.  All of us were very excited to cheer on Sofia Menemenlis TD '20 and her teammates as they celebrated their careers and won their last home meet of this academic year!  Congratulations, Sofia!
I am delighted to announce that the

 

TD skating trip is back!  We have the

 

Ralph Walker Rink from 7:30pm to 9pm this Saturday 2/15.  All entry fees and skate rentals will be covered by TD.  There will be a bus going back and forth between TD and Ralph Walker Rink.  Or if it is a clear and warm night, feel free to walk back.  We are about a 20-25 minute walk from the rink.  Here are the times for the bus:
Bus departs from TD:
7:20pm
7:45pm
8:15pm
Bus returns to TD:
8:45pm
9pm
9:15pm
Just like last year,

 

TDers are allowed to invite one non-TD guest to skate.  (It is Valentine's Day weekend after all.)  But the non-TD guests must be accompanied by a TDer on the bus.  Please make sure to sign all waivers – Yale trip waiver and the Ralph Walker Rink waiver – in order to skate.  
Here are our important events for this week:
Wednesday 2/12 4:30pm Tea with Scott Blumenthal, Deputy Director of the Interactive News Desk of the New York Times (TD House)
Scott Blumenthal '96 will talk to us about new trends in news reporting that combine traditional journalism with big data and new media and digital technologies!  Blumenthal leads a team of software engineers to work with the Times newsroom to fulfill its mission to "seek the truth and help people understand the world."  He will also stay after the tea to have dinner with TD students and YDN editors in the Thompson Room.    
Saturday 2/15 7:30-9pm TD Ice Skating Trip to Ralph Walker Rink (Leave from Temple Street Gate)
We are excited to host another TD skating party at the local town rink.  The rink is outdoors so dress in warm layers.  But the clubhouse should have a roaring fire and we'll have hot cocoa and cookies!
And here are out exciting events for next week:
Monday 2/17 4-5pm Tea with Justin Noble and Mindy Kaling (TD House)
Due to popular demand and limited space in the TD House, this TD-only tea will be open to the students who made it through the lottery.  
Wednesday 2/19 4:30pm Tea with Playwright Lauren Yee '07 (TD House)
Award-winning playwright Lauren Yee will be here to talk about her new play, Cambodian Rock Band, premiering at New York City's Signature Theater.  (See TD theater trip below!) The play explores the history of Communism in Southeast Asia in the 1970s through the story of a Khmer Rouge survivor returning to Cambodia for the first time in 30 years, as his daughter prosecutes one of Cambodia's most infamous war criminals.  Directed by Chay Yew, the play employs contemporary music by Dengue Fever and classic Cambodian songs to tell a rock epic.
Wednesday 2/19 6pm Final Cut Preliminary Round (TD Dining Hall)
Cheer on our two TD teams as they go against one another to claim the honor of representing TD at this year's Final Cut competition.  Expect great food and fun!  
Saturday 2/22 NYC Theater trip to Cambodian Rock Band (Field Trip to NYC)
TD excited to collaborate with the Council on Southeast Asia Studies to bring students to see Lauren Yee's play in its New York City premiere at the Signature Theater.  The coach bus will depart from TD's Temple Street gate at 10am and depart from New York City around 5pm.  We have a total of 10 tickets to give away for the trip!  An online sign-up link will be forthcoming!
Without further ado, here is a word from Dean Mahurin…
Àshe,
HL
***
Branch Library
Edward Hirsch
I wish I could find that skinny, long-beaked boy
who perched in the branches of the old branch library.
He spent the Sabbath flying between the wobbly stacks
and the flimsy wooden tables on the second floor,   
pecking at nuts, nesting in broken spines, scratching
notes under his own corner patch of sky.
I'd give anything to find that birdy boy again
bursting out into the dusky blue afternoon
with his satchel of scrawls and scribbles,
radiating heat, singing with joy.
UPCOMING DATES AND DEADLINES
Feb. 15
 
S
 
Deadline for applications for Yale Summer Session Programs Abroad.
 
Feb. 19
 
W
 
Last day to withdraw from a course offered in the first half of the spring term. See Withdrawal from Courses and Grades. 
 
Feb. 27
 
TH
 
Classes begin for courses offered in the second half of the spring term.
 
Mar. 1
 
SU
 
Deadline to apply for Non-Yale Summer Abroad.
 
PEABODY MUSEUM INTERNSHIPS
The Yale Peabody Museum is excited to offer paid summer internships for Yale undergraduate students! Descriptions of the specific internships and the broader internship program, as well as the online application form, are available at: http://peabody.yale.edu/yale-students/summer-internships. Application deadline is Monday, February 17, with applications accepted later on a rolling basis if internships have not been filled.
FOCUS PRE-ORIENTATION LEADERSHIP POSITIONS
We are currently looking for passionate and qualified first-years, sophomores, and juniors to apply to be FOCUS leaders for this upcoming summer! The following link takes you to the application form, and also contains a more in-depth description of the program: https://forms.gle/gFMb9JzTGP2adZuq9
YALE CENTER FOR LANGUAGE STUDY
The Yale Center for Language Study is now accepting applications for fall semester study for its Fields Program and its Directed Independent Language Study (DILS) Program. The deadline for applying to either program for fall semester study is March 1st at 1:00pm.
The Directed Independent Language Study (DILS) Program gives students the opportunity to study a language that is not currently taught in a Yale classroom.  The Fields Program gives students the opportunity to pursue advanced-level language study within the context of their academic area of focus (generally in areas other literature if the language is taught at Yale, since advanced coursework in literature would likely be available).
Both are non-credit programs, open to all registered Yale students (undergraduate, graduate and professional). In each program, students work with a Language Partner—a native speaker of the target language (not a formal instructor)—in two 1-hour sessions for 12 weeks. The sessions aim to develop linguistic and cultural competence through active conversation and practice of what you are studying independently. With a limited number of slots available, a selection committee reviews all applications for their merit and appropriateness, and notifies students of its decisions within four to six weeks after the application deadline.
Details on each program and how to apply can be found at these links:
Directed Independent Language Study (DILS): 
https://cls.yale.edu/dils
Fields Program: 
https://cls.yale.edu/fields
STUDY ABROAD
Yale Summer Session Programs Abroad | Application Deadline: February 15
Study Abroad with the School for Field Studies
Tuesday, February 11, 4:00pm – 5:00pm
CIPE, 55 Whitney Avenue, 3rd floor, Room 305
 
Study in Bath: Advanced Studies in England (ASE) Information Session
Wednesday, February 12, 4:00pm – 5:00pm
CIPE, 55 Whitney Avenue, 3rd Floor, Room 305
 
International Summer Award (ISA) Drop-in Hours
Friday, February 14, 2:00pm - 4:00pm
CIPE, 55 Whitney Avenue, 3rd Floor, Rm 309A
 
International Summer Award (ISA) Info Session – Non-Yale Summer Abroad
Tuesday, February 18, 4:00pm - 5:00pm
CIPE, 55 Whitney Avenue, 3rd Floor, Rm 305