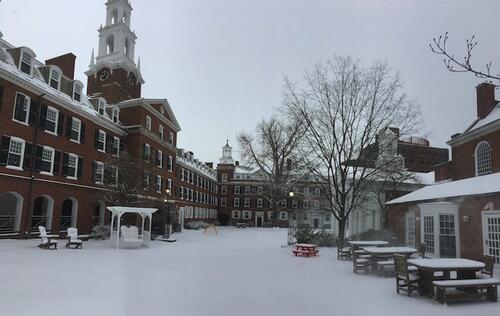 Dear Red Lions,
Welcome to the spring 2021 semester!  I hope everyone had a good break and are ready to jump into the new term.  Good luck with classes today!
First, some important announcements about the snowstorm if you are living on-campus:
Silliman/Maya's Room COVID-19 Viral Test Site will close at 1pm today and open late at 11am on Tuesday.   Per Dr. Maddie Wilson's email yesterday tests scheduled for this afternoon or tomorrow morning would have been canceled through MyChart.  So please make sure to reschedule your appointment ASAP so that you stay with your assigned testing pattern.  (Please note that off-campus students are asked to not come to test today or Tuesday because of the storm.  You will resume your regular test schedule after the storm.)
TD Dining Hall will be closing after lunch today and reopen for lunch tomorrow.  At lunch today, you will be picking up lunch AND tonight's dinner as well as Tuesday morning breakfast.  Assuming the storm passes quickly, the DH will reopen for lunch on Tuesday.  So please don't skip lunch today!  
TD Package Storeroom will not open today because of the snowstorm.  We are waiting final confirmation from Yale's central shipping office on Church Street when deliveries will resume, hopefully tomorrow.  In any event, please don't come to the Package Storeroom unless an aide has notified you that we have received your package.
For Facilities Emergencies such as heat outage, leaking roof, etc. please call Yale Facilities emergency number 203-432-6888 for service right away.  When you get the ticket confirmation in your email please forward it to KC Mills and myself.  I don't anticipate any issues but we never know when severe weather strikes are beautiful, but old, Yale buildings.
Of course, this week's "Photo of the Week" features our courtyard in a blanket of snow.  It's always so stunning to see the courtyard in winter wonderland mode.  Bundle up, folks!
 
Lastly, we are delighted to welcome back our 2nd Dining Hall Manager, Geoff Raab, who was at Branford/Saybrook last fall.  Happy to have you back among the Red Lions!
Onto programs in-person and virtual…
We are excited to have our Sophomore lions back but also sad that our First-Year lions are mostly not here this semester.  As we continue to be a hybrid in-person and remote community, I will do my best to make as many of our activities as accessible as possible whether you are in residence, remote, or on a Leave of Absence.  For example, all TDers are welcome to sign up for this year's Run for Refugees – College Edition – sponsored by New Haven's Integrated Immigrant and Refugee Services (IRIS).  This will be a virtual run taking place from 3/1 to 3/15.  We will be sponsoring 40 runners this spring and I will announce the free registration code for TD students once I receive it from the race organizers.  For now, just save the date. 
Here are some important dates for this week:
Thursday 2/4 4-5pm TD Thursday Snack Break – Cupcakes! (TD Package Storeroom)
The TD HoC office is planning a semester-long series of afternoon food breaks led by our wonderful TD Service Assistant, Sharon Goldbloom.  Most of these will take place on Thursday afternoons with contactless food delivery at the TD Package Storeroom.  This Thursday we are doing cupcakes from Four Flowers, a local New Haven bakery.
Friday 2/5 11:59pm Submission Deadline for Spring Semester Creative and Performing Arts (CPA) Grants
Last call for submitting a CPA for the spring 2021 semester.  If you are not familiar with the CPA please go to the website and read the guidelines for submission.  Please make sure to set up an appointment with me before applying.  You can write Deanna Caplan, TD Senior Administrator, at deanna.caplan@yale.edu to set up an appointment with me.  Applications are on the Yale Grants Database.  
Sunday 2/7 6:30pm EST: TD First-Years Super Bowl Watch Party
Your wonderful Reps on the FCC and TD's Mott Woolley Council have organized a Zoom watch party for this weekend.  You'll watch on your own devices but hangout together over Zoom.  Expect fun contests and prizes in 5 separate categories: cutest pet, score prediction, most enthusiastic, best decorated room, and a water chugging contest.  Prizes will be shipped to the lucky winners.  We will send out the Zoom link closer to the event.  And stay tuned for more great First-Years events planned for the semester.  
Without further ado, here is a word from Dean Mahurin…
Àshe,
HL
***
 
"You can't eat straight As
." (Maxine Hong Kingston)
PERTINENT DATES AND DEADLINES
 
| | | |
| --- | --- | --- |
| Feb. 1 | M |    Spring-term classes begin. |
| Feb. 5 | F |    Deadline for students to submit a final course schedule. |
| Feb. 15 | M |    Application for 2021 New Haven and online Summer Session courses opens. Rolling admissions for New Haven and online courses. |
| Feb. 15 | M |    Final deadline to apply for a spring-term Leave of Absence. See Leave of Absence, Withdrawal, and Reinstatement. |
| Feb. 15 | M |    Withdrawal from Yale College on or before this date entitles a student to a full rebate of spring-term tuition. See Undergraduate Regulations. |
| Feb. 22 | M |    Classes do not meet. |
THE READING RESILIENCE PROJECT
The Reading Resilience Project is a library initiative to amplify underrepresented voices in library collections. Yale students are encouraged to participate in this project by recommending books and other creative works by and about people of color. The ever-growing crowd-sourced list of books is available to browse online at guides.library.yale.edu/Reading-Resilience. Recommended items not held at Yale Library are also considered to purchase for Bass Library.
If there is a book you would like to see the library own or that you would like to recommend to your peers – join the conversation at bit.ly/rrpyale.
ACADEMIC STRATEGIES WORKSHOPS
Time Management
Monday, February 1 @ 4 pm ET
Time management is key for lowering stress at Yale. Set priorities and develop a weekly schedule that can lead to an active and balanced academic life.               
 
Cultivating Faculty Mentors/Recommendations
Monday, February 1 @ 7 pm ET
Initiate conversations, ask for assistance, request recommendations, and build mentoring relationships with Yale faculty, teaching fellows and staff.
 
Get the Most Out of Your Language Classes
Monday, February 1 @ 9 pm ET
Learn the daily habits and mindsets that can help you succeed in learning a language at Yale.
 
Managing a Heavy Reading Load
Tuesday, February 2 @ 4 pm ET
Feeling overwhelmed by piles of reading? Learn some essential strategies to make the most of your limited reading time. Have less stress and create more free time!
 
Reading Effectively for STEM      
Tuesday, February 2 @ 7 pm ET
Monday, February 8 @ 9 pm ET
Learn strategies for reading purposefully and efficiently for STEM courses. Effectively read textbook chapters and scientific articles; navigate jargon, data, and figures; use readings to prep for problem sets and exams.
 
How to Study Away from Campus: A Guide to Motivation, Connection, and Time Management
Tuesday, February 2 @ 9 pm ET
Learn how to create environments, schedules, and peer networks to help support your learning while away from campus and help you stay refreshed and motivated to engage in your academic work.
 
Creating a Timeline for Your Senior Thesis          
Wednesday, Feb. 3 @ 4 pm ET
Monday, Feb. 8 @ 4 pm ET
Learn how to plan your writing and research, and how to access support resources for your senior thesis.
 
Imagining Your Summer (with CIPE) – **FINAL WORKSHOP!!**
Wednesday, Feb. 3 @ 7 pm ET
Interested in summer study abroad, fellowships, or internships, but don't know how to get started? Hear from students who have done these things to help you identify some possible summer opportunities. You will leave with a clearer idea of what is possible and the resources you can access to make your vision happen. Now is the perfect time to start planning!
 
Strategies for Intro Math: Problem Sets & Exams
Wednesday, Feb. 3 @ 9 pm ET
Learn strategies for efficiently working on intro math problem sets and key approaches for studying for exams
 
Getting the Most Out of Your Seminars & Lectures         
Thursday, Feb. 4 @ 4 pm ET
Learn preparation, participation, note-taking, and review strategies to help you succeed in these two very different learning environments.
 
Fresh Start: Positive Change for Your Academic Life
Thursday, Feb. 4 @ 7 pm ET
Refresh your approaches to your academic work through a series of activities that identify your current strengths and develop new strategies for meeting the challenges of this semester.
 
Getting the Most Out of Your Reading
Thursday, Feb. 4 @ 9 pm ET
Learn general strategies for effectively reading texts for any Yale class. Learn how to preview a text, effectively interact with the text while reading, and review your reading for class, essay, or exam preparation.
 
Mellon Mays and Bouchet Fellowships Application Workshop
Friday, Feb. 5 @ 4 pm ET
Working on an application for the Mellon Mays and Bouchet Fellowships? Bring your questions and your work-in-progress for feedback on how to refine and revise your application.
 
OFFICE OF CAREER STRATEGY
EVENTS
Virtual All Ivy Environmental and Sustainable Development Career Fair: Register by Monday, February 1st in order to attend the event scheduled for Friday, February 5th from 10:00am-1:00pm EST. Visit our site for a list of pparticipating organizations and to register to attend.
 
APPROACHING APPLICATION DEADLINES
Check out Preferred Yale Partners positions in Yale Career Link. These opportunities include full-time positions and internships posted by Yale alumni and other affiliates.
 
Global Portfolio Management Expert, EMD Serono/Merck, Apply by January 31
Buckley Media & Public Policy – Gingrich 360 Intern, Apply by May 1
Buckley Media & Public Policy FIRE Summer Intern, Apply by May 21
 
Summer Experience Award (formerly known as the Domestic Summer Award)
Enhancements have been made to the former DSA. Review the changes on the Office of Career Strategy website and check out the Frequently Asked Questions. The application for the Summer Experience Award (SEA) is in Yale Career Link and the deadline to apply is May 1, 2021. Important updates include:
 
Eligible students may use the SEA for their choice of an internship, research experience or arts apprenticeship in the U.S. or abroad.

If the experience is in the U.S., the award will be $4,000. If the experience is outside the U.S., the award will be $6,000.

The SEA is the former DSA, therefore students who have previously used their DSA are not eligible.

Inquiries can be sent to

 sea@yale.edu
Yale-China Speaker Series 
featuring former Fellows in different fields. Sign up to attend one or more sessions

 
here
.
Health & China, February 10, 8 pm EST

Technology & Education, February 17, 8 pm EST

Arts, February 24, 8 pm EST

Law & China, March 3, 8 pm EST
To apply for the Yale-China fellowship, please go here.