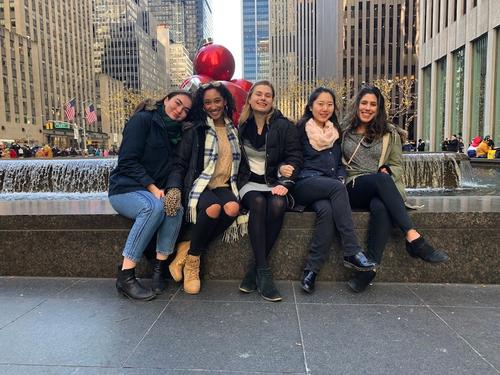 We had a great TD arts weekend with the NYC trip and the TD Orchestra performance!  Elayna Garner TD '20 submitted this picture of senior lions for "Photo of the Week" featuring fellow seniors (from left to right) Valentina Connell, Elayna Garner, Trina White, Karen Yao, and Nikita Raheja.  
Our first SAC Study Break starts tonight at 10pm in the TD Thompson Room with samosas from Sitar.  And we'll put out one of our famous TD puzzles!
Please remember that TD Quiet Hours (11pm-8am) are now in effect every night for the entire reading/exam period.  I know we had some excitement in the courtyard last night just before midnight with the dramatic end to this year's Assassin's Game – congratulations to Yasmin Alamdeen '21 – but we really to keep noise levels to a minimum.  And please continue to take good care of the TD Dining Hall now that it is open for 24 hour quit study. 
Here again is our list of TD Study breaks:
Monday 12/9 10pm SAC Study Break Samosas from Sitar (Thompson Room)
Tuesday 12/10 9pm SAC Study Break Garden Catering Nuggets (Thompson Room)
Wednesday 12/11 9pm Koon Thai – Sponsored by the Yale Alumni Association with SAC (Thompson Room)
Wednesday 12/11 9:45pm TD Ten Minute Courtyard Dance Party (TD Lower Courtyard)
One of our favorite TD traditions.  Get your blood flowing and dance off the stress!  It really only lasts for 10 minutes so don't miss it!
Thursday 12/12 8-9:30pm Cookie Baking with TD Graduate Affiliates (TD Student Kitchen)
Follow your nose to fresh-baked cookies.  Meet our wonderful Grad Affiliates and enjoy the warm treats!
Friday 12/13 Full Hot Breakfast (TD Dining Hall)
We have traditionally kicked-off the first full day of exams with a full hot breakfast in the TD Dining Hall.  This will be a lot like our TD brunches so lots of food for you to fuel up for the day!
Saturday 12/14 8am Grab n' Go Bruegger's Bagels and Cream Cheese (Thompson Room)
The Dining Hall will remain on their brunch schedule for the weekend.  To support folks taking a 9am exam on Saturday morning, we will be putting out bagels and cream cheese first thing in the morning.  Feel free to take the food and go.
Saturday 12/14 7:30-9:30pm Lightning Game Night (TD House)
A great pick me up to wake up your brains and also get in some good laughs.  All games are played in less than 15 minutes so you can't procrastinate too long…  We'll also have food and drink so stop by! 
Sunday 12/15 10pm Big Sibs/Little Sibs Brownie banking (TD Student Kitchen)
Our big sibs coordinators are baking up homemade brownies!  So stop by to stir some batter or just grab a delicious treat.  Great way to connect and support one another through these last few days of the exam period!
Monday 12/16 8pm Coach Simon and Divera Simon cookie delivery (Thompson Room)
The Simons are excited to bake up their delectable cookies so come on by to say hello and grab a cookie!
We'll finish out the exam period with pizza delivery each night at 10pm in the TD Thompson Room from Friday 12/13 to Tuesday 12/17.  
Without further ado, here is a word from Dean Mahurin…
Àshe,
HL
***
 
Peach
DH Lawrence
Would you like to throw a stone at me?
Here, take all that's left of my peach.
Blood-red, deep:
Heaven knows how it came to pass.
Somebody's pound of flesh rendered up.
Wrinkled with secrets
And hard with the intention to keep them.
Why, from silvery peach-bloom,
From that shallow-silvery wine-glass on a short stem
This rolling, dropping, heavy globule?
I am thinking, of course, of the peach before I ate it.
Why so velvety, why so voluptuous heavy?
Why hanging with such inordinate weight?
Why so indented?
Why the groove?
Why the lovely, bivalve roundnesses?
Why the ripple down the sphere?
Why the suggestion of incision?
Why was not my peach round and finished like a billiard ball?
It would have been if man had made it.
Though I've eaten it now.
But it wasn't round and finished like a billiard ball;
And because I say so, you would like to throw something at me.
Here, you can have my peach stone.
UPCOMING DATES AND DEADLINES
Dec. 6

F

Classes end, 5:30 p.m.; reading period begins.
Last day to withdraw from a fall full-term course or a course offered in the second half of the fall term. See Withdrawal from Courses and Grades.

Dec. 12

TH

Reading period ends, 5 p.m.
Final examinations begin, 7 p.m.†
Deadline for all course assignments, other than term papers and term projects. This deadline can be extended only by a Temporary Incomplete authorized by the student's residential college dean.

Dec. 15

SU

Applications for 2020 Yale Summer Session Programs Abroad, Non-Yale Summer Abroad, Fall 2020 Term Abroad, and 2020-2021 Year Abroad open.

Dec. 18

W

Examinations end, 5:30 p.m.; winter recess begins.
Deadline for all term papers and term projects. This deadline can be extended only by a Temporary Incomplete authorized by the student's residential college dean.
CLASS OF 2021: Interested in applying to become a first-year counselor?
Join me and members of this year's froco team for an informal information session in the Selin Lounge tomorrow, 12/10, at 9:00pm.  We'll try to answer all your most pressing questions!  You can also learn more about frocoing at https://yalecollege.yale.edu/communities/student-leadership/first-year-counselor-program-froco. 
Institution for Social and Policy Studies
The Institution for Social and Policy Studies at Yale (ISPS) is pleased to announce that applications are open for the Director's Fellows program. The fellowship is open to Yale sophomores and juniors who are committed to working in U.S. domestic politics and policymaking. Selected Fellows will join ISPS as members of the Domestic Policy Group starting in January 2020, and over the course of one calendar year, will receive sophisticated policy training from ISPS faculty and affiliates, integrate into ISPS research activities, and test their development through real world application and feedback. ISPS Director's Fellows will have the opportunity to attend biweekly workshops, some featuring prominent Yale faculty and guests working on policy-relevant issues and others providing training in skills such as op-ed and policy memo writing, media appearances, and blogging.
The Fellowship is open to Yale College sophomores and juniors and can be completed online. To apply, please visit our webpage and click on the Application Form near the bottom of page. Deadline for applying is December 18, 2019 at 11:59pm. Accepted fellows will be notified in January.  Should you have any questions, please feel free to contact Tory Bilski at victoria.bilski@yale.edu.
DC IMPACTlink & Georgetown Expo Q&A Session
Thursday, December 12, 12:00pm-1:00pm
Office of Career Strategy
DC IMPACTlink & the Georgetown Expo will be on Friday, February 7 in Washington, DC. Robyn Acampora and Denise Byrnes from OCS attend these 2 events annually and will be available to answer any of your questions. There will be no formal presentation given but instead stop by for as long or as little as you need. If you cannot attend but have questions, email robyn.acampora@yale.edu. DC IMPACTlink is an off-campus Consortium recruiting event providing seniors the opportunity to interview with a select group of impact driven Washington, DC based organizations. Deadline application: January 13, 2020. Georgetown Government, Nonprofit, & Education Career Fair brings top employers to Georgetown to recruit for internships and full-time jobs in a wide range of fields in the government and nonprofit sectors. All students can attend. Sign up in Yale Career Link. Seniors can use the Travel Reimbursement for both events.
FELLOWSHIPS: Approaching deadlines
December 13, 1:00pm EST - Richard U. Light Fellowship Late Fall Competition Deadline to start an application in the Student Grants Database (SGDB) and upload a language evaluation form| Eligible: First-Year Students, Sophomores, Juniors, Seniors, and Graduate Students (Note: If you did not already attend an info session this semester you are ineligible to apply for the 2019 competition)
December 31, 11:59PM EST - SALAM 2020: Summer Arabic Language and Media Program National Deadline |Eligible: First-Year Students, Sophomores, and Juniors
January 8, 1:00pm EST - Richard U. Light Fellowship Late Fall Competition Deadline to submit recommendation requests
January 13, 1:00pm EST - National Institute of Standards and Technology Summer Undergraduate Research Fellowship - NIST SURF Campus Deadline | Eligible: First-Year Students, Sophomores, Juniors & Seniors
January 15, 1:00pm EST - Boren Undergraduate Scholarship for Language Study Campus Deadline |Eligible: First-Year Students, Sophomores, and Juniors
January 15, 1:00pm EST - Davis Projects for Peace Campus Deadline | Eligible: First-Year Students, Sophomores, Juniors, and Seniors
January 15, 1:00pm EST - Beinecke Scholarship Program Campus Deadline | Eligible: Juniors
January 17 - The Hilary Rodham Clinton Award for Peace and Reconciliation National Deadline | Eligible: Seniors/Alumni
January 24, 1:00pm EST - Mortimer Hays-Brandeis Traveling Fellowship Program Campus Deadline | Eligible: Seniors/Alumni
January 31 - Mount Vernon Leadership Fellows Program National Deadline | Eligible: Sophomores