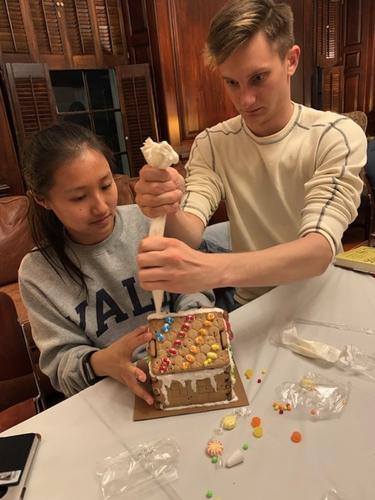 Dear Red Lions,
Hope you all had a wonderful break full of good food and company!  We started last week with Gingerbread House making on Monday night. Many thanks to Ben Kelly for submitting these great gingerbread photos for "photo of the week"!
Then the Lui-Balbarin family had a great time cooking up a feast and sharing it with TDers and non-TD friends. 
The break also brought some joyous news! 

 

Congratulations to our new TD Residential Fellows, Amy Bei and Sidiya Mbodj, who welcomed their third child,

 

Anna Fatoumata Mbodj. 

 

Anna was born this past Monday 11/25 at Yale New Haven Hospital.   Everyone is doing great and big sisters Aby Zahr and Dior Maryam are enjoying their new little sister and can't wait to move into TD!
Hard to believe, but we are down to our last week of classes!  This also means it's our last week of programs for the college.  After the TD orchestra concert on Sunday evening at 8:30pm, we begin the transition into Reading Week and exams period.   This will mean the Dining Hall will stay open 24 hours for quiet study.  And Quiet Hours protocol will be in effect so that everyone can get good rest and find ample time and space to work.  We'll send out another email later this week with the list of study breaks – food and non-food.  So stay tuned!
In the meantime, here are our important events for this week:
Tuesday 12/3 9:15pm "Mystery of Sleep" (TD Lounge)
Are you yet another sleep deprived Yalie? Want to discover tips on how to improve your sleep? How to fight jet lag? Trying to fight insomnia? Come to the "Mystery of Sleep" event hosted by TD juniors Shannon Guerra and Marianna to learn all this and more! (yes, there will be treats!)
Friday 12/6 5pm TD Holiday Dinner (TD Dining Hall) and Holiday Photo Booth (TD Common Room)
Excited for another wonderful holiday dinner from our amazing TD Dining Hall staff.  Our TD aides will be setting up a photo booth in the TD Common Room so please stop by to get your photos taken before heading into the Dining Hall or out to Yale on York for the First-Year Holiday Dinner.
Saturday 12/7 NYC Winter Arts Trip to NYC
Last call to sign up for our annual outing to NYC during the winter holiday season.  TDers may choose to go to either Alvin Ailey or "Ain't Too Proud to Beg" or just catch a ride to the city for the day.  We close the sign-ups at midnight tonight and announce the ticket winners by noon on Tuesday.
Sunday 12/8 8:30pm TD Community Chamber Orchestra Performance (TD Dining Hall)
TD Orchestra performs its winter concert featuring the work of Sibelius, Bizet, and Gounod.  The concert will be followed by a reception of hot cocoa, apple cider, and cookies.  And then the Dining Hall will officially begin 24 hour Quiet Study.
Without further ado, here is a word from Dean Mahurin…
Àshe,
HL
***
 
Branch Library
Edward Hirsch
I wish I could find that skinny, long-beaked boy
who perched in the branches of the old branch library.
He spent the Sabbath flying between the wobbly stacks
and the flimsy wooden tables on the second floor,   
pecking at nuts, nesting in broken spines, scratching
notes under his own corner patch of sky.
I'd give anything to find that birdy boy again
bursting out into the dusky blue afternoon
with his satchel of scrawls and scribbles,
radiating heat, singing with joy.
UPCOMING DATES AND DEADLINES
Dec. 6

F

Classes end, 5:30 p.m.; reading period begins.
Last day to withdraw from a fall full-term course or a course offered in the second half of the fall term. See Withdrawal from Courses and Grades.

Dec. 12

TH

Reading period ends, 5 p.m.
Final examinations begin, 7 p.m.†
Deadline for all course assignments, other than term papers and term projects. This deadline can be extended only by a Temporary Incomplete authorized by the student's residential college dean.

Dec. 15

SU

Applications for 2020 Yale Summer Session Programs Abroad, Non-Yale Summer Abroad, Fall 2020 Term Abroad, and 2020-2021 Year Abroad open.

Dec. 18

W

Examinations end, 5:30 p.m.; winter recess begins.
Deadline for all term papers and term projects. This deadline can be extended only by a Temporary Incomplete authorized by the student's residential college dean.
CLASS OF 2021: Interested in applying to become a first-year counselor?
 
Join me and members of this year's froco team for an informal information session in the Selin Lounge next Tuesday, 12/10, at 9:00pm.  We'll try to answer all your most pressing questions!  You can also learn more about frocoing at https://yalecollege.yale.edu/communities/student-leadership/first-year-counselor-program-froco. 
STUDENT GRANTS FOR DIVERSITY, EQUITY, INCLUSION, AND BELONGING
Secretary Kim Goff-Crews invites all students and registered student organizations to apply for up to $1,500 for an event or speaker that promotes a sense of belonging and community at Yale. The program should educate about challenges to inclusion on our campus and in society, facilitate the exchange of viewpoints across ideological or other differences, or celebrate examples of excellence and achievement. Collaborations among student organizations and proposals that present multiple points of view are encouraged and preferred.
Deadlines to apply are December 4, February 19, and June 3. More information about guidelines and how to apply is here.
STUDY ABROAD 
Come Chat with Study Abroad Student Outreach Coordinators: Winter Edition
Wednesday, December 4, 11:00am - 1:00pmRomance Languages Lounge, 82-90 Wall Street, 3rd Floor
Bass Cafe
International Summer Award Information Session
Friday, December 6, 2:00pm - 3:00pm
CIPE, 55 Whitney Avenue, 3rd Floor, Room 305
  ​
Study Abroad Drop-In Hours: Will be held on Friday, December 6, 2pm - 4pm at 55 Whitney Avenue, 3rd Floor.
Please note: December 6 is the last day of fall semester Drop-in Hours. Drop-in Hours will resume for the spring semester on Friday, January 17, 2020
Meet with a Study Abroad Adviser – Schedule an appointment directly from our website.
FELLOWSHIPS
Yale College Postgraduate Fellowships Info Session
Thursday, December 5, 4:00pm - 5:00pm
CIPE, 55 Whitney Avenue, 3rd Floor, Rm 305
Planning Research and Independent Projects
Friday, December 6, 1:00pm - 2:00pm
Poorvu Center for Teaching & Learning, 120A
Monday, December 9, 4:00pm - 5:00pm
Poorvu Center for Teaching & Learning, 120A
Public Service, Community Service and Government Opportunities
Tuesday, December 10, 4:00pm - 5:00pm
Yale Poorvu Center for Teaching and Learning