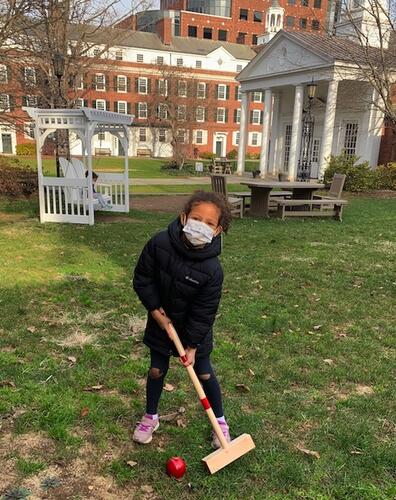 Dear Red Lions,
Hope you are all hanging in there as we begin our last week of the fall 2020 semester.  This was a very challenging semester whether we were joining in remotely or in residence living on- or off-campus.  I cannot be more proud of our fabulous community for getting through this unprecedented time together so let's keep going.  The finish line is truly in sight!
As we head into the winter holidays, I am happy to share our last TD puzzle for the exam period and features our Dining Hall all decked out with holiday cheer.  Enjoy!
And it's never too early to get started on training for next semester's IMs as our "photo of the week" features Aby practicing her swing.  So if croquet ends up as an IM sport, TD will have our ringer!  
 
TD SUMMER FELLOWSHIPS
If you are looking for something to do during the long break, you can take a look at these TD fellowships, reserved only for our students in the college.  The applications will go live in the 
Yale Student Grants Database
 starting in early January.  (Please note that TD seniors are not eligible to apply for the TD summer fellowships.)  If you have any questions please do not hesitate to write Deanna Caplan at 
deanna.caplan@yale.edu
 to make an appointment for my office hours when they resume again in the last week of January 2021.
Creative and Performing Arts Awards in the Residential Colleges 
The CPA supports on-campus dramatic, musical, dance, video or film productions, literary publications, and exhibitions in each of Yale's Residential Colleges.  For guidelines, please go to the CPA site.  The online application goes live on 1/6/2020 and closes on Friday, February 5 at 11:59pm.  Decisions will be made by February 15th.  All potential applicants need to meet with HL prior to submission.  Please email deanna.caplan@yale.edu to make an appointment.
These next three summer fellowships open for applications on 1/12/2021 through the Student Grants and Fellowships database.  
Timothy Dwight College Bergin Fellowship 
Established in honor of Thomas Bergin, former head of TD, the fellowship may be awarded to a TD student for a summer experience that may include a summer course, an internship, or a work experience at Yale or beyond.  
Timothy Dwight Richter Summer Fellowship
Intended solely for the purposes of independent study and research, the Richter fellowship requires applicants to have a clear research agenda that goes beyond mere travel or summer course work.  Creative Projects and group research projects may be funded.  
Timothy Dwight Chubb Student Fellowship
This fellowship extends the work of the original 1941 gift by Hendon Chubb to encourage and support "students interested in government and public affairs."   To reflect the ways in which the Chubb Fellowship has honored leaders in the arts, humanities, and sciences, the Chubb Fellowship may fund TD students engaged in public service or leadership development in any professional field.  However, government and public affairs will continue to take priority.  
This wraps up our last "Notes and News" for the fall 2020 semester and I look forward to starting up again after the long winter break.  May you all rest and catch up with dear friends and family!  Without further ado, here is a word from Dean Mahurin…
Àshe,
HL
***
"It is very hard to say the exact truth, even about your own immediate feelings – much harder than to say something fine about them which is not the exact truth." (George Eliot, Adam Bede)
END OF TERM POLICIES
One last reminder that this Friday, December 18 is also the final possible date for the submission of term papers and term projects.  Of course, individual instructors may set deadlines for earlier than this date, even as they have full discretion to set deadlines as late as this date.  Beyond December 18, coursework may be submitted only with a Temporary Incomplete from me; your instructor cannot set deadlines or issue extensions for beyond December 18, even in graduate or professional school courses.  Yale College considers such deadlines and extensions invalid, and the work will not be counted toward your grade.  
Please note that, as with Dean's Excuses, the Academic Regulations permit Temporary Incompletes in only a limited range of circumstances; contact me right away if you anticipate needing one so that we can discuss your situation.  Postponements of scheduled final examinations also require my intervention, and may be authorized under the same set of circumstances as Dean's Excuses and Temporary Incompletes.  As always, if you find yourself in any kind of trouble relating to the submission of work or the taking of exams, let me know right away – I'm very happy to consult on these points.
ACADEMIC STRATEGIES WORKSHOPS
Procrastination: How to Work Through It
Monday, December 14 @ 4 pm ET
This workshop offers strategies for identifying the sources of procrastination and pursuing productive habits that can get you back on track.
Exam Study Strategies
Monday, December 14 @ 7 pm ET
Reduce exam stress by learning new strategies for preparing and studying for midterms and finals. This workshop offers suggestions for preparing for and taking problem-based, short answer, and essay exams.
Cultivating Faculty Mentors/Recommendations
Tuesday, December 15 @ 4 pm ET
Initiate conversations, ask for assistance, request recommendations, and build mentoring relationships with Yale faculty, teaching fellows and staff.
Time Management
Tuesday, Dec. 15 @ 9 pm ET
Time management is key for lowering stress at Yale. Set priorities and develop a weekly schedule that can lead to an active and balanced academic life.               
APPROACHING FELLOWSHIP DEADLINES
December 15 - Rotary Foundation Global Grant Scholarships; District 7980 Foundation Scholarships; Contact the gershonmail.net%20%3ccmg@gershonmail.net%3e" target="_blank">New Haven Rotary Foundation Chair with application questions | Eligible: Seniors/Alumni       
 
January 4, 1:00pm ET
 - 
Richard U. Light Fellowship
 (Summer, Fall, and Academic Year Study) Campus Deadline | Eligible: First-Years, Sophomores, Juniors, Seniors, and Graduate Students 
(Note: Attending an 
info session
 is required.)
January 6, 1:00pm ET - Davis Projects for Peace Campus Deadline | Eligible: First-Year Students, Sophomores, Juniors, and Seniors      
January 14, 1:00pm ET - Beinecke Scholarship Program Campus Deadline | Eligible: Juniors         
January 15, 1:00pm ET - Boren Undergraduate Scholarship Campus Deadline | Eligible: First-Years, Sophomores & Juniors  
January 22 - The Hilary Rodham Clinton Award for Peace and Reconciliation National Deadline | Eligible: Seniors/Alumni      
January 27, 1:00pm ET - Mortimer Hays-Brandeis Traveling Fellowship Program Campus Deadline | Eligible: Seniors/Alumni    
February 3, 1:00pm ET - Yale College Postgraduate Fellowships Campus Deadline | Eligible: Juniors & Seniors   
February 3, 1:00pm ET - Frederick Mortimer Clapp Fellowship Campus Deadline | Eligible: Seniors   
February 5, 1:00pm ET - Henry/Mellon/Kings Fellowships Common Application Campus Deadline | Eligible: Seniors