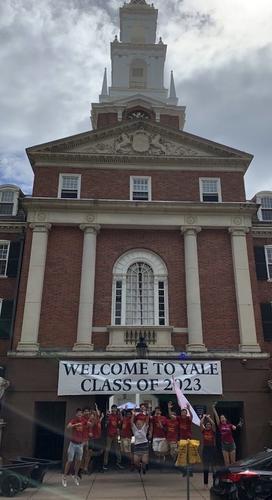 Dear Red Lions,
 
We are so excited to welcome the TD Class of 2023 as well as our new transfer students and Eli Whitney students!  And I am equally grateful to our wonderful TD upper years who braved the rain and came out to be a part of our amazing TD welcome/move-in crew this past Friday!  It's wonderful to see that a little rain couldn't dampen our spirits!
For any of you who are new to the TD community, please know that "Notes and News" is our weekly newsletter that comes out every Monday.  I will be announcing important college events and deadlines and Dean Mahurin will also add important academic deadlines and opportunities across Yale College.  So please read!!!  
We also feature a photo each week submitted by a member of our community – students, staff, and fellows – so please email your pictures to me at mary.lui@yale.edu.  Photos can be taken inside or outside of TD and should have a title or caption with the names of TD students pictured.  Here is our first "photo of the week" submitted by TD Sophomore Clayton Land who was out with the TD upper years in full force moving in our new members of the community!
 And can't resist but put in one more…
Please note that my TD office hours this year will continue to be on Wednesdays and Fridays from 1:30-3:30pm in my Head of College office.  Walk down the covered walkway and you'll see the HoC office on the left.  To make an appointment, please pop into the office or email my senior administrator at Karen.mcgovern@yale.edu and she will find you a time.  
Last but not least – TD Community Night will be on Monday 9/9 at 8pm – so mark your calendars! We will have our usual pizza intermission at the halfway point.  We welcome anyone who wants to share their talents with the TD community – especially our brand new first-years!  Singers, musicians, poets, comedians… and, of course, magicians, and anyone else with a desire to get up and perform are all welcome!!!  If you wish to sign up please go to this link.
Here are some more important TD events for this week:
Monday 8/26 (tonight!!!) 7pm Big Sibs/Little Sibs Ice Cream Cart Social (TD Courtyard)
Time to connect with your sibs!!!  Our sib coordinators this year are TD sophomores George Hua, Calvin Kaleel, Vanessa Bell, and Thuy Pham. The TD upper years cannot wait to meet their little Sibs!  Just come to the TD courtyard and you'll find each other. Don't forget to pick up a t-shirt and a cold treat from the ice cream cart!
Tuesday 8/27 6pm First Year Dinner (TD Dining Hall)
A special dinner to celebrate the arrival of our newest members of the TD community and the start of the 2019 academic year!  All attending the dinner should come to the TD Common Room to receive your TD pins and sign in before the start of the dinner at 6pm.  All TD upper years should proceed to Old Campus for a cookout.
Here are some important dates and events for next week:
Monday 9/2 4pm Deadline for submitting Creative Performing Arts (CPA) Award 
Interested in doing a creative project for music, visual art, theater, film/video, and many more this year and need funding?  Check out the Creative and Performing Arts award!!!  All CPA funding proposals must be submitted electronically by the 4pm deadline when the application system will go offline.  If you are applying for a CPA, you must meet with me to discuss your proposal.  To make an appointment, please write Karen.mcgovern@yale.edu or come to the HoC office.  To access the proposal and get a full description of the award categories, please go to this link.  Please be sure to note what the CPA will NOT fund! 
 
Monday 9/2 New Haven Labor Day Road Race 
 
This is a great annual charity road race that will go through New Haven neighborhoods and end with running past TD's gates!  It's also home of the national 20k championships so you will see some elite runners out there if you're running the 20K/half marathon!  TD will again sponsor 30 runners for the 5k and 5 runners for the 20k/half marathon.  If you'd like to run the race, please go to this registration link and enter the following codes for your free race entry:
For the half and 20K: TimothyDwight19
For the 5K only: TimothyDwight5
Please note that you must pick up your race packets yourselves.  This year, the pre-race pick up will be at Elm City Market on the corner of Chapel and State.  You can pick up your race packets during the business day at the market or on race day on the New Haven Green before the start of the race.  It's also home of the national 20k championships so you will see some elite runners out there if you're running the 20K/half marathon!  
 
Monday 9/2 First Years' Outing to Sunnyside Farm
Our wonderful TD tradition of taking our first-year class on a special outing continues!  This year, we are once again headed to Sunnyside Farm, the home of Timothy Dwight College fellows Judge Guido Calabresi and Anne Calabresi.  Our TD aides and college staff will be on hand to provide a great cookout and fun games for the afternoon!  Stay tuned for our departure time shortly after the roads reopen following the annual New Haven Labor Day race.
Sunday 9/8 4-5:30pm First TD Community Chamber Orchestra Rehearsal (TD House)
 
The TD orchestra begins its fourth season under the baton of Pricila Chavez Lara, Yale Divinity School graduate student, who is an accomplished musician and educator.  As in true community orchestra spirit, we welcome anyone TD students, fellows, staff, and friends and family.  No audition necessary for entry into the orchestra so feel free to come by and play.
Àshe,
HL
***
Welcome back to 

Notes

 

and

 

News

 (or welcome… for the first time
)
, TD!  I will reissue a w
elcome-y piece of literature for my first quotation of the year: one of the poems that opens 

Shel

 Silverstein's collection 
Where the Sidewalk Ends
.  
Invitation
If you are a dreamer, 

come

 in
If you are a dreamer, a wisher, a liar,
A hope-er, a pray-er, a magic bean buyer…
If you're a pretender, 

come

 sit by my fire
For we have some flax-golden tales to spin.
Come
in!
Come
in!
(nb from Dean: but please don't be a liar)
ACADEMICS – 

come

 

in!
Don't forget tomorrow's 
mandatory
 registration meetings for upperclass students in the dining hall.
Class of 2022- 9:00 a.m.
Class of 2021- 9:45 a.m.
Class of 2020- 10:30 a.m.
If you miss this meeting, the registrar's office will charge you fifty bucks.  If you're late to this meeting, I'll be angry at you; additionally, after a certain point, lateness is equivalent to absence, 

and

 you'll also be charged fifty bucks.  Fair warning all around.
Preliminary Online Course Schedules due tomorrow, August 27
In both fall and spring terms, students in all classes must create a preliminary course schedule in Online Course Selection (OCS) by 11:59 p.m. on the day before classes begin – that's tomorrownight!  Students who fail to submit a preliminary schedule by the deadline will be charged a fine of fifty dollars by the registrar (this is their magic number).  The preliminary course schedule must contain at least three course credits.  You're expected to edit their online course schedules regularly during the course selection period, retaining courses they are actively considering and removing courses in which they do not plan to enroll.
Course Schedule Deadlines:
Class of 2023- Monday, September 9, before 5:00 p.m.
Classes of 2022 and 2021- Tuesday, September 10, before 5:00 p.m.
Class of 2020- Thursday, September 11, before 5:00 p.m.
Schedules are handed in to Trish Cawley in the TD Dean's Office.  The 5:00 p.m. deadline is strictly enforced.  A late schedule incurs a fine of fifty dollars (there it is again!).  A schedule of 3.0 or 3.5 course credits OR a schedule of 6.0 or 6.5 course credits needs my permission before the schedule is handed in. 
Online Course Selection:
1.       Use the worksheet capabilities to search courses to shop during shopping period.  
2.       After you have settled on the courses you will take, print your final schedule.
3.       Take the final schedule to your adviser for the signature. Sign the schedule.
4.       Hand in your signed schedule to the TD Dean's Office by the deadline for your class. 
     
I'll remind you that (1) the program does not check for conflicts in class meeting times (that is every student's responsibility) and that (2) once you print your final schedule, you cannot reenter the program to make changes and print a different final schedule.  Including or removing a course (after meeting with your adviser, for instance) must be hand written on the printed final schedule itself (in the Includeand Remove Sections), and each change must be initialed by your adviser or me before the deadline for handing in the hard copy.
 
Degree Audit: 
Yale Degree Audit (YDA) is a tool that tracks your progress toward the bachelor's degree. YDA is located on the Academics tab of Student Information System (SIS). YDA displays the Yale College degree requirements that you have already completed and those that are still pending.  Yale Degree Audit does not take the place of face-to-face advising, although you may wish to share your audit with your adviser. Instead, it provides an easy-to-read summary of requirements, allowing you and your adviser to spend more time discussing course selection and academic goals.  Do not rely solely on your degree audit when planning your courses; continue to use Yale's standard systems for schedule planning, and employ YDA as an additional tool.  More features will be added to YDA in the future, including the ability to track progress toward major requirements.  If you have suggestions, general observations, or questions that are not answered by the FAQs, send them to registrar@yale.edu using the subject line "Degree Audit."  (And if you believe that academic information in your degree audit is incorrect, contact me as well!)
 
UPCOMING DATES AND DEADLINES
 
August 28                Classes begin
August 30                Friday classes do not meet; Monday classes meet instead
September 2            Labor Day; classes do not meet
September 11          Deadline to apply for a fall term Leave of Absence. See me if you are thinking about requesting a leave of absence for this fall term.