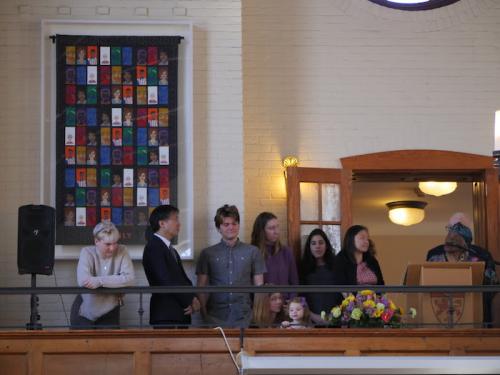 Notes and News – Week of 4/9/2018 
HL's Pieces
Dear Red Lions,
It was terrific to see so many of you in the college yesterday for our fabulous spring "Berry Brunch" and the unveiling of our new quilts made under the direction of Faith Ringgold!  Our "photo of the week" captures the "Family" quilt right after its unveiling.  Also pictured in the photograph is Dean Marvin Chun who took time to celebrate the beautiful art work! 
For the first time in years, we are bringing the TD Spring Formal back to the TD Dining Hall this Friday night, 10pm to 1am!!!  We'll serve great munchies –  our dining hall's famous chicken tenders, mozzarella sticks, jalapeno poppers, and more!  We are turning the Thompson Room into a special section for alcohol consumption designated for anyone 21 and over.  You must show your ID!  And TDers are allowed to bring a non-TD guest!  We know you'll show your love for our great TD dining hall staff by treating our space right! 
All right TD '21, First-Year Olympics is this Saturday 4/14!!!  Your TD team captains, Angel Mora and Lizzie Dolan will lead Team Aphrodite into battle starting at 11am and into the night!  Don't forget all participants get a free t-shirt!  Go to this link to fill out the form to indicate your size to guarantee your shirt! 
If you're planning to participate, please contact Angel or Lizzie by this Wednesday 4/12 to participate in the games at angel.mora@yale.edu at (619) 246-7686 and elizabeth.dolan@yale.edu at (727) 272-0892.
Here are some important events for this week:
Tuesday 4/10 5:30pm Senior Mellon Forum Celebration (TD House)
Last Mellon Forum for TD 2018!  Come here the last of this year's presentations.  We'll go out with a big celebration of sushi, cake, and bubbly! 
Thursday 4/12 6:30pm Screening of Marshall and screenwriter talk back (Criterion Theater) 
TD has 10 tickets for a special screening of Marshall, the story of Thurgood Marshall as a young Civil Rights lawyer in a local case that took place in Bridgeport, CT.  Immediately after the screening, the screenwriter and local attorney Michael Koskoff will be available to discuss the film.   Please go to this link to sign up for the lottery to get a ticket.  We will announce the winners of the lottery by Tuesday 4/10.
Friday 4/13 10pm-1am SAC Spring Formal (TD Dining Hall)
Dance the night away at our TD spring formal!  Go to this Facebook Event for more information! 
https://www.facebook.com/events/1686633391415482/
Saturday 4/14 First Year Olympics (Old Campus) 
All right TD '21, time to rally and bring home the trophy.  Unleash those hidden skills and competitive spirit.  Events take place throughout the day. Sign up here to get a free t-shirt featuring the team Aphrodite logo and get more information on how to be a part of this very fun day!!! 
Sunday 4/15 Julia's Run (Cross Campus)
TD is sponsoring 10 runners for the annual "Julia's Run"!  Proceeds from the run benefit LEAP, a leadership development organization dedicated to empowering New Haven's children and youth. Julia's Run is a New Haven tradition that celebrates the memory of Julia Rusinek, a rising senior at Yale University at the time of her death in July 1999. The event combines Julia's passion for running with her commitment to making a difference in the lives of children.  Go to their online registration site and enter the code TD4JULIA to participate. First come first served!
Register here: https://www.active.com/new-haven-ct/running/distance-running/julia-s-run-for-children-2018?int=72-3-A4
Here are great events for the following week:
Monday 4/16 7-8:30pm Seniors White Wine Tasting (TD House) 
David Swensen is back to host his tasting of fine white wines from his personal collections.  We have about 10 spots remaining that can go to TD seniors.  Please sign up at this link to get your spot! 
Wednesday 4/18, 7-10pm Screen printing workshop (TD Art Studio)
You've all seen the amazing t-shirts from the last workshop hanging up in the studio.  So last chance to learn how to produce original t-shirt designs for yourself or your student groups.  All participants will get a free t-shirt to print and keep.  To sign up, please email KC at kc.mills@yale.edu.
Without further ado, here is a word from Dean Mahurin… 
Áshe,
HL
***
"In the spring, I have counted 136 kinds of weather 
in 24 hours
." (Mark Twain)
UPCOMING DATES AND DEADLINES
:
Apr. 20
Friday
Last day to convert from the Credit/D/Fail option to a letter grade in a course offered in the second half of the term. See 
Grades
. 
Apr. 27 Friday Classes end, 5:30 p.m.; reading period begins.
Last day to withdraw from a full-term course or a course offered in the second half of the term. See Withdrawal from Courses and Grades.
Each year a small number of sophomores, juniors, and seniors, who enroll in introductory 
physics, struggle significantly with some of the 
mathematics that we use in these classes. 
To provide help to these students, we are again offering an online program in Summer 2018, modeled on the ONEXYS (Online EXperiences for Yale Scholars) program for incoming first
-years (
http://onexys.yale.edu
), which provides them
 with structured online math training, and leads to significant student learning gains.
ONEXYS for Physics is aimed at current Yale students planning to take physics next Fall. Over the summer, participants in this program will receive access to online content, including videos, real-time discussions with other students in the program, advice and mentoring from math-savvy Yale students who serve as coaches, and a variety of problem sets, quizzes and other assessments to help them enhance their mathematics skills in preparation for intro. physics in the Fall.  
Although sometimes students avoid or delay asking for needed extra help, because they are concerned about what the instructors will think, we would like to emphasize that participation in this program will only be viewed positively by the intro physics instructors.
We ask that any students who may be interested should register their interest via:
Interested students will be asked to take an online diagnostic before admission into the program in order to ensure a proper match between the program and students' mathematics skills. The program  will run for 6 weeks from late June through early August, and will involve between 5 and 10 hours work per week for participating students.
Students can participate from anywhere in the world that they have an internet connection.
Register for this year's inaugural Yale Arab Conference - 
Amalna: Paving the Road Ahead
, taking place on 

April 20th - 21st

! We aim to promote a positive outlook on the future for the Arab world — to show our hope (Amalna) for a region that can thrive despite the violence and destruction so often associated with it. The multidisciplinary conference will feature experts and leaders from the fields of foreign and public policy, higher education, migration, innovation, youth empowerment, public health and women's rights. Our panel topics are 'Women's Rights: Beyond the Stereotyped Arab Woman', 'America's Role in the Middle East' and 'Refugees: Paths for Engagement.' Out keynote speaker is 
Dr. Salam Fayyad
,
 the former prime minister of Palestine.
In addition to the panels, we have numerous planned activities including a multicultural festival in collaboration with RISE (Refugee and Immigrant Student Education), a private lunch with speakers series, Afikra talks, and an Arab film screening. The conference is not meant to be strictly for students from the Arab region, but rather an educational experience about the Arab world for college students, Arab and otherwise. For registration, please follow the following eventbrite link: http://2018yac.eventbrite.com 
---
Take Back the Night is a weeklong event happening 

April 13-20th

 and is
 co-hosted by the CCEs, the Women's Center, and USAY. TBTN is an annual event centered around promoting sexual respect and supporting survivors in Yale College. 
At Yale, Take Back the Night centers on community wide reflection on our broader sexual culture in order to stop violence as well as promote sexual ethics and respect. It's an opportunity to discuss how sexual and romantic dynamics unfold on our campus, both positive and negative. The events planned for the week of Take Back the Night aim to create space for this reflection towards the wider goal of supporting survivors on our campus. A full schedule of events can be found at this link as well as listed below.
The Speak Out, a traditional TBTN event, will occur on Cross Campus during the afternoon of 

Friday, April 13

. This event is a time for the Yale College Community to come together to empower survivors and uplift their voices. During the event, stories about a full range of sexual and romantic experiences and expression can be shared, both publicly and anonymously, as well as poems, quotes, and other forms of expression. There will be opportunity provided to those who decide on the day-of or during the Speak Out that they would like to speak or share. Some people may prefer to work with SHARE or another resource ahead of the Speak Out – feel free to get in touch with SHARE directly or contact Sofia Braunstein (
sofia.braunstein@yale.edu
) and Melinda Wang (
m.wang@yale.edu
). Furthermore, if you or anyone you know would like to share your story anonymously or publicly during the event, please see 
this Google Form
. Stories can be about both positive and negative experiences. You do not need to be a survivor to speak — any member of the Yale College community is welcome.
FRESH CHECK DAY
Yale's undergraduate mental health awareness and advocacy group. We are writing to you to share a groundbreaking event on April 20th from 12pm to 3pm on Cross Campus: Fresh Check Day at Yale. Fresh Check Day is the central piece of programming of the Jordan Porco Foundation (JPF), a suicide prevention foundation.
Fresh Check Day is a celebratory, fair-like event that includes peer-run interactive expo booths on a range of topics from substance abuse to suicide prevention, free food, music, and prizes to engage students in discussion about their mental health and suicide prevention in an approachable manner. With this event, Mind Matters hopes to create a positive atmosphere for open dialogue on mental health and mental illness, educate the Yale community on the vast array of mental health resources available to them on campus, and spread awareness of mental illness.