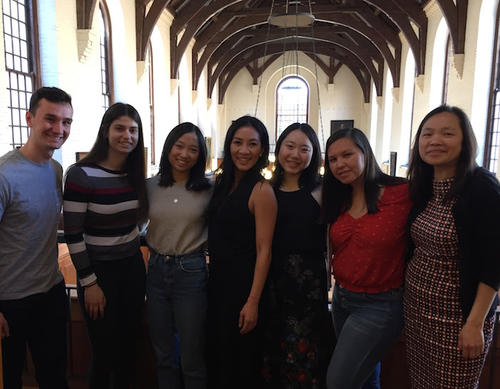 Notes and News – Week of 4/8/19
 
HL's Pieces
 
Dear Red Lions,
 
What an incredible week with our Spring Chubb Fellow, Olympian and diplopmat Michelle Kwan!  We have so many great photos from this event so it will be hard to pick just one.  But here is a great one, titled "Breakfast with Michelle Kwan".
 
And here is one more from after her talk at the Yale Law School!
And if you would like to read more about the event or watch the interview that is up on Youtube, please go to the Chubb website.
 
Deep gratitude and congratulations to our TD first-year Olympics captains, Ihea Inyama and Maya Kerfoot, for their hard work on rallying TD 2022 to jump into the competition.  Although we did not get a place that matched our spirit and energy I hope everyone had a great time and enjoyed the day.
 
Speaking of TD spirit… please go support our wonderful TD Buttery staff led by Michael Ai and Jack Atwater as they go against the other colleges for this year's Final Cut at Yale on York!  Cooking starts at 5pm and judging will begin by 6pm.  Lots of great vendors will be present and you'll get to see all the teams at work!!!  Our team starts cooking at 6pm!!!
 
We have a lot going on this week in the college and I hope you can make some of them:
 
Tuesday 4/9 4:30pm "Making Change in the Military in the #MeToo Era," a Tea with Anuradha Bhagwati TD '97
 
Anuradha Bhagwati is a writer, activist, yoga and meditation teacher, and Marine Corps veteran.  She founded the Service Women's Action Network (SWAN), which brought national attention to sexual violence in the military and helped repeal the ban on women in combat.  She will be talking about her experiences as an activist as well as her work as a writer.  She just published her memoir, Unbecoming: A Memoir of Disobedience, out this spring with Simon and Schuster.
 
Tuesday 4/9 6-7:30pm Final Mellon Forum of the Year
 
Ok, seniors – this is the last Mellon Forum of the semester!  Come celebrate everyone's hard work and cheer each other across the finish line.  Aside great food we will celebrate with cake and champagne.
 
Friday 4/12 2-4pm "New Haven Refugee Storytelling" (TD Thompson Room)
 
Lizzie Dolan, TD Community Engagement Fellow is working with the Yale Refugee Project to host an arts show titled Home: New Haven Refugee Storytelling. Eleven high school refugee students are extremely excited to share their artwork, song, dance, and stories surrounding the theme of "home". Light refreshments – Baklava and finger food will be provided!
 
Saturday 4/13 11am-2:30pm TD Berry Brunch (TD Dining Hall)
 
Our beloved spring brunch event is back!!!  Get ready for berries galore along with bagels, lox, omelet stations, and much much more!  This is a special TD event so family dinner protocol will be in effect.  Off-campus TD family, come back and eat for free!!!
 
Saturday 4/13 8-9:30 EP Debut Concert: Emili and Caroline Ho (JE Theater)
 
Come support TD first-years, Emily Li and Caroline Ho as they share their first EP with the public!  They will be performing with fellow TDers Calvin Kaleel (bass), Coman Seery (drums), and Etowah Adams (guitar/harmony).   Their work has been funded through TD's Creative Performing Arts award (CPA) and we couldn't be prouder!
 
Saturday 4/14 10pm-1am SAC Spring Formal (Regal Beagle)
 
SAC is excited to host their spring formal!  And we are thrilled that they have brought it back to our neighborhood.  I am pretty sure that you can get to the Regal Beagle in the same amount of time – or less – to walk from the TD courtyard to RH.   Lots of dancing with alcoholic and non-alcoholic drinks and snacks available. You must be 21 or over to be served alcohol!
 
Sunday 4/14 1pm TD Magic Show with special guest Diego Vargas (TD Dining Hall)
 
TD is excited to welcome Diego Vargas, accomplished performer and teacher of magic who also heads the Magicians Without Borders (Magos Sin Fronteras) chapter in Costa Rica.  To learn more, feel free to watch his TED talk.  TD sophomore magicians, Jake Mezey and Josh Beasley, worked with Diego during the Yale Magic Society's January trip to Colombia and learned about Diego's amazing work in the lowest income neighborhoods of San José.  We will be having brunch with Diego Vargas in the TD Thompson Room right before his performance at 12pm.  Feel free to drop by!
 
Without further ado, here is a word from Dean Mahurin…
 
Áshe,
HL
 
***
 
"I think failure is information. I used to look at failure as like, 'Oh my gosh, I'm horrible. I should stop writing.' It's like, No. Maybe that page isn't that good or maybe that scene isn't that good. Number one, you can fix it. And the fact that you even know that something is wrong is a wonderful success in itself. I'm beginning to move to a place where I think failure doesn't even exist anymore. That it's just all information."  (Katori Hall)
UPCOMING DATES AND DEADLINES
April 26, Friday Classes end, 5:30 p.m.; reading period begins.
Last day to withdraw from a spring full-term course or a course offered in the second half of the spring term. See Withdrawal from Courses and Grades. 
May 2, Thursday Reading period ends, 5 p.m.  Final examinations begin, 7 p.m.
Deadline for all course assignments, other than term papers and term projects. This deadline can be extended only by a Temporary Incomplete authorized by the student's residential college dean – i.e. me!
TD HOUSING DRAW
2021: April 9, 9:00pm
2022: April 10, 9:00pm
All draws will take place in the dining hall!  Please be on time.
 
Apply to be an Academic Strategies Mentor!
We are now accepting applications from members of the Classes of 2020 and 2021. Mentors lead workshops, meet 1-1 with peers, and develop programming to support students' well-being and satisfaction in their academic work. For a full job description and a link to our application, click here.
Yale Libraries
LEVEL UP your research papers! Sign up to meet with a librarian for 30-minutes to learn how to organize, annotate, & cite items in your writing more efficiently. Whether you are just starting out and want to find resources, or if you just need to keep track of them – we can help. Sign up for a session here: bit.ly/yulLEVELUP
Take Back the Night
Take Back the Night is an annual event centered around promoting sexual respect and supporting survivors of sexual violence at Yale College. This year, TBTN will take place April 7–13th and includes a series of events open to all members of the Yale College community. For students who are interested in listening to or sharing experiences of sexual respect and disrespect, the TBTN Speak Out on Cross Campus will give this opportunity on Friday, April 12th from 1–3pm. Some people may prefer to work with SHARE or another resource ahead of the Speak Out—feel free to get in touch with SHARE directly or contact dianne.kaiyoorawongs@yale.edu. For a complete calendar of TBTN events, see the attached poster or visit tinyurl.com/YaleTBTN2019.
Domestic Summer Award
Deadline May 1 (students are encouraged to submit their application earlier)- Domestic Summer Award (DSA) Fellowship to Support Experiences with the Arts, Sciences, Government, and Non-Profit Organizations | Eligible: First-Year Students, Sophomores & Juniors 
Visit the DSA webpage for detailed eligibility requirements.  Access the application: Yale Career Link Homepage (under 'Yale College Summer Experiences'), or Yale Career Link (My Account, Professional Experiences).