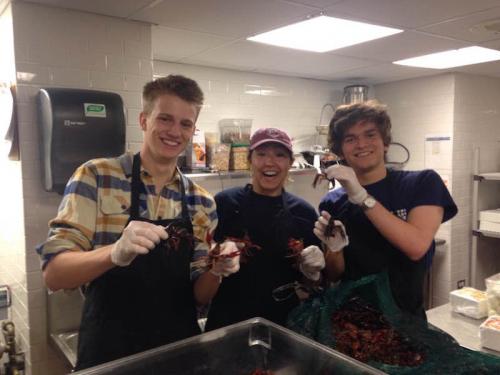 Dear Red Lions,
You may have noticed a lot of young fresh faces and anxious parents walking around the courtyard recently.  Yep, it's Bulldog Days!  And TD has rolled out the welcome wagon with about 30 TDers signed up to host pre-frosh! Thank you all for your generosity!  And if you happen to see me while you're with one of your pre-frosh please take the time to introduce them. 
We had a gorgeous weekend in the college with perfect weather for our annual TD crawfish boil.  A special shout out goes to our wonderful Dining Hall staff who make it so easy to cook up the mudbugs, corn and potatoes to serve up to the college.  And a big thank you goes out to our Mott Woolley council who worked on the event.  This week's "photo of the week" is titled "Please Don't Pinch Me," and features Mott freshfolk Briggs Bulkeley, Sabrina Rostkowski, and Noah Bloom bravely sorting out the crawfish for cooking. 
Let's hope that the weather does a repeat performance this weekend for TD Day on Friday and Spring Fling on Saturday.  Right now, we're seeing rain for the forecast but if we collectively think sunny blue skies we can turn this around!  If you finish with classes early, consider going to "Knowledge through Narrative: Bridging the Racial Divide in America" featuring Grammy-award winning Hip Hop artist Lecrae who will be talking about racial reconciliation.  You can receive free tickets through tinyurl.com/lecraenewhaven. This event is being organized by a group of Yale students including TDers Asia Brown '16 and Katerra Logan '17.  
Once reading week and exams begin, you can expect to see another great line up of food and de-stressing activities including college favorites such as the Ten Minute Courtyard Dance Party, Lightning Game Night, and a brand new TD puzzle.  As usual the TD dining hall will start to stay open for studying starting this Sunday evening. We'll send out the study breaks schedule later this week.
Also keep an eye out for my memo on the closing of the college and summer storage options for freshmen, sophomores, and seniors.  This is one memo you will want to read carefully especially if you are freshmen new to summer storage.
Without further ado, here is a word from Dean Mahurin…
Áshe,
ML
*****
Dean's Domain
LXXXIII 
(Emily Dickinson)
This world is not conclusion;
A sequel stands beyond,
Invisible, as music,
But positive, as sound.
It beckons and it baffles;
Philosophies don't know
And though a riddle, at the last,
Sagacity must go.
To guess it puzzles scholars;
To gain it, men have shown
Contempt of generations,
And crucifixion known.
 
 
ACADEMIC DEADLINES
 
April 29                      Classes end, 5:30pm; reading period begins
                                    Last day to withdraw from a full-term course or a course offered in the second-half of the term.
May 1                         Applications for fall-term Leave of Absence due.
May 5                         Reading period ends.
Deadline for all course assignments, other than term papers and term projects. This deadline can be extended only by a Temporary Incomplete authorized by the student's residential college dean.
May 6                         Final examinations begin
May 11                       Finals end, 5:30pm.
Deadline for all term papers and term projects. This deadline can be extended only by a Temporary Incomplete authorized by the student's residential college dean. 
May 12                       Residences close for underclassmen at 12pm.
May 23                       University Commencement
May 24                       Residences close for seniors at 12pm.
 
 
CIPE (Center for International and Professional Experience)
 
2016 International Summer Award: Deadline May 1!
The International Summer Award (ISA) provides a stipend for one summer experience abroad for eligible undergraduate students receiving financial aid. Students must also be participating in ISA-eligible programs. Please visit the ISA website for more information and contact MyCIPE@yale.edu with any questions. The ISA Application deadline is May 1, 2016.
 
SPECIAL EVENT: Stephen A. Schwarzman '69 to talk about the Schwarzman Scholars Program
Wednesday, May 4, 4pm, GM Room, Horchow Hall, 55 Hillhouse
Hosted by Yale's Jackson Institute and Center for International & Professional Experience
RSVP here to attend the event and mark "going" on our Facebook event. Light refreshments will be served.
Don't miss this special opportunity to hear from the founder of the program, and to get details of the newly-opened application for the second class of Scholars, the new June deadline for students from mainland China, Hong Kong, Macao, and Taiwan, and much more. The Schwarzman Scholars Program offers leadership development & a fully-funded special one-year Master's program at Tsinghua University in Beijing, with concentrations in International Relations, Public Policy, and Economics & Business. All students are encouraged to attend. Rising/graduating seniors, current graduate and professional students, and recent alumni from any country are eligible to apply this year; knowledge of Mandarin is an asset, but is not required.
 
Careers, Life and Yale: Creating your Career and Life Vision
Saturday, April 30, 2:30pm-5:30pm
 
Yale Young Global Scholars Program
YYGS is a high school academic enrichment initiative administered by the Office of International Affairs (OIA).  We are seeking to hire individuals to fill four positions on our full-time leadership team: 
 Global Scholars Fellow: http://globalscholars.yale.edu/join-us-global-scholars-fellow
Global Scholars Fellow-Asia Focus: http://globalscholars.yale.edu/join-us-global-scholars-fellow-asia-focus
Yale Young African Scholars Project Manager: http://globalscholars.yale.edu/join-us-yale-young-african-scholars-project-manager
Mentorship Coordinator for the Yale Young African Scholars Program: http://globalscholars.yale.edu/join-us-mentorship-coordinator-yale-young-african-scholars-program
 
Yale Summer Events
Yale Summer Events in Washington, DC, New York, and San Francisco provide career, political, social, and cultural events for students and young alumni interning, working, or residing in these cities for the summer. Students can complete a survey in Symplicity to receive notifications about Yale-only events in these cities this summer and events hosted by the Yale Clubs in Atlanta, Boston, Chicago, Houston, Las Vegas, Los Angeles/Hollywood, Miami, Orlando, Philadelphia, Portland OR, San Antonio, and Seattle. Under the Surveys tab, complete the 'Summer Events Interest Survey' and select the cities for which you would like to receive notifications (select as many as you'd like).
 
Student Directors for Washington, DC, New York, and San Francisco this year:
Amour Alexandre, Yale Summer Events in Washington, DC. Join Facebook Group: "Yale in DC Summer Events 2016"
Wafa Muflahi, Yale Summer Events in New York. Join Facebook Group: "Yale Summer Events in New York 2016"
Jennie Callan, Yale Summer Events in San Francisco.  Join Facebook Group: "Yale in SF: Summer Events 2016"
 
 
FELLOWSHIPS
 
Don't miss the last events of term! Although most competitions for this summer and for next year are about over, now is a great time to explore postgraduate fellowships for the future, no matter what your current class year.  Whether you're a US citizen or an international student at Yale, there are options to fund arts projects, service projects,  independent research in archives or labs, language study, teaching, graduate study, and much more. Come to CIPE, 55 Whitney, and hear from Fellowships advisers, seniors who applied this year and past winners, too
 
—and attendance will make you eligible for one-on-one Fellowships advising:
 
Fellowships for after graduation (for US and international students)
Monday, April 25, 4pm
 
Rhodes & beyond: fellowships for postgraduate study in the UK & Ireland (for US and international students)
Tuesday, May 3, 12.30pm
   
Writing essays for external fellowships (for US and international students of all class years)
Don't be daunted—join us for tips on writing strong applications for external awards, including Fulbright, Gates, Goldwater, Marshall, Rhodes, Schwarzman, Truman, and more.
Tuesday, May 3, 4pm
  
Fulbright (English Teaching Assistantships and Study/Research grants for US students—but for UK Fulbright attend the "Rhodes & beyond" session above)
Wednesday, May 4, 12.30pm
 
See the new Fellowships website for other opportunities, application advice, and more.