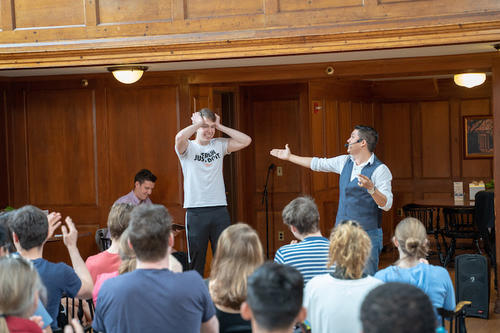 Notes and News – Week of 4/15/19
 
HL's Pieces
 
Dear Red Lions,
 
First, some good news – after reporting the problems with the credit card reader and app for the washers/dryers in TD – we just heard that the machines will now be FREE until the problems can be sorted.  And if you continue to experience any problems with the machines please report them to the service number posted in the laundry room. 
 
Hope you all had the chance to enjoy some of the TD events this past weekend!  I have so many entries for "Photo of the Week" coming from the SAC Spring Formal and Berry Brunch – to name just two of the events we have had – that it's pretty difficult to pick just one. 
But I am going to go with this one of Bennett Hall TD '22 that beautifully captures his reaction to a mind-blowing card trick performed by Diego Vargas, who heads the Magicians Without Borders (Magos Sin Fronteras) chapter in Costa Rica.  For anyone who missed his fabulous show where he entertained us with magic while sharing his stories of working with Magos Sin Fronteras, you might catch him doing table magic in the TD dining hall while he is here this week.
 
After a super busy week of events in the college, we will be ramping down our programming and start to get ready for the end of the semester.  But don't despair, folks!!!  It looks like you can catch Dean Mahurin doing stand-up comedy at the Y2Y Comedy Show on Thursday 4/25 where 9 beloved Yale professors, TAs, and university administrators will step up to the mic to regale you with their best jokes in the name of philanthropy!  The show's proceeds will go to support Y2Y New Haven's work to provide overnight services for youth experiencing homelessness in a youth-led space that is trauma-informed, gender-neutral, and actively LGBTQ+ friendly.  You can get tickets here or contact Lucie Warga TD '22 at lucie.warga@yale.edu.
 
Here are our important events for this week:
 
Tuesday 4/16 5-7:30pm Guacamole Cart is Back (TD Dining Hall)
 
Our favorite TD Dining Hall pop up is back!  The staff treats us to fresh avocados and guacamole with an assortment of toppings galore.  If you enjoyed Berry Brunch, you will love the Guacamole Cart!
 
Here are our important events for next week:
 
Friday 4/26 TD Day (TD Courtyard)
 
Our end of the year celebration on the final day of classes!  Enjoy some bouncing and a courtyard bbq provided by our Dining Hall staff.  We'll also have a new TD day shirt to giveaway!
 
Sunday 4/28 8:30pm Joint Orchestra and Choir Concert (TD Dining Hall)
 
We end the spring semester with a lovely joint concert with the TD Community Chamber Orchestra and the Yale University Choral Society featuring a number of TD singers!  A light reception of lemonade and cookies will follow. 
 
Without further ado, here is a word from Dean Mahurin…
 
Áshe,
HL
 
***
 
County Fair
Mary Karr
On the mudroad of plodding American bodies,
         my son wove like an antelope from stall   
to stall and want to want. I no'ed it all: the wind-up
         killer robot and winged alien; knives   
hierarchical in a glass case; the blow-up vinyl wolf
         bobbing from a pilgrim's staff.
Lured as I was by the bar-b-que's black smoke,
         I got in line. A hog carcass,
blistered pink on a spit, made its agonized slow roll,   
         a metaphor, I thought, for anyone
ahead of me—the pasty-faced and broad. I half-longed   
         for the titanium blade I'd just seen
curved like a falcon's claw. Some truth wanted cutting   
         in my neighbors' impermanent flesh.
Or so my poisoned soul announced, as if scorn   
         for the body politic
weren't some outward form of inner scorn,
         as if I were fit judge.
Lucky my son found the bumper cars. Once I'd hoped   
         only to stand tall enough
to drive my own. Now when the master switch got thrown   
         and sparks skittered overhead
in a lightning web, I felt like Frankenstein or some   
         newly powered monster.
Plus the floor was glossy as ice. Even rammed head-on,
         the rubber bumper bounced you off unhurt
and into other folks who didn't mind the jolt, whose faces
         all broke smiles, in fact,
till the perfect figure-eight I'd started out to execute
         became itself an interruption. One face   
after another wheeled shining at me from the dark,
         each bearing the weight of a whole self.   
What pure vessels we are, I thought, once our skulls
         shut up their nasty talk.
We drove home past corn at full tassel, colossal silos,   
         a windmill sentinel. Summer was starting.
My son's body slumped like a grain sack against mine.   
         My chest was all thunder.
On the purple sky in rear view, fireworks unpacked—silver   
         chrysanthemum, another in fuchsia,
then plum. Each staccato boom shook the night. My son
         jerked in his sleep. I prayed hard to keep   
the frail peace we hurtled through, to want no more
         than what we had. The road
rushed under us. Our lush planet heaved toward day.   
         Inside my hand's flesh,
anybody's skeleton gripped the wheel.
UPCOMING DATES AND DEADLINES
April 26, Friday Classes end, 5:30 p.m.; reading period begins.
Last day to withdraw from a spring full-term course or a course offered in the second half of the spring term. See Withdrawal from Courses and Grades. 
May 2, Thursday Reading period ends, 5 p.m.  Final examinations begin, 7 p.m.
Deadline for all course assignments, other than term papers and term projects. This deadline can be extended only by a Temporary Incomplete authorized by the student's residential college dean – i.e. me!
FELLOWSHIP EVENTS
Writing Essays for National Fellowships Workshop
Thursday, April 18, 12:30pm - 1:30pm
 CIPE, 55 Whitney Avenue, 3rd Floor, Room 305
Fulbright Information Session (3 of 4)
Tuesday, April 23, 4:00pm - 5:00pm
 CIPE, 55 Whitney Avenue, 3rd Floor, Room 305
International Summer Award (ISA) Information Session
Friday, April 26, 4:00pm – 5:00pm
55 Whitney Avenue, 3rd Floor, Room 305
Fulbright Information Session (4 of 4)
Wednesday, May 1, 12:30pm - 1:30pm
CIPE, 55 Whitney Avenue, 3rd Floor, Room 305
UK Fellowships - Rhodes & Beyond: Information Session (5 of 6)
Wednesday, May 1, 12:30pm - 1:30pm
CIPE, 55 Whitney Avenue, 3rd Floor, Room 369
Writing Essays for National Fellowships Workshop
Thursday, May 2, 2:00pm - 3:00pm
CIPE, 55 Whitney Avenue, 3rd Floor, Room 305
UK Fellowships - Rhodes & Beyond: Information Session (6 of 6)
Friday, May 3, 12:30pm - 1:30pm
CIPE, 55 Whitney Avenue, 3rd Floor, Room 305
ACADEMIC STRATEGIES WORKSHOPS
Finals Strategies: Avoiding Procrastination          
Tuesday, April 16, 6:00 PM, Poorvu Center M104A                           
Everyone procrastinates—but how do you keep your procrastination to a minimum, especially at times of high stress? This workshop helps you identify what triggers procrastination and suggests approaches that can help you work through it and re-engage with your assignments.
Academic and Professional Presentations: Public speaking for undergraduates  
Wednesday, April 17, 7:30 PM, Poorvu Center M104A
Professors frequently are asking students to engage in public speaking, from leading class discussion to more formal presentations. This workshop suggests preparation and performance strategies to help you do your best.
Writing emails, Presentations, Reports: Academic and Professional Communication (for undergrads)
Tuesday, April 30, 6:00, Poorvu Center M104A
Have a professional internship this summer? Developing an end-of-semester presentation of your research. Come learn the strategies for writing effectively for professional and formal academic audiences.
Creating a Timeline for senior thesis (for juniors)
Wednesday, May 1, 4:00, Poorvu Center M104A
Planning to write a year-long or 1-semester senior thesis next academic year? Get a head start on your planning and preparation with our senior thesis workshop! Get an overview of the senior thesis process and draft a project calendar to get it all done.
YALE LIBRARIES
LEVEL UP your research papers! Sign up to meet with a librarian for 30-minutes to learn how to organize, annotate, & cite items in your writing more efficiently. Whether you are just starting out and want to find resources, or if you just need to keep track of them – we can help. Sign up for a session here: bit.ly/yulLEVELUP
Domestic Summer Award
Deadline May 1 (students are encouraged to submit their application earlier)- Domestic Summer Award (DSA) Fellowship to Support Experiences with the Arts, Sciences, Government, and Non-Profit Organizations | Eligible: First-Year Students, Sophomores & Juniors 
Visit the DSA webpage for detailed eligibility requirements.  Access the application: Yale Career Link Homepage (under 'Yale College Summer Experiences'), or Yale Career Link (My Account, Professional Experiences).