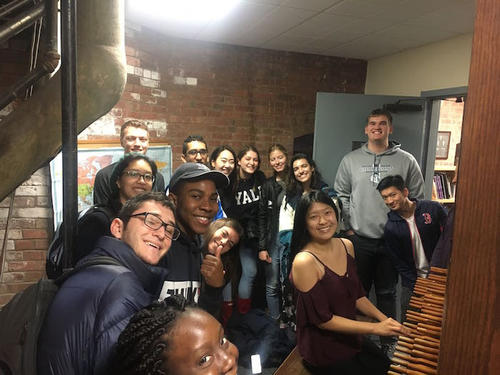 Notes and News – Week of 4/01/19
 
HL's Pieces
 
Dear Red Lions,
 
Hope you all enjoyed my April Fool's email this morning! 
 
While we are not going to be ice-skating on the lower courtyard, we are gearing up for First Year Olympics, scheduled for this Saturday 4/6!!!  To get you all in the spirit, our "photo of the week" features our youngest members of the TD community – Divera and Daniel Simon – cheering on the class of 2022!!!
 
Our team captains, Ihea Inyama and Maya Kerfoot, will lead the TD team to victory!  All first years should consider signing up to take part in an event or join in the day of service around the greater New Haven community.  (Apparently TD is way ahead on the service front and that's great to hear!!!  Keep it up TD!)
 
Please save the date for the SAC Spring Formal.  We are tentatively looking at next Saturday 4/13 at the Regal Beagle, located in the former Anna Liffey's on Whitney Avenue.  It should be from 10pm-1am.   Look for Berry Brunch to happen next weekend as well!
 
Lastly, Thomas Zhang '19, TD music room aide has built a TD music room library with a selection of repertoire available on the practice room bookshelf. If you need to warm up your hands, there are some books specific to drills (scales, Hanon, Czerny) and there should be at least one book from each major era of classical music.  Hopefully the scope will expand as the library grows. Please do not take the books out of the TD practice room, as they're expensive and probably will never be replaced. Thomas says, if we lose them he will "shake my head and think 'this is why we can't have nice things'" so let's not disappoint him!
 
Here are important upcoming dates/events:
 
Tuesday April 2nd 7-9pm  "Chewing the Fat with Alexandra Cuerdo, Director of ULAM: Main Dish" (Whitney Humanities Center Auditorium, 53 Wall Street)
 
ULAM: Main Dish is the first food documentary following the rise of the Filipino food movement. Described by the late food critic Jonathan Gold as "a love letter to Filipino Food in America," ULAM celebrates the power of food movements and their inextricable ties with culture and identity. Following the screening of ULAM, there will be an interview with the director in an audience talk back session. This event is free and open to the public. It is co-sponsored by the Yale Sustainable Food Program, Timothy Dwight College, the Whitney Humanities Center, KASAMA, the Asian American Cultural Center at Yale, and the Yale Center for the Study of Race, Indigeneity, and Transnational Migration.  Finally, should TD students be interested in joining a lunch conversation, they can sign-up using this form (seats will be limited due to table size at the AACC!)
 
Wednesday April 3rd Chubb Fellowship Events with Michelle Kwan
 
TD is very excited to be hosting Michelle Kwan this spring!  The Chubb lecture will take place at 4:30pm in the Law School Auditorium with doors opening at 4:10pm.  The lottery winners for the student dinner at 7:15pm in the TD Dining Hall have been announced.
 
Saturday April 6th First Year Olympics!!!
 
Sign-up to participate in fun events or come cheer on the team!!!  Your participation in the Day of Service is also greatly appreciated!  And your participation will add points to our team!
 
Sunday April 7th  For Now Magazine (call for entries)
 
TD senior Rebecca Yan is launching For Now Magazine, a one-time independent publication featuring student perspectives on gender at Yale.  They are seeking student submissions of prose, poetry, and visual art.  The magazine is inspired by the 50th anniversary of coeducation at Yale this year.  The publication will contribute to historic and retrospective events by highlighting current student perspectives on gender.  Supported through a TD Creative and Performing Arts grant, the editors are reaching out to TD students first for submissions! Send any related work to fornowyale@gmail.comby April 7th. All submissions are greatly welcome! Feel free to email rebecca.yan@yale.edu with any questions.
 
Here are our important events for next week:
 
Tuesday 4/9 4:30pm "Making Change in the Military in the #MeToo Era," a Tea with Anuradha Bhagwati TD '97
 
Anuradha Bhagwati is a writer, activist, yoga and meditation teacher, and Marine Corps veteran.  She founded the Service Women's Action Network (SWAN), which brought national attention to sexual violence in the military and helped repeal the ban on women in combat.  She will be talking about her experiences as an activist as well as her work as a writer.  She just published her memoir, Unbecoming: A Memoir of Disobedience, out this spring with Simon and Schuster.
 
Tuesday 4/9 6pm Final Mellon Forum of the Year
 
We've had an amazing run of student presentations from the class of 2019!  Come celebrate everyone's hard work and cheer each other onto final completion. 
 
Without further ado, here is a word from Dean Mahurin…
 
Áshe,
HL
 
***
 
Meteor Shower
Clint Smith
I read somewhere that meteor showers
are almost always named after
the constellation from which
they originate.  It's funny, I think,
how even the universe is telling us
that we can never get too far
from the place that created us.
How there is always a streak of our past
trailing closely behind us
like a smattering of obstinate memories.
Even when we enter a new atmosphere,
become subsumed in flames, turn to dust,
lose ourselves in the wind, and scatter
the surface of all that rest beneath us,
we bring a part of where we are from
to every place we go
UPCOMING DATES AND DEADLINES
April 1, Monday Deadline to apply for a fall 2019 Term Abroad or a 2019-20 Year Abroad.
April 5, Friday Last day to withdraw from a course offered in the second half of the spring term without the course appearing on the transcript. See Withdrawal from Courses and Grades.  Last day to convert from a letter grade to the Credit/D/Fail option in a course offered in the second half of the spring term. See Grades.
TD HOUSING DRAW
2020: April 1 (tonight!), 9:00pm
2021: April 9, 9:00pm
2022: April 10, 9:00pm
All draws will take place in the dining hall!  Please be on time.
PRINCETON PROSPECTIVE PHD PREVIEW
The Princeton Prospective PhD Preview (P3) is a program will bring students from historically underrepresented groups (HUGS) to Princeton's campus to learn about graduate education. We will provide all travel, lodging and meals.  We hope to get information out to as many organizations, faculty, students (particularly FLI students), and alumni as soon as possible, so that students are prepared to submit the application when it opens on April 1st. The application and more information about P3 can be found HERE and on our website HERE.  The program will be held October 3-4, 2019.
STUDY ABROAD: APRIL 1 DEADLINE FOR TERM & FULL YEAR PROGRAMS
Current sophomores are able to spend one or both terms abroad during junior year! To study abroad during Fall 2019 or Academic Year 2019-2020, apply by 11:59 p.m. TONIGHT.
Credit for Fall Term Abroad | Credit for Academic Year Abroad |
Financial Aid Info Session for Fall and Academic Year 2019-20 Abroad (Last session of the semester!)
Wednesday, April 3, 4:00pm – 5:00pm
CIPE, 55 Whitney Avenue, 3rd Floor, Room 305
FELLOWSHIP PROGRAMS
A Conversation with Stephen Schwarzman '69:
Founder of the Schwarzman Scholars
Building a shared future: Philanthropy, Leadership, and Global Relations with China
Thursday, April 4, 5:00pm – 6:30pm, in LC101
Space is limited: REGISTER HERE
 
UK Fellowships - Rhodes & Beyond: Information Session (3 of 6)
Friday, April 5, 4:00pm - 5:00pm
CIPE, 55 Whitney Avenue, 4th Floor, Ward Room 450 
Fulbright Information Session (2 of 4)
Thursday, April 11, 3:30pm - 4:30pm
CIPE, 55 Whitney Avenue, 3rd Floor, Room 305