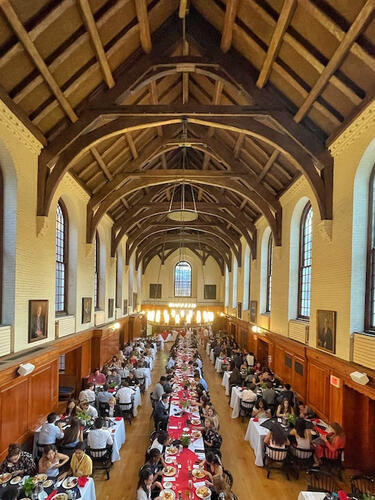 TIMOTHY DWIGHT 
NOTES
 & 
NEWS
WEEK OF 9/7/21
HL'S PIECES
Dear Red Lions,
I hope everyone enjoyed the Labor Day weekend break and had a chance to recover from Ida and take advantage of some of the gorgeous weather we've had in the last few days.
Despite the ongoing pandemic, I am delighted that the TD staff was able to create such wonderful events last week: Sophomore Picnic Dinner, First-Year Dinner, and the Tyng Cup Celebration, part 2.  
Our "photo of the week" comes from Dr. B who captured this gorgeous photo of our first-year dinner from our perch up in the balcony. 
We also had photographer, Isabel Chenoweth, do a photo booth in the courtyard just before the start of dinner.  To access those photos for download, please go to this link and use the password "TDC25".
And thanks to Harrison Bushnell, our TD webmaster, who was our photographer for last Monday's sophomore dinner and Tyng Cup celebration.  To view these great pics, please go to this link.
 
Speaking of IMs … our mission this year is to defend the Tyng Cup from the other 13 colleges who can't wait to take it from us!  We couldn't have won last year without everyone and your IM Secretaries and I would love to see the same level of participation this year.  Regardless of your ability to play a sport or if you've never even heard of a sport before (yes, inner tube water polo is really a thing, as is broomball), we want you to be there!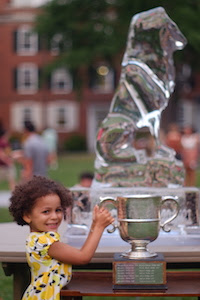 Here is the Google Form link: https://forms.gle/Cj5vPY9uYWoVk2g78
So take a quick minute to fill out this Google Form and you'll be included on the IM weekly emails that list the times and sports of our competitions for the week.
I am asking the TD staff to take a short break from hosting events this week to work on reopening our underground spaces and onboarding our student aides who will help manage and oversee these spaces.  Here is an update of where these spaces stand:
Already Open or Reopening this week…
Music Practice Rooms are already open but all TDers must sign a usage agreement form before granted swipe or key access.  Contact our TD Operations Manager, Zina Anwar, at thunziner.anwar@yale.edu for the form and access.  
Gyms – weight room and multipurpose room – will reopen this week.  The flood has been cleaned up and we just need to finish clearing out the summer storage boxes and put the room back together.
Opening next week…
Art Studio should be reopening next week.  All users must sign a usage agreement form before granted swipe access.  Our TD art studio aides will also hold regular office hours to offer assistance with projects.
Buttery should reopen next week.  But we will have to continue to observe the 20 person limit stated in the university's indoor gatherings policy.
Student Kitchen should reopen next week.  All users must sign a usage agreement form before granted swipe access and must reserve a time to use the kitchen. 
Here are some more important TD events and dates for the next two weeks:
Monday 9/13 11:59pm Deadline to submit CPA proposal
Last call to apply for arts funding to complete a solo or team project.  To learn more about the CPA and the various public health and safety guidelines, please go the Creative and Performing Arts website.  To submit an application, please go to the Yale Grants and Fellowships database you may access the application by clicking on this link. Please remember that you need to check in with me regarding your application so make sure to make an appointment prior to submission.  Please make an appointment with Deanna Caplan at deanna.caplan@yale.edu.
Monday 9/13 TD SAC Meeting (TD Common Room)
Our Student Activities Committee (SAC) is back and ready to roll.  So if you want to see a cookout, party, movie night, or food truck day happen you will want to attend these meetings!  Weekly SAC meeting are on Mondays at 10:23 P.M. at the Common Room! So join in the brainstorming and help make your ideas come true!
Saturday 9/18 12-1pm Brunch with TD Senators (TD Picnic Tables)
Come meet our TD Senators, Matthew Merritt and Ryan Smith, and discuss important issues that the Yale College Council will be taking up this year.  Grab your brunch and join them outside in the Upper Courtyard picnic tables.
Monday 9/20 8:30-10pm TD Community Night (TD Courtyard)
Please note this new date for TD Community Night.  We are going to try to shift outdoors similar to the spring format earlier this year.  But we are also working out having live performances and emceeing from the upper courtyard while keeping the audience in the lower.  So start working on your acts and look out for the Google form to sign up later this week!
Friday 9/24 TD Mott Woolley Student Council Elections 
The Mott Woolley Council (Mott) is TD's Student Council.  They will be holding elections and need new representatives from the class of 2025.  If you would like to run, please submit a statement (300 words or less) by 6pm on Friday 9/24 via email to Mott President, Calvin Kaleel, at calvin.kaleel@yale.edu.  Please list discuss your experiences and qualifications as well as community projects for the council.
Without further ado, here is a word from Dean Mahurin…
Àshe,
HL