TIMOTHY DWIGHT NOTES & NEWS
WEEK OF 9/27/21
HL'S PIECES
Dear Red Lions,
I hope most of you managed to catch some of last Monday's first-ever, live outdoor TD Community Night!  Our "photo of the week" features Simone Koch Costa TD '22 who lit up the courtyard with her spectacular jump rope routine. 
For more photos of this lovely event, please check out these photos taken by TD photography aide, Demi Lee TD '24.  Once you click on the link you will be sent a verification code to enter to see the photos.
We had wonderful participation across all 4 TD classes, especially our first-year lions.  Congratulations to all the performers for a wonderful job and much gratitude to our TD tech crew led by Eric Jimenez TD '23, our senior emcees Andrew Zheng and Zuri Goodman, as well as our amazing TD aides team led by Andrew Zheng and Vanessa Blas TD '22 who all made the night a tremendous success.  We are already planning our next TD Community Night for April 2022 so start working on your acts now!
I also want to thank our wonderful TD Dining Hall for putting together a fabulous TD Football Tailgate brunch.  It's been 2 years since we did the last one prior to the COVID-19 pandemic so it was great to see this come back with all the trimmings and fun football decorations.  And even better… our football team beat Cornell 23 to 17! Go Bulldogs!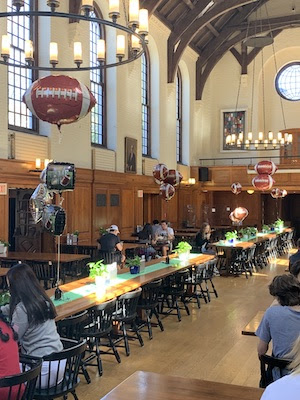 Great job to our TD volunteers who repainted the recreation room of New Haven's Boys' and Girls' Club!  Aside from the trip leaders, TD sophomores Matthew Merritt and Ryan Smith, we had first years Julian Barrera, Ned Swansey, and Natalie Sung join in the fun.  Well done!
Here are some more important TD events and dates for the next two weeks:
Monday 9/27 5:30pm Senior Mellon Forum Kickoff Pizza Dinner (Upper Courtyard)
TD '22 please gather for an important information session about Mellon funding and presentations of your senior thesis projects this academic year.  Because we will be serving beer this evening, we are asking all non-seniors to stay out of the upper courtyard.  This year, we will aim to do in-person presentations and Mellon Forum presentations will be on Tuesday evenings with a 5:30pm start time.
Wednesday 9/29 3-4:30pm Project 14 Recording (Lower Courtyard)
The Yale College Concert Band will be filming their performance of an original piece by Pulitzer-Prize Winner, Tania León.  Can't wait to see the next week during Family Weekend.  TDers are welcome to watch the filming but we ask that you remain quiet for the taping and maintain your distance from the performers and recording crew.
Saturday 10/2 9:30am TD Outing to Wooster Square Farmers Market (field trip)
TD New Haven Outreach aides are excited to explore the Wooster Square Farmers Market! We will meet in the TD Upper Courtyard at 9:30am and depart from TD at 9:45am sharp to walk to the market. There will be lots of local, fresh fall produce to enjoy! For any questions please contact TD Outreach Aide, Anna Tredway, at anna.tredway@yale.edu.
Sunday 10/3 1:00-4:00pm Mott/SAC joint Apple Picking Trip to Bishop's Orchard
Join your Red Lion family and come pick some delicious apples from a local CT farm!  Bus will depart from Temple Street Gate at 1pm.   Please note that TD will provide transportation but students will have to pay for the apples they pick – $22 for an 8qt bag, $40 for a 1/2 bushel gab.  Please sign up through this Google Form to ensure your seat on the bus.  If we get more than 50 sign-ups, we'll have to do a lottery.  Sign-ups close this Wednesday at 11:59pm and the trip list will be released by Thursday evening.
Wednesday 10/6 4:30pm TD Tea with Sue Chan, Production Designer of Shang Chi and the Legend of Ten Rings
We are excited to have our first tea of the year and even more thrilled that it will be an in-person conversation with Sue Chan, the Production Designer of the currently hottest film of the moment!  She has worked in both independent and studio film as well as short and long form TV and commercials.  Aside from Shang Chi, her design credits include the live-action sequence of the Lego Movie, Where the Crawdads Sing for Sony, The Half of It for Netflix, and many more.  Come hear her speak about her career in television/films and the work of a production designer.  We will try to hold this tea outdoors so that we can fit more students.  Stay tuned for more information.
Friday 10/8 4:00-5:15pm HoC  Hors d'Oeuvres Reception to Kickoff Virtual Family Weekend (TD HoC House)
With Family Weekend going virtual this year, the TD staff and I would like to host a small hors d'oeuvres open house reception at the TD House to say hello.   TDers will be able to come to the first floor of the TD House, just behind the black iron gates, to pick up food to enjoy back in the TD courtyard.  For those of you with Friday labs, don't worry, we will not close down until after 5:15pm so hurry back down the hill for some tasty treats.
Saturday 10/9 4:00-6:00pm Family Recipes Cooking Event (TD Student Kitchen)
Although our families will not be here in the college, we can still bring a little of your families here.  The Student Kitchen Aides wants you to share your family recipes!  We will select two cooks to come to the kitchen, make their recipes, and share their stories with the TD community.  Please go to this link to participate and submit your family recipes.  We plan to post all recipes submitted.  Contact either grace.macdonald@yale.edu or eva.syth@yale.edu if you have questions.
Àshe,
HL