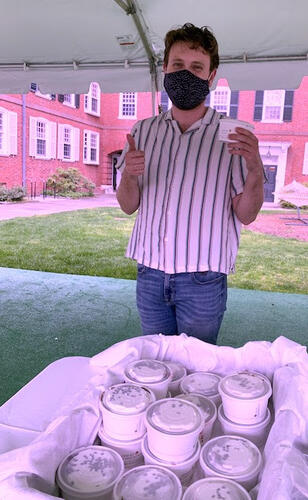 Dear Red Lions,
Happy May!  And welcome to our final week of classes for the 20-21 academic year!!!
Our "photo of the week" is from Laura Vera Contreras '23 and features senior Toby Richkind picking up one of Sharon Goldbloom's signature Thursday Snack Break treats.  This Thursday 5/6 will be the last of the year and Sharon will be sharing her strawberry shortcake recipe with us!  
I know it's been a tough spring semester for all of us – students, faculty, fellows, and staff – but I am so proud of the TD community and all that we have been able to do for one another.  So stay positive and we'll finish out this historic year strong!  If it helps to have something to look forward to, please remember that we are aiming to have a big TD celebration on Friday 5/7 so stay tuned for more information!
We are working on having a terrific series of study breaks for the week of 5/10.  In the meantime, if you signed up for the SAC virtual study break, you'll be hearing from KC Mills on your $10 Grubhub gift certificate.
One of our feature reading week events will be "Jake and Josh's Farewell Magic Show"celebrating four years of jaw-dropping wizardry with our senior lions, Jake Mezey and Josh Beasley!  To execute one of their tricks they need the community's help.  They are asking TDers to share a favorite memory of their time in TD by writing it into a memory book that they will leave out in the TD Common Room this weekend.  All entries will be anonymous.  So stop by and share a meaningful TD-related experience. 
You should have all seen the announcement about TD summer storage.  We are required to charge $10/box for a maximum of 5 boxes.  But please reach out to KC Mills at kc.mills@yale.edu if this poses a financial hardship.  
Here are our events and deadlines for this week:
Wednesday 5/5 7-8pm Glee Club Rehearsal (TD Upper Courtyard)
The Glee Club will be back for their 2nd rehearsal.  Once again, please plan to stay out of the upper courtyard while they are here.  In the case of rain, the rehearsal will shift to Thursday 5/6, 7-8pm.
Thursday 5/6 4-5:30pm Thursday Snack Break – Last of the Year
Hope you have all enjoyed the wonderful Thursday snack break series this semester.  Sharon Goldbloom is pulling out one last delicious treat – strawberry shortcake! 
Thursday 5/6 Cinco de Mayo dinner (TD Dining Hall)
If you enjoyed the wonderful cookout this weekend, you'll love the Cinco de Mayo menu the TD Dining Hall staff will be putting up in the courtyard this week.  Because of the high possibility of rain on Wednesday they are moving the event to Thursday.  
Friday 5/7 11:30am-1:30pm TD Celebration (TD Courtyard)
Stay tuned for the big plans we have to celebrate the end of this incredible year!  For now, keep your fingers crossed for good weather and stay tuned…
Saturday 5/8-Monday 5/10 Memory Book Signing for Jake and Josh's farewell magic show (TD Common Room)
Please stop by to share a favorite TD-related memory that will be a part of Jake and Josh's magic show on Tuesday 5/11 at 8pm.  The book will be out all weekend so stop by and write!
Without further ado, here is a word from Dean Mahurin…
Àshe,
HL
***
 
Water in Love (Ed Bok Lee)
How to love like water loves
when it's impossible to even taste
all the ghostly sediments
each time you take a sip
Impossible to savor
the salt in your blood
the light and island shorelines
in each living cell
When even the plainest mouthful
tastes more of you than you of it
 
PERTINENT DATES AND DEADLINES
 
May 7


 

F


 

Classes end, 5:30 p.m.; reading period begins.


 

May 7


 

F


 

Last day to convert from a letter grade to the Credit/D/Fail option for a spring full-term course or a course offered in the second half of the spring term. See Grades.


 

May 7


 

F


 

Last day to withdraw from a spring full-term course or a course offered in the second half of the spring term. See Withdrawal from Courses and Grades.


 

May 13


 

Th


 

Reading period ends, 5 p.m.


 

May 13


 

Th


 

Deadline for all course assignments, other than term papers and term projects, 5:00 p.m. (EST). This deadline can be extended only by a Temporary Incomplete authorized by the student's residential college dean.


 

May 13


 

Th


 

Final examinations begin, 7:00 p.m.


 

May 19


 

W


 

Examinations end, 5:30 p.m.


 
END OF TERM POLICIES
Remember that May 19 is also the final possible date for the submission of term papers and term projects.  Of course, individual instructors may set deadlines for earlier than this date, even as they have full discretion to set deadlines as late as this date.  Beyond May 19, though, coursework may be submitted only with a Temporary Incomplete from me; your instructor cannot set deadlines or issue extensions for beyond that date, even in graduate or professional school courses.  Yale College considers such deadlines and extensions invalid, and the work will not be counted toward your grade.  
 
Please note that, as with Dean's Excuses, the Academic Regulations permit Temporary Incompletes in only a limited range of circumstances; contact me right away if you anticipate needing one so that we can discuss your situation.  Postponements of scheduled final examinations also require my intervention, and may be authorized under the same set of circumstances as Dean's Excuses and Temporary Incompletes.  As always, if you find yourself in any kind of trouble relating to the submission of work or the taking of exams, let me know right away – I'm very happy to consult on these points.
ACADEMIC STRATEGIES WORKSHOPS
Understanding Your Upcoming Senior Thesis: For Juniors
Tuesday, May 4, 7-8 pm ET
Learn how to plan your writing and research, and how to access support resources for your senior project.
 
Public Speaking for Undergraduates
Wednesday, May 5, 9-10 pm ET
Professors are increasingly asking students to engage in public speaking, from leading class discussion to more formal presentations. This workshop suggests preparation and performance strategies to help you do your best.
 
Cultivating Faculty Mentors/Recommendations
Thursday, May 6, 7-8 pm ET
Initiate conversations, ask for assistance, request recommendations, and build mentoring relationships with Yale faculty, teaching fellows and staff.