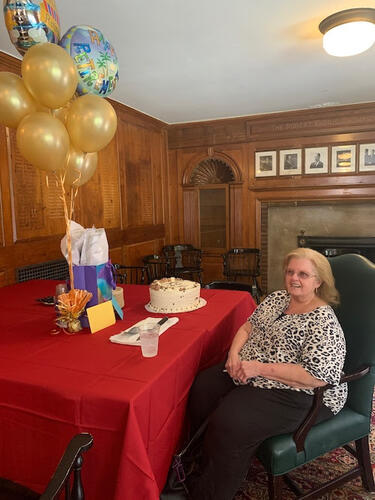 Dear Red Lions,
We are in our last week of the 2021 semester and 2020-21 academic year!   
It seems fitting that as we begin to wind down and bid farewell to our senior lions that we take the time to honor Nancy Almeida or "Miss Nancy" as many TDers know her for her longtime service to TD.  Our "photo of the week" captures Miss Nancy at her retirement gathering thrown by her dear TD Dining Hall colleagues in the TD Thompson Room today.  We are so honored to have had her greet and watch over us for nearly 27 years!  Enjoy your retirement, Miss Nancy, you will be missed! 
 
I hope our busy week last week of magic, singing, and dumplings in the TD courtyard gave you all a good energy boost to cross the finish line.  For anyone who missed the spectacular "Jake and Josh's Farewell Magic Show" last Tuesday, here is a link to the video hosted on our TD Vimeo Page. Unfortunately, the Zoom recording captured only one speaker at a time so you can't see both Jake and Josh at the same time.  But you can ask any number of folks in the courtyard or Zoom audience to verify that all three acts were indeed mind-blowing!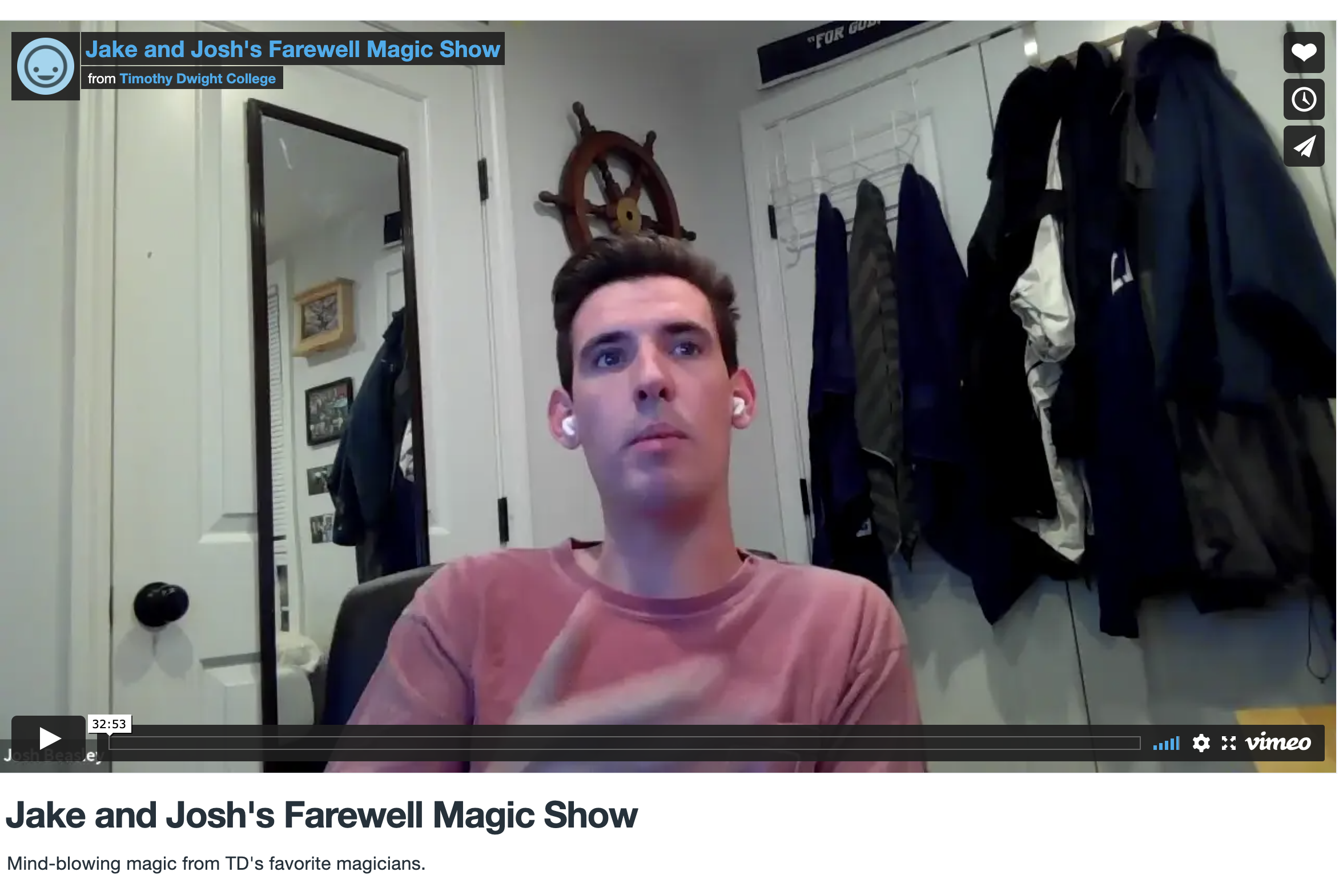 We still have plenty of room in TD summer storage!  And there are lots of opportunities to donate unneeded items – clothes, books, sealed food, unopened hygiene products, and more - before consigning them to the dumpster.  Don't forget to reach out to KC Mills if you have any questions about storage.  She can be reached at KC Mills at kc.mills@yale.edu.
Keep going everyone!  Please don't hesitate to reach out to myself, Dean, or the TD staff if you need any support.  You are almost there!

Without further ado, here is a word from Dean Mahurin…

Àshe,
HL
***
 
How Do I Know When a Poem Is Finished?
Naomi Shihab Nye
When you quietly close
the door to a room
the room is not finished.
It is resting. Temporarily.
Glad to be without you
for a while.
Now it has time to gather
its balls of gray dust,
to pitch them from corner to corner.
Now it seeps back into itself,
unruffled and proud.
Outlines grow firmer.
When you return,
you might move the stack of books,
freshen the water for the roses.
I think you could keep doing this
forever. But the blue chair looks best
with the red pillow. So you might as well
leave it that way.
END OF TERM POLICIES
It's so exciting to have almost run out of academic dates and deadlines!
But you must remember that Wednesday, May 19 is also the final possible date for the submission of term papers and term projects.  Of course, individual instructors may set deadlines for earlier than this date, even as they have full discretion to set deadlines as late as this date.  Beyond May 19, though, coursework may be submitted only with a Temporary Incomplete from me; your instructor cannot set deadlines or issue extensions for beyond that date, even in graduate or professional school courses.  Yale College considers such deadlines and extensions invalid, and the work will not be counted toward your grade.  
 
Please note that, as with Dean's Excuses, the Academic Regulations permit Temporary Incompletes in only a limited range of circumstances; contact me right away if you anticipate needing one so that we can discuss your situation.  Postponements of scheduled final examinations also require my intervention, and may be authorized under the same set of circumstances as Dean's Excuses and Temporary Incompletes.  As always, if you find yourself in any kind of trouble relating to the submission of work or the taking of exams, let me know right away – I'm very happy to consult on these points.