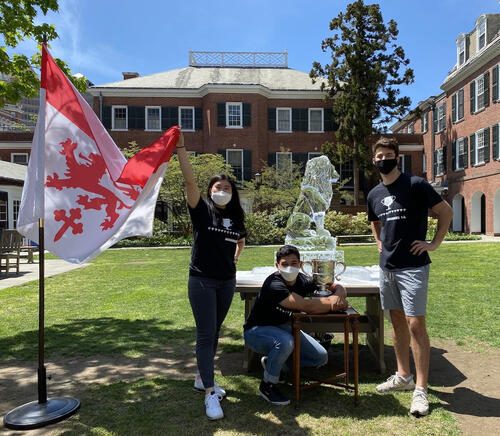 Dear Red Lions,
Starting this week's "Notes and News" with our "photo of the week" titled "We are the Champions!" featuring our incredible IM team – Angel Mora '21, Jessica Li '22, and Ben Scher '23.  Jade Chen '23, the fourth member, of this powerhouse team is studying remotely this year but she has been the behind the scenes producer of the TD IMs Sportscenter videos.  You can check out her latest work in this victory/highlights video!
If you did not get a chance to come by the Tyng Cup/TD Day celebration on Friday, you can still pick up your Tyng Cup and TD Day shirts.  Just come by the TD Package Storeroom when it's open.  If you participated in IMs, you're also eligible for a 3rd shirt from Yale Athletics.  To get that shirt, please email Angel Mora, Jessica Li, or Ben Scher.
Last call to share a TD memory for "Jake and Josh's Farewell Magic Show"this Tuesday 5/11 at 8pm. You'll find the book in the TD Common Room.
TD summer storage has officially opened for storing up to 5 boxes.  You'll also notice that a large dumpster is now on the corner of Grove and Temple so please take out your large trash items directly to the dumpster.  Please reach out to KC Mills at kc.mills@yale.edu if you have any questions about storage.
You'll also notice that Spring Salvage and a number of groups are doing donations drives and have their bins out by the Temple Street Gate.  The Mott Woolley Council is supporting the YHHAP Food Drive which starts this Friday, May 14th.  You will see a bin located in the Town Hall to collect unopened food and hygiene products.  Here is a list of items you can donate:
- Protein Bars
- Nuts, seeds, and nut butters
- Canned items
- Condiments and dressings
- Cereals
- Dried goods
- Other unopened, non-perishable food
- New toiletries
- Unopened cleaning supplies
- Other unopened supplies
Please go here for a full list and contact david.foster@yale.edu or nicholas.perez@yale.edu if you have any questions.
Here are our events and deadlines for this week:
Tuesday 5/11 Jake and Josh's Farewell Magic Show (Lower Courtyard/Hybrid)
Prepare to be dazzled by our TD wizards, Jake Mezey and Josh Beasley!  The dynamic duo will be livestreaming their performance in the TD lower courtyard.  Come at 7:30pm to get your snacks for the show and grab a place to view the screen.  Here is the Zoom link and password for everyone viewing from home:
 
Wednesday 5/12 5-6pm Glee Club Recording (TD Upper Courtyard)
The Glee Club will be making their Commencement recording during this hour.  Please do your best to move through the courtyard as quietly as possible while the recording is in process.
Wednesday 5/12 8:30-10pm TD Dumpling Night (TD Upper Courtyard)
Back by popular demand, the Balbarin/Lui family will once again work with the TD Buttery and Student Kitchen to serve up pork and vegetarian dumplings.  We'll be using the recipe from my mom, Fung Lui, though slightly hacked for TD buttery purposes.  
Without further ado, here is a word from Dean Mahurin…

Àshe,
HL
***
"There is nothing noble in being superior to your fellow man; true nobility is being superior to your former self." (Ernest Hemingway)
PERTINENT DATES AND DEADLINES
 
May 7


 

F


 
Classes end, 

5:30 p.m.

; reading period begins.
 

May 7


 

F


 

Last day to convert from a letter grade to the Credit/D/Fail option for a spring full-term course or a course offered in the second half of the spring term. See Grades.


 

May 7


 

F


 

Last day to withdraw from a spring full-term course or a course offered in the second half of the spring term. See Withdrawal from Courses and Grades.


 

May 13


 

Th


 
Reading period ends, 

5 p.m.


 

May 13


 

Th


 
Deadline for all course assignments, other than term papers and term projects, 

5:00 p.m. (EST)

. This deadline can be extended only by a Temporary Incomplete authorized by the student's residential college dean.
 

May 13


 

Th


 
Final examinations begin, 

7:00 p.m.


 

May 19


 

W


 
Examinations end, 

5:30 p.m.


 
END OF TERM POLICIES
Remember that May 19 is also the final possible date for the submission of term papers and term projects.  Of course, individual instructors may set deadlines for earlier than this date, even as they have full discretion to set deadlines as late as this date.  Beyond May 19, though, coursework may be submitted only with a Temporary Incomplete from me; your instructor cannot set deadlines or issue extensions for beyond that date, even in graduate or professional school courses.  Yale College considers such deadlines and extensions invalid, and the work will not be counted toward your grade.  
 
Please note that, as with Dean's Excuses, the Academic Regulations permit Temporary Incompletes in only a limited range of circumstances; contact me right away if you anticipate needing one so that we can discuss your situation.  Postponements of scheduled final examinations also require my intervention, and may be authorized under the same set of circumstances as Dean's Excuses and Temporary Incompletes.  As always, if you find yourself in any kind of trouble relating to the submission of work or the taking of exams, let me know right away – I'm very happy to consult on these points.