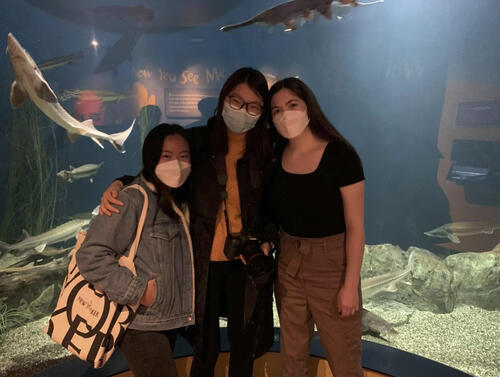 Dear Red Lions,
Hope everyone had a wonderful Yale break day last Friday!  Thanks to TD Photography Aide, Alisia Pan, we have yet another terrific set of photos capturing our TD field trip to Mystic Aquarium.  And here is our "photo of the week" featuring the photographer herself and her two suitemates, Vivian Wang and Lila Selin.
Please note that for the next three Wednesdays we will be hosting about 50 members of the Yale Glee Club in the upper courtyard in the evenings as they rehearse (masked and physically distanced) in preparation for their video recording for Yale's Commencement on Old Campus on Saturday 5/22.  All safety arrangements have been approved by Yale Environmental Health and Safety.  Here is the schedule:
Rehearsal 1
Wednesday, Apr. 28, 7-8pm
Rehearsal 2
Wednesday, May 5, 7-8pm
Recording session 
Wednesday, May 12, 6:30-7:30
(In case of rain, hold May 11 and 13)
We ask that all TDers stay out of the upper courtyard during the three sessions.  You may pause to watch and listen if you like, but you have to remain in the lower courtyard and away from the singers.  We'll send out more directions the week of 5/10 to ensure that the courtyard area is as quiet as possible for their recording session on 5/12. We have all missed live music-making so much this year and are excited to have the Glee Club here! 
I am delighted to announce that the Yale Office of Sustainability recognized our great Operations Manager, KC Mills, in their "2021 Residential College Sustainability Awards"!  KC and the TD Staff were named "Campus Keeper" for their amazing work in prioritizing "student health and well-being to allow for safe campus life" this year!  Congratulations!!!
Our new SAC leadership, Eve Chinea '24 and Isa Dominguez '24, has come up with a great e-study break alternative for the Reading Period for anyone not on campus this semester.  SAC will be offering $10 Grubhub gift certificates to students living off-campus (enrolled and on LOA).  An Amazon gift certificate will also be offered to TDers living in an area not serviced by Grubhub.  Please go here to register.  Form closes at 11:59pm on Sunday 5/2.
Last but not least… please save the date for a big TD celebration on 5/7!!!  It won't be TD Day as we've known it but it will be special.  More to come! 
Here are our events and deadlines for this week:
Tuesday 4/27 5:30pm Last TD Senior Mellon Forum 
Our last TD Senior Mellon forum of the spring 2021 semester features Malak Khan and Kenneth Xu.  Many thanks to all of our wonderful presenters for sharing your work with us this year!
Here is the Zoom link info for the event:
 
Thursday 4/29 4-5:30pm Thursday Snack Break – Black Forest Trifle (TD Package Room)
Come by for our second to last snack break with Sharon Goldbloom.  Chocolate lovers will not be disappointed!
Friday 4/30 8pm Senior Wine Tasting
Sign-ups have now closed.  We will be sending out the zoom link and instructions for picking up wine from the TD Package Room for the tasting with Alex Werrell TD '13.
Sunday 5/2 11:59pm Deadline to Sign-Up for TD SAC Remote Study Break 
If you are a TDer living off-campus, studying remotely, or on LOA please go here to claim your Grubhub gift certificate to do your own study break.  If you live in an area not serviced by Grubhub, SAC is also offering a $10 Amazon gift certificate.  On-campus Lions are not eligible since you've all had easy access to our great food events all semester/year.
Without further ado, here is a word from Dean Mahurin…
Àshe,
HL
 
***
 
"And now that you don't have to be perfect, you can be good." (John Steinbeck, East of Eden)
 
PERTINENT DATES AND DEADLINES
 
Apr. 30


 

F


 

Students are notified of application results for Fall 2021 limited enrollment courses.


 

May 1


 

S


 

Applications for fall-term Leaves of Absence due. See Leave of Absence, Withdrawal, and Reinstatement.


 

May 7


 

F


 

Classes end, 5:30 p.m.; reading period begins.


 

May 7


 

F


 

Last day to convert from a letter grade to the Credit/D/Fail option for a spring full-term course or a course offered in the second half of the spring term. See Grades.


 

May 7


 

F


 

Last day to withdraw from a spring full-term course or a course offered in the second half of the spring term. See Withdrawal from Courses and Grades.


 

May 13


 

Th


 

Reading period ends, 5 p.m.


 

May 13


 

Th


 

Deadline for all course assignments, other than term papers and term projects, 5:00 p.m. (EST). This deadline can be extended only by a Temporary Incomplete authorized by the student's residential college dean.


 

May 13


 

Th


 

Final examinations begin, 7:00 p.m.


 

May 19


 

W


 

Examinations end, 5:30 p.m.


 
ACADEMIC STRATEGIES EVENT
Five things I Wish I Knew as a College Student:
A discussion about Money and Finances with Tara Falcone '11
Thursday, April 29, 7-8 PM ET
https://yale.zoom.us/j/99214839916?from=addon
Come learn about financial literacy for college students with Tara Falcone '11. Tara is a Certified Financial Planner pro, a CFA charterholder, former hedge fund analyst, first-generation low-income Yale graduate, and the founder of ReisUp. At her core she is a blue-collar girl from small-town America, and because of that, she has a unique perspective on money and is committed to helping you achieve your financial goals.
BUCKLEY PROGRAM
 
The William F. Buckley, Jr. Program is dedicated to elevating campus discourse around contemporary issues of foreign and domestic policy.  Our 350+ fellows come from a diverse array of political backgrounds, but all are united by a common interest in how campus dialogue shapes national conversations. Join and experience lectures and seminars, Career Chats, Firing Line Debates, fellow-exclusive trips, and an annual conference with policy experts, professors, and politicians over the course of the year.
To check out the roster of past and upcoming events,  please visit our website. Our 5 minute application is due by May 19th. There is no fee to join or participate in any of our events. Please feel free to reach out to our Recruitment Director, Libby Snowden, at libby.snowden@yale.edu if you have any questions!
SUMMER EXPERIENCE AWARD
Summer Experience Award (formerly known as the Domestic Summer Award)
Enhancements have been made to the former DSA. Review the changes on the Office of Career Strategy website and check out the Frequently Asked Questions. The application for the Summer Experience Award (SEA) is in Yale Career Link and the deadline to apply is May 1, 2021. Important updates include:
Eligible students may use the SEA for their choice of an internship, research experience or arts apprenticeship in the U.S. or abroad.
If the experience is in the U.S., the award will be $4,000. If the experience is outside the U.S., the award will be $6,000.
The SEA is the former DSA, therefore students who have previously used their DSA are not eligible.
Inquiries can be sent to sea@yale.edu