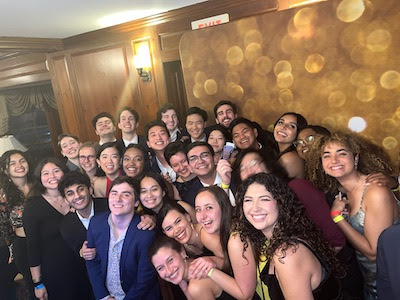 TIMOTHY DWIGHT NOTES & NEWS
WEEK OF 4/11/22
HL'S PIECES
Dear Red Lions,
Many thanks to our amazing TD SAC and generous TD staff and Graduate Affiliates for making Friday night's formal a big success!  From decorations to food/drink and music, you all outdid yourselves to pull together a lovely formal in one week!  Our "photo of the week" comes from Sophia Hall '22/23 who shared the TD class of 2022 photo booth photo! 
We were so excited to host Hilary Hahn for our first Chubb Fellowship event in two years!  She spoke to a very enthusiastic crowd at SSS 114 and later at the Chubb dinner in the TD Dining Hall where we were joined by special guests including Maestro William Boughton of the Yale Symphony Orchestra, Dean Kate Krier of Yale College Arts, and violin virtuoso and YSM artist-in-residence Augustin Hadelich.   We'll post links to the video and photos from these events shortly. 
Performers will be able to do their acts unmasked but the audience will need to be masked for the evening.  Pizza will be served at the end of the evening as a grab & go since we will not be able to eat in the Dining Hall after hours.
We do not have any events this week aside from the Chubb Fellowship events with Hilary Hahn.  For the following week, here are some important events:
Tuesday 4/19 4-15:15pm "Dr. Bummer Tells All," A Tea with Professor Daniel Westreich TD '98 (TD House)
Join HL and TD Resident Fellow, Professor Amy Bei, in the TD House for a conversation with Dr. Westreich, a Professor of Epidemiology at the University of North Carolina!  His work sits at the intersection of infectious diseases and reproductive health so you may heave heard him as his alter ego, "Dr. Bummer," on Dan Savage's podcast.  He was also awarded an NEH New Innovator Award in 2014 and sits on the editorial boards for American Journal of Epidemiology and just published a new textbook on epidemiology methods titled Epidemiology by Design.  
Friday 4/22 1:30-3:30pm TD Planting Project with Sustainability Liaisons (TD Courtyard)


Our sustainability liaisons are partnering with our Yale Groundskeepers to plant a new garden for the lower courtyard!  Please come out and help or support the crew as they make our courtyard even more gorgeous.   Here is the sign up link. Lemonade and cookies will be served in the upper courtyard!  
Friday 4/22 5:00-7:00pm TD Final Cut (TD Dining Hall)


Join our winning TD team of first year lions, Arantxa Galvan, Shtile Shuaipai, and Anna Zhao as they take over the dining hall and share with us their culinary vision.
Sunday 4/23 Camp Kesem Virtual Run 
Camp Kesem at Yale will be having a virtual 5k Camper Scamper on April 23rd! Camp Kesem puts on a free, week-long summer camp for children with parents affected by cancer and Timothy Dwight will be sponsoring five participants (selected by lottery) to be runners for the event! Participants will receive a T-shirt and race bib and are encouraged to run with friends.  If you are interested, please go here to fill out the form by Friday 4/15 at 11:59pm.  The lucky winners will be chosen by lottery.
Sunday 4/23 11am-1:30pm TD Berry Brunch (TD Dining Hall)


TD Berry Brunch is back!  Join us for our annual celebration of food and spring!  True to its name there will be fresh berries galore and many other wonderful brunch favorites from bagels and lox and much more.  This is a TD-only event so make sure to get your TD sticker at the TD HoC office during the business day if you have not already.  "Family Dinner" protocol will be in effect so off-campus TDers are invited back to dine on the college.

Looking forward to seeing many of you at these great events!