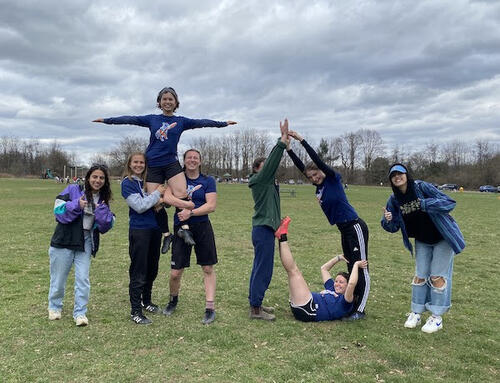 TIMOTHY DWIGHT NOTES & NEWS
WEEK OF 3/28/22
HL'S PIECES
Dear Red Lions,
Welcome back!  I hope everyone had a great break and prioritized good rest and relaxation.  
As we move into the last stretch of the semester, we will be hosting Hilary Hahn for our Chubb event on April 11th at SSS 114.  I will be sending out information regarding tickets I've set aside for our own TD students this week.  In the meantime, I am excited to announce the sign-up for the lottery drawing for a seat at the special dinner we are serving in Hahn's honor that will take place in the TD Dining Hall.  Please go here to register! Lottery results will be announced by 5pm, Wednesday 4/6.  This registration is for TD students only and will close by Tuesday 4/5 at midnight.  
Our "photo of the week" comes from TD first-year Maya Franz who traveled with Yale's ultimate frisbee team, Ramona Quimby (aka Mona), over the break where the team came in 2nd at the Jersey Devil Tournament!  As you can see from the photo, the team is full of TDers including: Lucie Warga (captain), Virginia Davis, Sarah Gamzon, Grace MacDonald, and Abby Leighton.  First-years Sarah Skoler and Mia Rodriquez-Vars also showed up to cheer on the team.  
I hope you all saw the announcement that TD's residential FGLI Ambassador is Chigozie Chukwunyere who will be holding office hours biweekly from 5:30-6:30pm at the Silliman Common Room.  You may view the calendar here or email at chigozie.chukwunyere@yale.edu to set up a time to discuss FGLI-related resources or concerns.
Announcing a new intramural residential college tournament – the Adams Cup – for debate!  If you would like to represent TD at the one-day tournament on Sunday 4/10, please go here to register.  More information may be found here. Participants must not be members of the Yale Debate Association and TD can have multiple teams enter.  Winners bring back the Adams Cup to the college along with a cash prize and champagne!  Teams must register by Wednesday, 4/6th to participate.
Here are some important events/deadlines for the next few weeks:
Tuesday 3/29 5:45pm TD Senior Mellon Forum (53 Wall Street)
Our Mellon series continues with presentations from Seniors Anna Tran and Clayton Land.  Because we are just returning from break we are going to shift to presentations in the auditorium first at 5:45pm and then followed by Grab & Go dinner for presenters and their guests.  As usual all guests must sign-up in advance for dinner.   
Wednesday 3/30 5:30-6:45pm Dinner with Filmmaker Sahraa Karimi (Harvest Restaurant) 
Former director of Afghan Film, Sahraa Karimi is an Afghan filmmaker who has completed over 30 projects and is now a visiting professor at Centro Sperimentale di Cinematographia in Rome, Italy.  She is on Yale campus and New Haven this week to work with students and receive the Visionary Leadership Award sponsored by New Haven's Arts and Ideas Festival.  We have room for 5 students to dine with Karimi and Professor Charles Musser.  To register, please go to this link and sign up by tomorrow (Tuesday 3/29) at 12pm. We'll announce the guest list by 5pm tomorrow.  
Thursday 3/31 4:00-5:15pm "Unconventional Success" Tea with Olivia John (53 Wall Street, Room 208)
TD is delighted to welcome Olivia John, Founder and CEO of Osso Capital!  Prior to starting Osso, John was the Managing Director on the Real Estate Acquisitions team at Blackstone, where she worked in the NY and London offices from 2007 to 2020 and directed investing efforts numbering $12 billion in acquisitions.  John is a graduate of the Wharton School at the University of Pennsylvania where she received a BS in Economics and was a Joseph Wharton Scholar.  Please note that this tea is next door at 53 Wall Street and NOT at the TD House or courtyard.  
Without further ado, here is a word from Dean Mahurin...



Àshe,



HL



***
"I got you to look after me, and you got me to look after you, and that's why."
(John Steinbeck)
DATES AND DEADLINES
Apr. 1


 

F


 

Deadline to apply for Non-Yale Summer Abroad.


 

Apr. 7


 

Th


 

Last day to withdraw from a spring second-half course without the course appearing on the transcript.


 

Apr. 13


 

W


 

Registration for fall 2022 opens, 8:00 a.m.


 

Apr. 29


 

F


 

Classes end; reading period begins.


 

Apr. 29


 

F


 

Last day to convert from a letter grade to Cr/D/F option for a full-term course and/or a course offered in the second half of the spring term.


 
SING DRAWS!
Class of 2025: Monday, April 4, 8:30pm
Class of 2023: Tuesday, April 5, 8pm
Class of 2024: Tuesday, April 12, 8pm
Questions?  Email your housing reps (2023: Aaron Magloire and Max Moen; 2024: Kaleb Assefa, Makenzie Birkey, and Amanda Robinson; 2025: Grace Abawe, Logan Gauthier, Mia Rodriquez-Vars) or our senior AA Anh Tiet (anh.tiet@yale.edu)
DWIGHT HALL OPPORTUNITIES
FOCUS on New Haven – Application due April 1st! Link to Opportunity
Summer Fellows – Application due April 4th! Link to Opportunity
Urban Fellows – Application due April 4th! – Link to Opportunity
Community Mental Health Fellows – Application due April 4th! – Link to Opportunity
POSTGRADUATE FELLOWSHIPS 
The Fulbright will fund a year's study (including of creative & performing arts), an independent project, or the teaching of English in any of more than 160 countries.  
The Marshall, Mitchell, Rhodes, and other fellowships will fund one to three years' graduate study in the UK or Ireland – 3.7 GPA required.  These are only a few of the fellowships open to seniors, many more can be found on our website: http://funding.yale.edu/. 
International students can also apply for Rhodes through one of the 21 regional/country-specific competitions, but for students not covered by these competitions there is the GLOBAL Rhodes which is open to citizens of any country in the world!  The Global Rhodes requires university nomination and interested students should talk with us directly – initial campus deadline will be in mid-June.
LIBRARY WORKSHOPS
30 Minutes to a Better Selfie
Wednesday, March 30 at 3:00pm 
Register: https://schedule.yale.edu/event/8769303
Want to take better selfies? Join us for a virtual 30-minute session covering basic tips on how to create better photos, followed by a discussion on where your images go once they're published online. This session is great for anyone interested in technology, photography, and copyright/law.
How to Develop a Research Project
Wednesday, March 30 at 4:00pm 
Register: https://schedule.yale.edu/event/8820118
Figuring out exactly what you want to research can be a daunting task. You might feel like your topic has already been done, that there's nothing available on your topic, or that you're simply lacking inspiration - which are common concerns when starting a new project! Join librarians and the Poorvu Center to learn how you can develop a strong research question for your next research assignment.
Introduction to Zotero: A Citation Manager
Thursday, March 31 at 11:00am
Register: https://schedule.yale.edu/event/8683029
Managing citations is an essential skill for all undergraduate students. Students will learn how to:
·       quickly save citations from Yale Library resources and from on the web
·       organize citations into a collection / folder / group
·       generate a bibliography using Microsoft Word or Google Docs
·       take notes to avoid plagiarism
Reading Strategies for Writing Papers
Thursday, March 31 at 4:00pm
Register: https://schedule.yale.edu/event/8683131
Doing original research can feel overwhelming, especially when you need to read a lot of scholarly texts to prepare to write a paper. Join librarians to learn strategies to tackle scholarly texts efficiently.