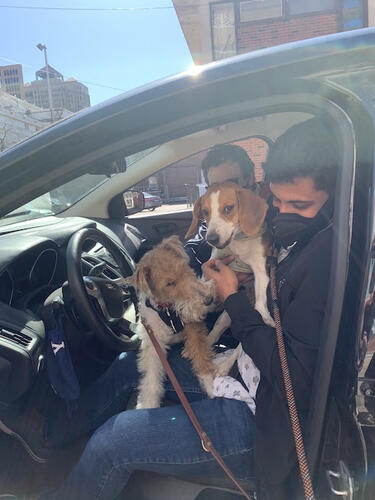 Hope you are looking forward to our third break day of the semester coming up this Wednesday!  We plan to serve up Arepas courtesy of Rubamba.  

Our "photo of the week" comes from TD alum Jorge Anaya '19 who captured Angel Mora '21 mobbed by his adoring puppy friends that include Wally and Jorge's dog, Charli, a 10 month old Beagle mix.  Toby Richkind '21, patiently seated next to the puppy party is also in the picture.
Our IM teams continue to be on a tear as we build our lead and head towards Tyng Cup victory!  Tune in for another episode of TD IMs Sportscenter to hear the latest.  
Now that spring is here, and folks are beginning to venture back into the courtyard we are looking to bring back two of our best TD traditions!  First, our Spring Community Night will take place over Zoom from 8-9:30pm!  I am excited to announce that we have received permission to livestream the performances in the TD courtyard.  We are encouraging everyone to perform live since we found the live performances actually went well over Zoom.  We are also happy to accept pre-recorded videos to encourage participation from remote TDers with unpredictable wifi.  We also received permission to serve snacks and pull out the TD fire pits so this should be a great evening!  Sign up here if you'd like to perform!
TD Berry Brunch will be back on Sunday April 18!  I have been working with the TD Dining Hall to do a spectacular menu that will work with all the extra safety precautions.  Our managers have met the challenge and we will absolutely celebrate berries and spring!  Off-campus students will be allowed to come back onto campus and eat for free but have to stay in the TD courtyard per YCDO rules.  We will set up a "grab and go" station.
Here are our events and deadlines for this week:
Tuesday 3/23 5:30pm TD Senior Mellon Forum (Hybrid)
Our third session will feature presentations by India Bhalla-Ladd, Ivy Li, and Erica Lin.
Wednesday 3/24 3pm Yale Break Day with Rubamba Food Cart (Temple Street Gate)
We celebrate our third official Yale Break Day with arepas from the Rubamba Food Cart!  Everyone will be able to choose chicken, beef, or vegetables and pick your own toppings (guacamole, hot sauce, or sour cream).  Each order will come with plantains if you like!  Follow the staggered ordering times listed on the eflyer.
Thursday 3/25 4pm Thursday Snack Break – Margherita Surprise (TD Package Room)
Sharon Goldbloom can't wait to share what delicious treats can be made with mozzarella, tomatoes, and basil!  
Without further ado, here is a word from Dean Mahurin…
Àshe,
HL
***
"Love heals. Heals and liberates. I use the word love, not meaning sentimentality, but a condition so strong that it may be that which holds the stars in their heavenly positions and that which causes the blood to flow orderly in our veins." (Maya Angelou, Mom & Me & Mom)
 
PERTINENT DATES AND DEADLINES
Mar. 22


 

M


 

Classes begin for courses offered in the second half of the spring term.


 

Mar. 24


 

W


 

Classes do not meet.


 

Mar. 26


 

F


 

Deadline to apply for double credit in a single-credit course. See Special Arrangements.


 

Mar. 26


 

F


 

Withdrawal from Yale College on or before this date entitles a student to a rebate of one quarter of the spring term's tuition. See Undergraduate Regulations.


 
 
HOUSING SEASON: ON THE WAY!
Stand by from more from me and your noble housing reps on next month's housing draws and related meetings.  In the meantime, I'll introduce you to the housing portal at https://yale.starrezhouzing.com/starrezportalx.  Upperclass students who are not required to live on campus can declare their intent to live in the college here.
 
 
FELLOWHIPS
EVENTS
Info Session for UK Fellowships - Rhodes and Beyond: postgrad study in UK/Ireland (3 of 6)     
Monday, March 22, 6:00pm - 7:00pm ET   
Zoom Link  
  
Cultivating Faculty Mentors/Recommendations  
Monday, March 22, 7:00pm - 8:00pm ET 
Register here 
 
Info Session for UK Fellowships - Rhodes and Beyond: postgrad study in UK/Ireland (4 of 6)     
Wednesday, March 31, 12:30pm – 1:30pm ET   
Zoom Link  
 
APPLICATION DEADLINES
March 26, 11:30 pm ET - Yale College First-Year Summer Research Fellowship in the Sciences and Engineering Campus Deadline | Eligible: First-Year Students  
March 30 - Freeman Asia National Deadline | Eligible: First-Year Students, Sophomores & Juniors 
April 5, 11:30pm ET - Tetelman Fellowship Campus Deadline | Eligible: First-Year Students, Sophomores & Juniors 
April 16 - Millennium Fellowship National Deadline | Eligible: First-Year Students, Sophomores & Juniors     
May 1, 11:59pm ET - The International Study Award (ISA) Deadline | Eligible: First-Year Students, Sophomores & Juniors receiving a Yale scholarship.   
To apply for ISA funding, eligible students must first receive Yale approval for a summer study abroad program.       
May 1, 3:00pm ET - MacMillan Center Academic Year Fellowships for Language Study Campus Deadline| Eligible: First-Year Students, Sophomores, Juniors, & Graduate Students   
May 15 - Rotary Peace Fellowship District Deadline| Eligible: Seniors   
May 15 - Einstein Fellowship National Deadline | Eligible: Seniors & Graduates aged under 35
 
 
LIBRARY WORKSHOPS
Introduction to Zotero: A Citation Manager
Monday, March 22 @ 1:30 PM | Register: https://schedule.yale.edu/event/7435537  
Managing citations is an essential skill for all undergraduate students. Learn about Zotero, free software to help you manage citations and your bibliography.
 
Next Steps with Zotero
Friday, March 26 @ Noon | Register: https://schedule.yale.edu/event/7442439
Join us for 40-minutes to learn advanced tips & tricks in Zotero, including how to:
- Clean up and organize your Zotero library (duplicates, tags, notes, related items)
- Share Zotero libraries with groups and incorporate the Zotero desktop app with Zotero.org
- Optimize Write-N-Cite by reformatting citation styles, manually editing, dual citations in one parenthesis
 
Demystifying the Literature Review
Friday, March 26 @ 1 PM | Register: https://schedule.yale.edu/event/7435404
Learn how to conduct a literature review for your research projects and fellowships. This workshop will cover: 
- How to find sources using online library resources
- Tips to analyze your sources
- How to use citation management software (like Zotero) for organizing sources, taking notes, and attributing authors