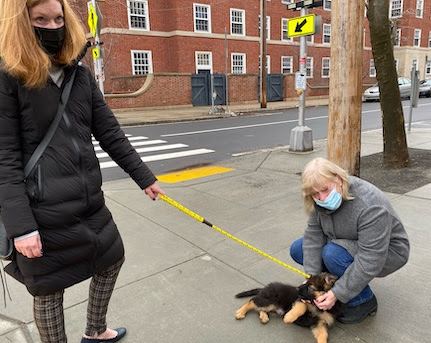 Dear Red Lions,
Despite the frigid temperatures we have indeed sprung forward and are hurtling into the 2ndhalf of the spring semester! 
Our "photo of the week" is titled "Welcome Tim Riggins"!  In case some of you have not seen our latest cute furry addition to the courtyard, here is Dean's adorable new puppy! You can tell that Tim Riggins knows that KC is indeed a dog person!
I am delighted to announce that we have new SAC leadership!  Our new Co-Presidents are TD First-year lions Eve Chinea and Isa Dominguez!  I want to thank our out-going presidents, Maya Kerfoot and Makenzie Birkey, who did a wonderful job or reimagining study breaks and launching important courtyard events during this year that included movie nights and our first-ever mini-golf party.  They will stay on SAC as the SACretairies and we can't thank them enough for their hard work and perseverance through this tough time!  
Senior lions, you will have no doubt seen today's email from President Salovey regarding a decision to hold "in-person gatherings on or around May 24, if public health conditions permit" to celebrate "your accomplishments and graduation."  I know you are all trying to decipher what exactly will be possible.  Please know that you'll continue to get more information in these next few weeks so stay tuned…
First-year lions, we are in week #2 of the Red Lion Games!  After an exciting first week, Alex's FroCo group is in 1st place, with FroCo Robbie's group in 2nd and FroCo Ruiyan's group in a close 3rd!  But it is still anybody's race for the much coveted TD First Year Chalice since each group can earn 80 points – yes, 80 – each week!  Go to the Red Lion Games document to read all about each game, visit the Registration link to sign up to play and visit the Standings link to see where your FroCo group stacks up against other teams. If you'd like to play this week, which you all should, please sign up to play using the Registration Link by 11:59 PM on Tuesday, March 16. Have fun and play hard!!
Here are our events and deadlines for this week:
Tuesday 3/16 5:30pm TD Senior Mellon Forum (Hybrid WHC and Zoom)
We continue with our series with senior project presentations by Senior lions, Ruiyan Wang, Jake Mezey, and Yasmin Alamdeen.   
Thursday 3/18 4pm Thursday Snack Break with Hummus and Chips (TD Package Room)
Homemade hummus and crispy pita chips are on the menu for this Thursday's snack break with Sharon Goldbloom!
Tuesday 3/23 5:30pm TD Senior Mellon Forum (Hybrid)
Our third session will feature presentations by India Bhalla-Ladd, Ivy Li, and Erica Lin.
Wednesday 3/24 3pm Yale Break Day with Rubamba Food Cart (Temple Street Gate)
We celebrate our third official Yale Break Day with arepas from the Rubamba Food Cart!  Everyone will be able to choose chicken, beef, or vegetables and pick your own toppings (guacamole, hot sauce, or sour cream).  Each order will come with plantains if you like!  Look for the e-flyer with the staggered ordering times by class year and last name.  
Thursday 3/25 4pm Thursday Snack Break with Margherita Wraps (TD Package Center)
Sharon Goldbloom will be serving up wraps with fresh tomato, mozzarella, and basil!
Without further ado, here is a word from Dean Mahurin…
Àshe,
HL
***
 
Bees Were Better
Naomi Shihab Nye
In college, people were always breaking up.
We broke up in parking lots,
beside fountains.
Two people broke up
across a table from me
at the library.
I could not sit at that table again
though I did not know them.
I studied bees, who were able
to convey messages through dancing
and could find their ways
home to their hives
even if someone put up a blockade of sheets
and boards and wire.
Bees had radar in their wings and brains
that humans could barely understand.
I wrote a paper proclaiming
their brilliance and superiority
and revised it at a small cafe
featuring wooden hive-shaped honey dippers
in silver honeypots
at every table.
PERTINENT DATES AND DEADLINES
 
Mar. 9


 

T


 

Classes do not meet.


 

Mar. 19


 

F


 

Last day of first half-term courses.


 

Mar. 19


 

F


 

Last day to convert from a letter grade to the Credit/D/Fail option in a course offered in the first half of the spring term. See Grades.


 

Mar. 19


 

F


 

Last day to withdraw from a course offered in the first half of the spring term. See Withdrawal from Courses and Grades.


 

Mar. 22


 

M


 

Classes begin for courses offered in the second half of the spring term.


 

Mar. 24


 

W


 

Classes do not meet.


 

Mar. 26


 

F


 

Deadline to apply for double credit in a single-credit course. See Special Arrangements.


 

Mar. 26


 

F


 

Withdrawal from Yale College on or before this date entitles a student to a rebate of one quarter of the spring term's tuition. See Undergraduate Regulations.


 
YALE WOMEN'S LEADERSHIP INITIATIVE CONFERENCE
The Yale Women's Leadership Initiative is hosting the 13th Annual Women's Empowerment Conference online April 10-11, 2021. This upcoming conference will explore the meaning and possibilities of strong female leadership through interactive programming and opportunities to connect with prominent womxn leaders. Join us virtually to listen and interact with incredible womxn and develop a strong sense of community and support. 
 
People can get tickets through this Eventbrite link and follow updates on our website or the WLI Instagram @yalewli.
DIVERSITY, EQUALITY, INCLUSION IN ATHLETICS: MOVIE NIGHT
The Diversity, Equity and Inclusion committee in the Athletic SAC is having a movie night open to all students for Women's History Month; they will be screening One Night in Miami virtually. Details below!:
 
March 19th, 2021 7-9pm 
One Night in Miami
There is a sign-up form: https://forms.gle/aaqwsw4332ui9fRt6 
 
OFFICE OF CAREER STRATEGY
 
2021 Virtual Common Good & Creative Careers Networking Event
Friday, March 19, 2:00pm-4:00pm
More info
Customize Your New OCS Weekly Newsletter: Customize your OCS newsletter by choosing among our career communities and affinity/identity communities, to receive updates about events, new jobs, and helpful articles/blogs. OCS strongly recommends that everyone take just 2 minutes to update your preferences to ensure you receive the most relevant content. Visit the OCS site for more information, and sign up today!
 
Office of Career Strategy: Spring 2021 FAQs: In Spring 2021, the Office of Career Strategy is open and completely functional, however all staff are working remotely. Review our Spring 2021 FAQs to learn about the many ways to engage with OCS.