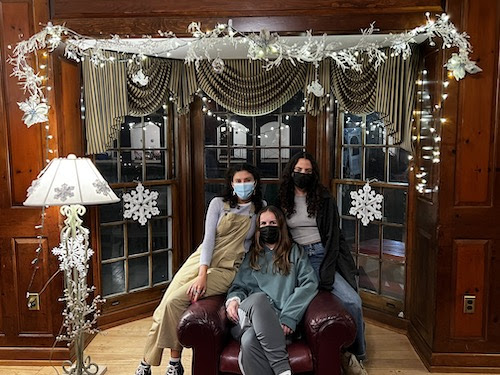 TIMOTHY DWIGHT NOTES & NEWS
WEEK OF 12/6/21
HL'S PIECES
Dear Red Lions,
It's hard to believe, but this is the last week of classes for the fall 2021 semester!  We are almost there folks so keep going!  To celebrate the end of classes, I will be hosting a winter holiday reception in the TD Head of College House this Friday 12/10 from 4:30-5:30pm.  
I hope you all enjoyed this weekend's holiday festivities in the college.  Our "photo of the week" comes from Harrison Bushnell TD '23 who captured First-year Lions Mia Rodriquez-Vars, Carly Diehl, and Sarah Skoler after helping to decorate our TD Common Room. 
 
Here are also some wonderful pictures of the TD gingerbread decorating hosted by the TD Art Studio.
Many thanks for stopping by the TD Photobooth on Saturday evening.  Our wonderful photography aides, Amay Tewari and Demi Lee, will be sharing a link to the photos once they have had a chance to organize them.  So stay tuned.
I hope you have all seen Dean Boyd's message that we are moving to 2x/week testing because of the recent uptick in cases following the Thanksgiving break.  This will be the new testing schedule until the end of the semester.  The public health team asks that you take your test no later than tomorrow (Tuesday) regardless of when you last tested.  Please go to this link to schedule your tests.
As we finish out classes, please note that we'll be closing up the Buttery, Student Kitchen, and the Art Studio so that our wonderful aides can clean up and organize the spaces for next spring. 
We will also plan to open up our TD Dining Hall for 24 hour study starting this Sunday 12/12.  Please note that food and drink will not be allowed and masks must be worn at all times.  We'll also close the dining hall briefly after dinner from 7:30-8:30pm for the staff to clean up and 7:00-8:00am before breakfast to prepare for service.
Please see below for some upcoming special events for the next two weeks:
Wednesday 12/8 9pm Milk Tea with Boba Special Night (TD Buttery)
The TD Buttery team is proud to announce their final special of the semester: milk tea with boba!  It will include black tea, brown sugar syrup, boba, and your choice of whole or coconut (vegan) milk.  Service will start at 9pm sharp and go until they are sold out.  So don't be late.  Please note that the last day of service in the Buttery for this semester will be this Thursday 12/9.  
Monday 12/13 3-5pm Cookie-Decorating Study Break (TD Student Kitchen)
Swing by to enjoy some fun decorations and delicious cookies.  There will be vegan and gluten-free holiday decorating options available.  Please note that the TD Student Kitchen will stop taking reservations this Sunday 12/12 in order to prepare the space for the next spring semester.
We'll be back with more announcements about study breaks for Reading Week and Finals.
Without further ado, here is a word from Dean Mahurin…
Àshe,
HL
***
The Oxen




Thomas Hardy





Christmas Eve, and twelve of the clock.




"Now they are all on their knees,"




An elder said as we sat in a flock




By the embers in hearthside ease.




 




We pictured the meek mild creatures where




They dwelt in their strawy pen,




Nor did it occur to one of us there




To doubt they were kneeling then.




 




So fair a fancy few would weave




In these years! Yet, I feel,




If someone said on Christmas Eve,




"Come; see the oxen kneel,




 




"In the lonely barton by yonder coomb




Our childhood used to know,"




I should go with him in the gloom,




Hoping it might be so.




 





DATES AND DEADLINES



Dec. 10


 

F


 

Classes end; reading period begins.


 

Dec. 10


 

F


 

Last day to convert from a letter grade to the Cr/D/F option for a full-term course and/or a course offered in the second half of the fall term.


 

Dec. 10


 

F


 

Last day to withdraw from a full-term course and/or a course offered in the second half of the fall term.


 

Dec. 15


 

W


 

Early registration for spring 2022 closes, 5:00 p.m.


 

Dec. 16


 

Th


 

Reading period ends, 5:00 p.m.


 

Dec. 16


 

Th


 

Final examinations begin, 7:00 p.m.


 

Dec. 16


 

Th


 

Deadline for all course assignments, other than term papers and term projects. This deadline can be extended only by a Temporary Incomplete authorized by the student's residential college dean.


 

Dec. 22


 

W


 

Final examinations end, 5:30 p.m.; winter recess begins.


 

Dec. 22


 

W


 

Deadline for all term papers and term projects. This deadline can be extended only by a Temporary Incomplete authorized by the student's residential college dean.


 
FRIDAY: WE REALLY MEAN IT
Just wanting to reiterate what you see above: Friday is a BIG DAY!  Last day to convert from letter-grade to Cr/D/Fail; last day to withdraw from a course.  Note the deadline of 5:00pm EST – and make your moves accordingly!
 
INSTITUTION FOR SOCIAL AND POLICY STUDIES
The Institution for Social and Policy Studies at Yale (ISPS) is pleased to announce that applications are open for the Director's Fellows program. The fellowship is open to Yale sophomores and juniors who are committed to working in U.S. domestic politics and policymaking. Selected Fellows will join ISPS as members of the Domestic Policy Group starting spring semester 2022, and over the course of one calendar year, will receive sophisticated policy training from ISPS faculty and affiliates, integrate into ISPS research activities, and test their development through real world application and feedback.  ISPS Director's Fellows will have the opportunity to attend biweekly workshops, some featuring prominent Yale faculty and guests working on policy-relevant issues and others providing training in skills such as op-ed and policy memo writing, media appearances, and blogging. 
To apply, please visit our webpage and click on the Application Form near the bottom of page.  Deadline for applying is January 5, 2022 at 11:59pm.   Should you have any questions, please feel free to contact Tory Bilski at victoria.bilski@yale.edu.
FELLOWSHIP EVENTS
1stGenYale and Yale Fellowships & Funding Panel 
Wednesday, December 8, 7pm - 8pm 
Register here 
 
Fellowship Proposal Writing Workshop 
Monday, December 13, 3:30pm - 4:40pm 
Zoom link available here 
 
Light Fellowship Info Session 6  
Monday, December 13, 4pm - 5pm  
Zoom link available here  
 
Study Break with Fellowships & Funding Student Outreach Coordinators 
Wednesday, December 15, 2pm - 4pm 
The Underground at Schwarzman Center 
  
Cultivating Faculty Mentors/Recommendations 
Wednesday, December 15, 7:00pm - 8:00pm  
Register here 
**Light Fellowship Info Session 7** FINAL SESSION  
Friday, December 17, 2pm - 3pm   
Zoom link available here
LIBRARY EVENTS
Latte with a Librarian
Tuesday, December 7 from 1:30-3:30pm | No registration required, more information at: schedule.yale.edu/event/8016768
Do you need to find a book or a scholarly article, or do you need help formulating a research question for a literature review? Meet with a librarian for a drop-in research consultation PLUS any student who asks a library or research-related question will receive a FREE Yale Library travel mug!
Beinecke Tour - Road Show: Travel Papers in American Literature
Thursday, December 9 at noon | Register at: schedule.yale.edu/event/8504287
Thursday, December 9 at 1:00pm | Register at: schedule.yale.edu/event/8491034
Explore American literary archives as well as printed and published works at the Beinecke Rare Book and Manuscript Library. Road Show reveals how travel is recorded, marked, and documented in Beinecke Library's American collections. Please note: At this time tours are open to visitors with a valid Yale ID.
ACADEMIC STRATEGIES WORKSHOPS
Public Speaking (in person)
Professors are increasingly asking students to engage in public speaking, from leading class discussion to more formal presentations. This workshop suggests preparation and performance strategies to help you do your best.
Approaches to Your Leave of Absence 
Tuesday, Dec. 7, 7-8 pm (online)
Monday, Dec. 13, 4-5 pm (in person) 
Planning to take a leave of absence this spring? Join our discussion about how to transition in and out of your leave and practices that can help you make your leave meaningful and productive for you.
Procrastination: How to Work Through It (in person)
This workshop offers strategies for identifying the sources of procrastination and pursuing productive habits that can get you back on track.
Time Management (in person)
Time management is key for lowering stress at Yale. Set priorities and develop a weekly schedule that can lead to an active and balanced academic life.               
Getting the Most Out of Mentorship (online)
Join Yale undergraduates for a conversation on how to make the most of any mentorship opportunity, including peer, graduate student, faculty, and alumni mentorship.
Strategic Planning for Your Senior Project (online)
Learn how to plan your writing and research, and how to access support resources for your senior thesis. For full-year and 1-semester senior thesis writers.
ADHD Support Groups (online)
Do you struggle with time management, disorganization, or other classic symptoms related to ADHD? Come share, reflect, and strategize in our monthly meetings. No diagnosis required. 
Cultivating Faculty Mentors/Recommendations (online)
Initiate conversations, ask for assistance, request recommendations, and build mentoring relationships with Yale faculty, teaching fellows and staff.