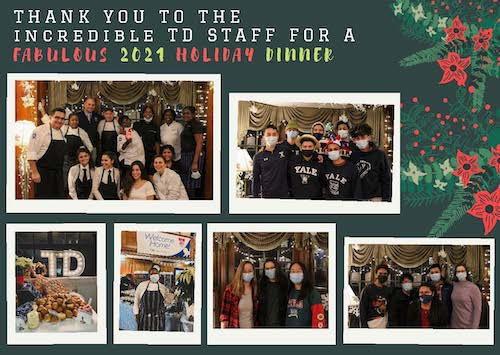 Dear Red Lions,
With make-up exams completed and a weekend of rest, I hope you are all excited for the start of the new semester!
Please don't forget that these next two weeks are on Zoom.  So if you live with roommates/suitemates, it may not be possible to have everyone logging onto Zoom at the same time.  It will be especially difficult when attending discussion-based seminars that require unmuting and talking.  So I advise everyone to work out alternative spaces before the first class of the day.  
Our "photo of the week" was sent in before the break by Demi Lee and Amay Tewari, our wonderful TD photography aides.  They did this wonderful thank you card to our TD Dining Hall staff that I wanted to share with everyone here. 
I know that we have missed our staff and the Dining Hall and look for them to return this coming Sunday!  
Because we are still in Phases 1 and 2 of Arrival Quarantine, we will not be doing any public programming this coming week.  Hopefully, we will be able to move forward with small gatherings next week.  
In the meantime, here are some important events/deadlines for the next few weeks:
Monday 1/31 11:59pm CPA Grant Deadline
Last call for CPA applications to support performing, literary, visual, or mixed-media art making on campus.  Please go to the CPA webpage to get a sense of the different funding categories and set amounts available as well as to access the application link.  If you have not yet checked in with me about your project, please do so before submitting your application.  To schedule an appointment for this week, feel free to email deanna.caplan@yale.edu.
Tuesday 2/8 5:30pm First Senior Mellon Forum of Spring 2022 Semester (Save the Date)
We are aiming to restart TD Senior Mellon forum on 2/8 when we will hopefully be back to in-person classes.  If you have not yet signed up to present this spring and would still like to, it is not too late!  You just need to go to this link and sign-up! And if you are in need of funding for senior thesis research, please apply through theFellowships database.  Just search under "Timothy Dwight Mellon" to get to the application.  Awards are capped at $500 but may be applied to research materials and travel for independent or senior thesis projects.   Recipients are also required to present their research at the TD Senior Mellon forum.  So please make sure to sign-up for a presentation slot!
Sunday 2/13 IRIS RUN for Refugees Virtual Run Sign-up
A special annual run that raises funds for New Haven's Integrated Refugee and Immigrant Services (IRIS) to provide vital services such as housing, job placement, health care, English language instruction, and more.  This year we have been given approval to support student participation in the virtual run.  TD will sponsor 25 student runners to participate on a first-come, first-served basis.  To register please go to this link and use complimentary code "TD 2022" at the registration checkout to get your free entry sponsored by the college.
 
Without further ado, here is a word from Dean Mahurin...




Àshe,



HL



***
"It's no use going back to yesterday, because I was a different person then."  (Lewis Carroll, Alice's Adventures in Wonderland)
DATES AND DEADLINES
Jan. 25


 

T


 

Spring-term classes begin, 8:20 a.m. with online instruction through February 4.


 

Jan. 28


 

F


 

Friday classes do not meet; Monday classes meet instead.


 

Jan. 31


 

M


 

Add/drop period closes, 5:00 p.m.


 

Feb. 4


 

F


 

Last day for students in the Class of 2022 to petition for permission to complete the requirements of two majors.


 

Feb. 8


 

T


 

Final deadline to apply for a spring-term Leave of Absence (section J).


 

Feb. 8


 

T


 

Withdrawal from Yale College on or before this date entitles the student to a full rebate of spring-term tuition (Undergraduate Regulations).


 

Feb. 8


 

T


 

Deadline to complete applications for financial aid for the 2022 spring term, for students not enrolled in the 2021 fall term.


 

Feb. 15


 

T


 

Last day to withdraw from a course offered in the first half of the spring term without the course appearing on the transcript.


 

F


 
 
 
PROMOTION REQUIREMENTS
Don't you all want to be promoted next year?  Sure you do!
How do I do that, Dean?
First-years: 8 credits total after two terms, with at least two of the three skills requirements (WR, QR, Language)
Sophomores: 16 credits total after four terms, with at least one of each distributional area (WR, QR, Language, Hu, Sc, So)
Juniors: 26 credits total after six terms, with the skills portion completed (2 WR, 2 QR, cleared Language)
Seniors: 36 credits total, all distributional requirements met!  (2 WR, 2 QR, cleared Language, 2 Hu, 2 Sc, 2 So)
Concerned? Confused?  Want guidance toward that English class which will solve all your problems and fill your heart with joy?  Email me for a meeting!
 
STUDY ABROAD
 
London School of Economics (LSE) Summer School Info Session 
Tuesday, February 1, 3pm - 4pm 
Zoom link available here 
 
International Study Award (ISA) Info Session 
Wednesday, February 2, 4pm - 5pm 
Zoom link available here 
 
Summer Study in Stockholm with The Swedish Program 
Wednesday, February 2, 4pm - 5pm 
Zoom link available here 
Meeting ID: 856 7923 1896
Passcode: 880780
 
Yale Summer Session in Croatia Information Session 
Monday, January 24, 4pm - 5pm ET 
Zoom link available here 
Password: 710429 
 
YALE-CHINA FELLOWSHIPS
Yale-China continues to send Yalies to China! Teach in mainland China or Hong Kong for two transformative years as part of a 116-year-old Yale tradition. Gain first-hand understanding of one of the most influential societies in the 21st century. Fellowship includes intensive Mandarin study for mainland Fellows and Cantonese options for those in Hong Kong, ongoing professional support from Yale-China staff, and post-fellowship career mentoring. For more information, visit www.yalechina.org/ycf   Application Deadline: February 28, 2021 midnight
OFFICE OF CAREER STRATEGY
Common Good & Creative Careers
 
Health Professions, Grad School & STEM
 
Approaching application deadlines
 
Health Professions, Grad School & STEM