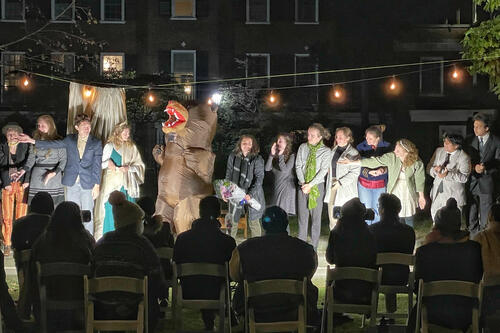 TIMOTHY DWIGHT NOTES & NEWS
WEEK OF 11/8/21
HL'S PIECES
Dear Red Lions,
Our "photo of the week" features A Winter's Tale, directed by Raquel Sequeira TD '21 (middle) in the TD upper courtyard these last few nights.  
Hats off to the cast and crew for a terrific production supported through the TD Creative and Performing Arts Award.  A Winter's Tale featured TD seniors Zuri Goodman and Ben Colon-Emeric as actors and first-year Coryell Smith as the stage manager.  And many thanks to our fire-trained TD Aides – Even Chinea and Eva Syth– for tending the fire pits and keeping us warm each night!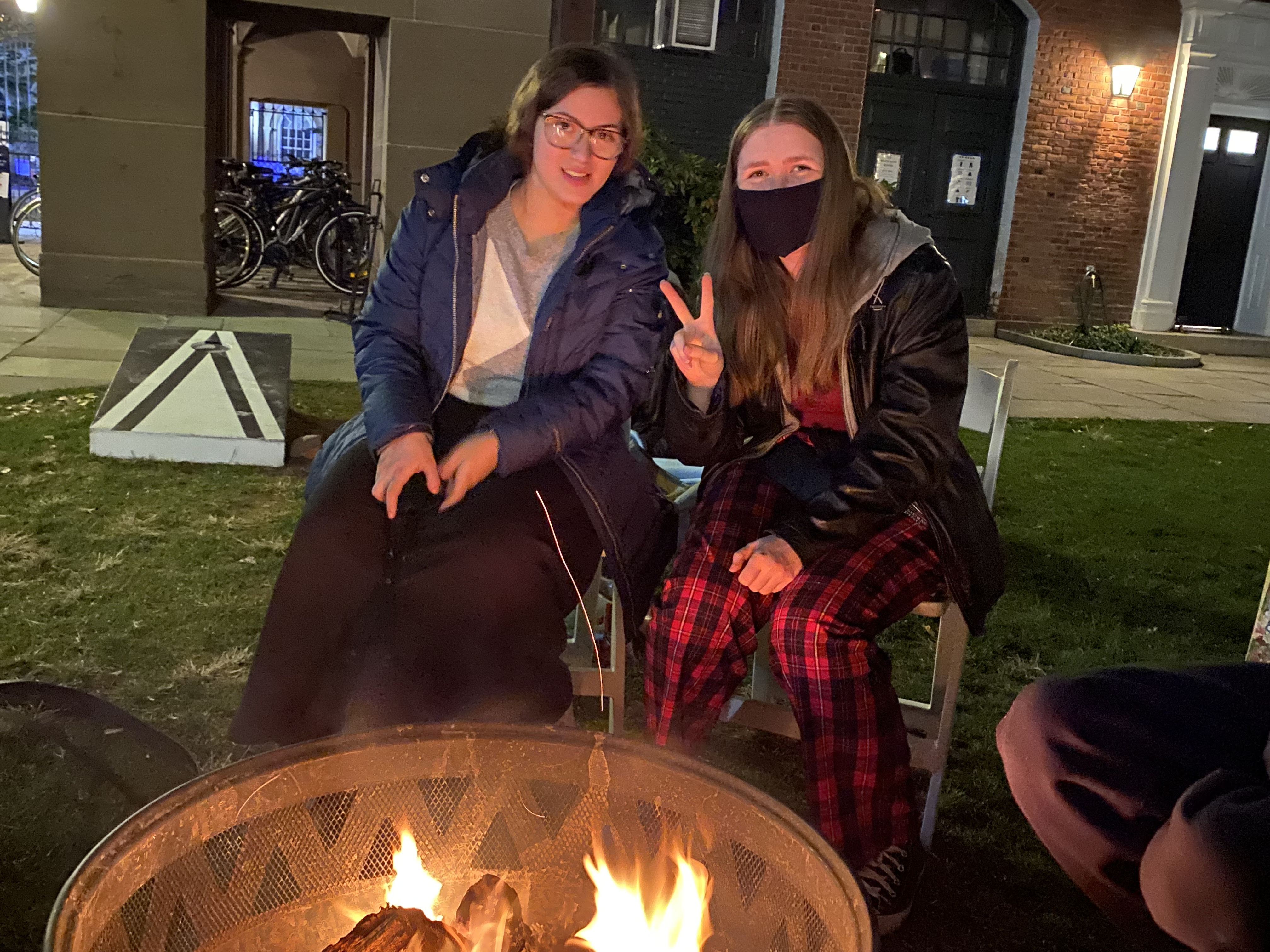 Congratulations to our great Cornhole Team captained by Noah Riley TD '24 for bringing home the championship for a second straight year!  We are currently third in a very tightly contested Tyng Cup race.  I know we can get back to the top with the winter season.  So rest up folks and let's get back out there again!
Many thanks to Mott for organizing a great paintball trip.  They could not have picked a more gorgeous day fall day.
Sophomore lions, please don't forget to register for a Graduate Affiliate Mentor.  Please go to this link if you are interesting in signing up.
Here are some more important TD events and dates for the next two weeks:
November 9, 11, and 13 "Drinking Games" Senior thesis production (53 Wall Street)
Partially supported through the TD Creative Performing Arts Award, this drama is co-produced by Sophia Hall TD '23 with projections by Charlie Gleberman TD '23.  Performances will be at 8pm at the Black Box Theater at 53 Wall Street.  Tickets to in-person shows and the livestream link are available through their Yale College Arts page: ​​​​​​​
Friday 11/12 7:30-9pm TD Red Lion Games Chalice and S'mores Celebration (TD Lower Courtyard)
It's time to officially award the TD Chalice to the winner of the TD '24 Red Lion Games organized jointly last spring by TD '24 FCC, Mott, and SAC leaders.  We'll pull out the TD fire pits again and have lots of marshmallows, graham crackers, and chocolate on hand.  7:30-8pm will be TD '24 only and then we'll open up to the rest of the college until 9pm.
Saturday 11/13 2-4pm Beginner Food Styling and Photography Drop-In Workshop (TD Student Kitchen)
Our TD kitchen aides and photography aides are excited to hold their first joint workshop to help you take the most stunning shots of your food!   Drop in anytime while they are open!
Sunday 11/14 12pm-1pm TD trip to Harkness Tower (Meet up in TD courtyard)
Have you always wanted to take a tour of Harkness Tower and see the ringing of the bells???  Would you like to make a musical request?  TDer and carillon ringer, Adam Chen, is leading a group of 15 Red Lions to see the bells in action at the 12:30pm ring.  We'll send out a Google Form sign-up later this week.  
Sunday 11/14 12:45-4pm TD Workday on the Yale Farm (Meet up in TD Courtyard)
Last call to sign up for the TD Workday!  No gardening experience is necessary to participate.  Just bring a water bottle and wear weather- and work-appropriate clothing.  The workday will proceed rain or shine.  The aides will plan to take everyone out for a post-workday snack.  Please register at this Google sign-up form! Any questions, feel free to reach out to Anna Tredway and Sumedha Chowdhury at sumedha.chowdhury@yale.edu or anna.tredway@yale.edu.
Tuesday 11/16 5:30-7pm TD Senior Mellon Forum (53 Wall Street)
We are excited to host our first TD Senior Mellon Forum!  Although we will not be in the TD house this semester we have been able to be next door at 53 Wall Street, the former Whitney Humanities Center.  Stay tuned for more information.  For now, please save the date!
Wednesday 11/17 5-6pm Afternoon with Laura Alonso, Former Head of the Anti-Corruption Office of Argentina (Thompson Room).
Come meet Laura Alonso, currently with Yale's World Fellows program.  Students will learn about her distinguished career especially as a woman working in the arena of national government.  Please go here to register for the event.  Seating is limited to 20 and everyone must be masked.  Please email organizer, Rebecca Huang, if you have any questions at r.huang@yale.edu.
Without further ado, here is a word from Dean Mahurin…
Àshe,
HL
***
Legacies
Nikki Giovanni
her grandmother called her from the playground
    "yes, ma'am"
    "i want chu to learn how to make rolls" said the old
woman proudly
but the little girl didn't want
to learn how because she knew
even if she couldn't say it that
that would mean when the old one died she would be less
dependent on her spirit so
she said
    "i don't want to know how to make no rolls"
with her lips poked out
and the old woman wiped her hands on
her apron saying "lord
    these children"
and neither of them ever
said what they meant
and i guess nobody ever does
DATES AND DEADLINES
Nov. 11


 

Th


 

Last day to withdraw from a fall second half-term course without the course appearing on the transcript.


 

Nov. 18


 

Th


 

Early registration for spring 2022 opens, 9:00 a.m.


 

Nov. 19


 

F


 

November recess begins after last class.


 

Nov. 29


 

M


 

Classes resume; 8:20 a.m.


 

Dec. 10


 

F


 

Classes end; reading period begins.


 

Dec. 10


 

F


 

Last day to convert from a letter grade to the Cr/D/F option for a full-term course and/or a course offered in the second half of the fall term.


 

Dec. 10


 

F


 

Last day to withdraw from a full-term course and/or a course offered in the second half of the fall term.


 
DEAN-ING THIS WEEK
I will be in a combination of all-day Admissions Committee and time out of New Haven this week.  If you need to speak to a dean for any reason, colleagues from other deans' offices will be covering – please reach out to patricia.cawley@yale.edu to be connected with one of them.  I'll also, in the meantime, be attentive to my inbox and be able to conduct some deanly business in that manner.
EARLY REGISTRATION: TIMELINE REMINDERS
November 11, 5:00 p.m. Preference Selection for some limited-enrollment courses closes. A full list of these courses and application sites may be found here, but they include first-year seminars, introductory English and math courses, and some language courses. The timing of your application does not matter as long as you meet the deadline, but the deadline is firm. If you are admitted to a course during this Preference Selection round, that course will automatically appear on your registration worksheet when it opens on November 18 (see below).
 
November 18, 9:00 a.m. The Early Registration period begins, and registration worksheets open in Yale Course Search (YCS). At this time, you may begin to build your schedule and reserve a space in desired courses and discussion section meeting times. Note that for limited-enrollment courses instructor permission is often required (see below).
 
December 1, 5:00 p.m. Deadline to request instructor permission in YCS. Information about how to do so may be found here. Yale College has asked instructors to make this process simple and to base admission decisions, as much as possible, on the student's major, class year, and relevant previous experience.
  
December 15, 5:00 p.m. Early Registration period ends, and the registration worksheets in YCS are closed until the Add/Drop period begins on January 12.
EXPLORE FUNDED INTERNSHIPS WITH YALE FACULTY SPONSORS (ZOOM EVENT)
This event is a discussion with some of our Yale College student interns, faculty members, and alumni who participated in the 1stGenYale Summer Bulldogs program last summer. We invite all Yale College students to hear from last summer's interns and plan for their own 2022 summer internship.  Pre-registration and more information is at tinyurl.com/1GYSB2021.
FELLOWSHIP SESSIONS
Yale College Postgraduate Fellowships Info Session    
Wednesday, November 10, 3pm - 4pm        
Webinar Link   
 
Summer STEM Fellowship Opportunities Info Session with Dean Sandy Chang  
Wednesday, November 10, 5pm - 6pm 
Zoom link  
 
Light Fellowship Info Session 5 
Thursday, November 11, 11am - 12pm 
Zoom link available here 
 
Info Session with Dr. Alexia Belperron: How to Write a Research Proposal 
Friday, November 12, 3pm - 4pm 
Zoom link available here 
 
Imagining Your Summer Information Session #5  
Friday, November 12, 4pm - 5pm  
Register here