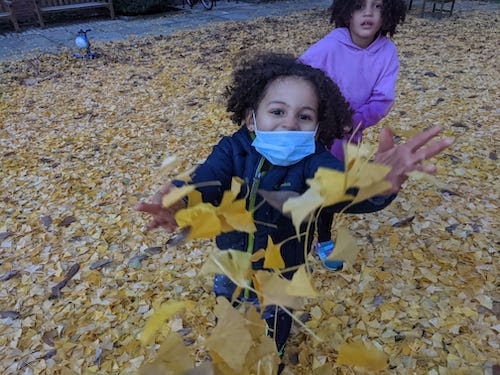 TIMOTHY DWIGHT NOTES & NEWS
WEEK OF 11/29/21
HL'S PIECES
Dear Red Lions,
Welcome back from break!  I hope you all enjoyed these last days off and the Thanksgiving holiday with family or friends. 
Please take a second to celebrate that we are still here!  Last year at this time, we shut down all campus activities and finished the semester remotely.  So this is a great milestone!  If you need help to find the joy in this moment, please take a look at our "photo of the week" featuring Amy Bei and her family and Dr. B and our pups enjoying the golden carpet left by our gingko tree.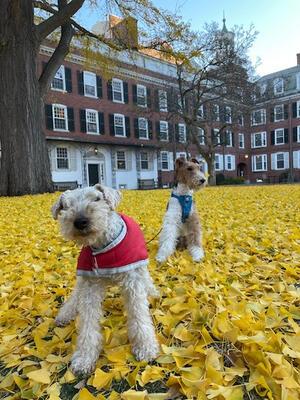 The shedding of the gingko leaves means that winter is nearly upon us and the university is bringing back its holiday dinner traditions for both the classes of 2024 and 2025!!!
This week, the TD Head of College Office will be handing out tickets to attend the Sophomore Holiday Dinner on Friday 12/3 and the First-Year Holiday Dinner on Saturday 12/4.  Please note that we don't yet have the tickets but as soon as we do, Deanna Caplan, senior administrator in the TD HoC office will be sending out a note to pick up from her office during our usual Monday through Friday, 9am-5pm business hours.  Just remember that Deanna closes the office when she takes her lunch so best to avoid the lunchtime of 12-1pm.  
Our own wonderful TD Dining Hall staff is busy preparing our own holiday dinner on Saturday 12/4, 5-7pm.  Sophomore Lions, this is your lucky year since you will get to attend both your own Sophomore Holiday dinner in Commons on Friday 12/3 AND the TD Holiday dinner here on the evening of Saturday 12/4.  
The TD Staff and aides will also be hosting on Friday 12/3 from 3:30-5pm a holiday decorating of the TD Common Room so that we can create a festive winter wonderland and photo booth for these special holiday dinners.  So stop by and help us hang snowflakes and garland and grab some hot apple cider or hot cocoa.
Here are some more important TD events and dates for the next two weeks:
Tuesday 11/30 5:30-7pm TD Senior Mellon Forum (53 Wall Street)
Our second and last TD Senior Mellon Forum will feature presenters, Chloé Glass and Sophia Currie.  We will once again be at 53 Wall Street, the former Whitney Humanities Center.  We ask that all participants who traveled over the break to make sure to have received a negative COVID-19 viral test result before attending since eating unmasked for dinner.  Please use this form to sign up by 11:59pm tonight.
Friday 12/3 3:30-5:30pm TD Holiday Decorating in the Common Room
Come join the TD staff and aides to turn the TD Common Room into a winter wonderland!  We will be creating a photo booth just in the time for the special sophomore and first-year dinners over at the Schwarzmann Center and the TD Holiday Dinner.
Saturday 12/4 2-4pm Gingerbread House Decorating Workshop (TD Art Studio)
Join our fabulous TD Art Studio Aides Naomi Sellers and Kat Melnyk to create and decorate gingerbread houses for your dorm rooms!  Hot cocoa and hot apple cider will be served outside of the art studio.  Kits and space are limited and we have to adhere to the indoor gatherings policy of no more than 20 students, so please sign up here for your spot!
Saturday 12/4 2-4pm SustainibiliTD Hangout (TD Buttery/TV Lounge)
Our new TD Sustainability Liaisons, Rebecca Huang and Peyton Meyer, plan to hold hangouts every Saturday 2-4pm to do activities and just hang out!  Some activities planned for next semester include thrift flipping and vegan baking but for now they will launch their first hangout with a movie screening and discussion of 2040, a project of the future we could create if we embrace the best climate solutions available today.
Saturday 12/4 4-5pm First Year Holiday Dinner Photo Booth (Common Room)
Come dressed for the night and take your pictures with friends, suitemates, etc.  And then head on over to Commons for the big night!  All photos will be made available to the TD Community.
Saturday 12/4 5-7pm TD Holiday Dinner (TD Dining Hall)
We are inviting back any off-campus TDers to enjoy the dinner so come on back and eat for free.  You will just need to show your sticker.  Come celebrate the holidays with our wonderful Dining Hall staff and the TD community.  (First-Year Lions please head over to Commons for your special First-Year holiday dinner). 
With only two weeks left to classes, I hope you are all finding ways to celebrate!
Without further ado, here is a word from Dean Mahurin... Àshe, HL
***
"Of course, we're made up of what we've forgotten too, what we've tried to bury or suppress." (Natasha Trethewey, Memorial Drive)
DATES AND DEADLINES
Dec. 10


 

F


 

Classes end; reading period begins.


 

Dec. 10


 

F


 

Last day to convert from a letter grade to the Cr/D/F option for a full-term course and/or a course offered in the second half of the fall term.


 

Dec. 10


 

F


 

Last day to withdraw from a full-term course and/or a course offered in the second half of the fall term.


 

Dec. 15


 

W


 

Early registration for spring 2022 closes, 5:00 p.m.


 

Dec. 16


 

Th


 

Reading period ends, 5:00 p.m.


 

Dec. 16


 

Th


 

Final examinations begin, 7:00 p.m.


 

Dec. 16


 

Th


 

Deadline for all course assignments, other than term papers and term projects. This deadline can be extended only by a Temporary Incomplete authorized by the student's residential college dean.


 

Dec. 22


 

W


 

Final examinations end, 5:30 p.m.; winter recess begins.


 

Dec. 22


 

W


 

Deadline for all term papers and term projects. This deadline can be extended only by a Temporary Incomplete authorized by the student's residential college dean.


 
MELLON-MAYS UNDERGRADUATE FELLOWSHIPS
The Mellon Mays Undergraduate Fellowship Program aims to increase the pool of young scholars qualified to meet the needs of educational institutions in the future. The Fellowship allows students to work on paid research projects during the academic year and to pursue full-time research during the summers between sophomore and junior years and between junior and senior years. The program also provides some assistance with student loans. You can learn more at https://yalecollege.yale.edu/finances/financial-awards-prizes/mellon-mays-undergraduate-fellowship-program!
 
OFFICE OF CAREER STRATEGY
Health Professions, Grad School & STEM Events
Upcoming Common Good & Creative Careers Events 
STUDY ABROAD
Virtual London School of Economics (LSE) Info Session 
Wednesday, December 1, 9am - 10am ET (2pm London Time) 
Register for this event here