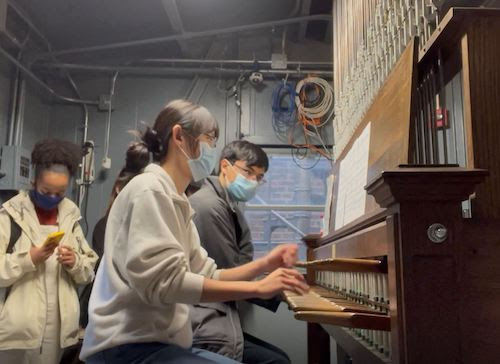 TIMOTHY DWIGHT NOTES & NEWS
WEEK OF 11/15/21
HL'S PIECES
Dear Red Lions,
If you were on campus during the noonday ringing of the carillons this past Sunday, you might have caught "Never Gonna Give You Up," "Driver's License", and "Can't Help Falling in Love" coming across the Harkness tower bells.  Our "photo of the week" features veteran ringer Adam Chen TD '22 with newly inducted member of the Guild of Carillonneurs, Yilin Chen TD '23", playing the Rick Astley classic.  Many thanks to them for the Harkness Tower tour and congratulations also go to Zoe Pian '25 who just joined the Guild this past month.  If you would like to watch them play, feel free to go to this library of video recordings.  But we also hope to do another Harkness Tower outing in the spring semester!
I hope many of you had a chance to drop into the "Beginner Food Styling and Photography" workshop on Saturday and got great tips from our aides.  Many thanks to photography aide, Demi Lee, for sending in this great photo of Kitchen Aide Grace MacDonald with Lauren Perren TD '24 dressing up their creation.  Many thanks to Amay Tewari and Eva Syth for pulling this fun event together. 

We have a very light week as we get ready for Thanksgiving break and the big game on Saturday…
But please keep in mind that when we return it will be time for winter IMs!  So brace yourselves… the IM Sects have created a new form for anyone to sign up for winter IMs.  Once you sign up you'll be added to the IM contact list and get the TD IM schedule every Sunday.  According to all our TD Upper Years, IMs are still the best way to get involved in the best residential college community on campus!  Not to mention we'll throw a great party if we bag another Tyng Cup win!
Tuesday 11/16 5:30-7pm TD Senior Mellon Forum (53 Wall Street)
We are excited for the first Mellon Forum of the year with Matthew Pecoraro and Raquel Sequeira presenting on their senior thesis projects.  A catered dinner featuring Thai dishes will be served.
Wednesday 11/17 5-6pm Afternoon with Laura Alonso, Former Head of the Anti-Corruption Office of Argentina (Thompson Room).
Come meet Laura Alonso, currently with Yale's World Fellows program.  Students will learn about her distinguished career especially as a woman working in the arena of national government.  Please go here to register for the event.  Seating is limited to 20 and everyone must be masked.  Please email organizer, Rebecca Huang, if you have any questions at r.huang@yale.edu.
Wednesday 11/17 5pm Last Call to sign up for Thanksgiving Dinner at the Omni 
Because of COVID-19 restrictions we will not be doing Thanksgiving dinner in the TD House this year.  Hopefully we will be able to bring back this tradition next year.  Instead, the Colleges working with the YCDO has been able to organize a wonderful feast at the Omni Hotel, just a few blocks from TD. To attend, please go to this link and sign up by Wednesday.  If your plans have changed, please make sure to go back to the link and cancel your reservation.  Please contact kate.molyneux@yale.edu if you have any questions.
We will be back with the next edition of TD Notes and News on Monday November 29th.   Until then, on behalf of the TD staff we wish everyone in TDland a wonderful break!
Without further ado, here is a word from Dean Mahurin…
Àshe,
HL
***
"If for nine years I have possessed a goodly apple that is rotten at the core and discover its rottenness only in nine years and six months less four days, isn't it true to say that for nine years I possessed a goodly apple?" (Ford Maddox Ford, The Good Soldier)
DATES AND DEADLINES
Nov. 18


 

Th


 

Early registration for spring 2022 opens, 9:00 a.m.


 

Nov. 19


 

F


 

November recess begins after last class.


 

Nov. 29


 

M


 

Classes resume; 8:20 a.m.


 

Dec. 10


 

F


 

Classes end; reading period begins.


 

Dec. 10


 

F


 

Last day to convert from a letter grade to the Cr/D/F option for a full-term course and/or a course offered in the second half of the fall term.


 

Dec. 10


 

F


 

Last day to withdraw from a full-term course and/or a course offered in the second half of the fall term.


 

Dec. 15


 

W


 

Early registration for spring 2022 closes, 5:00 p.m.


 
GRAND STRATEGY 
The Brady-Johnson Program in Grand Strategy is now accepting applications for its year-long seminar focused on politics, social activism, diplomacy, and public service. The course is open to all current Yale College juniors and all graduate and professional students.
Beginning in January, the two-semester course explores how to achieve large ends with limited means, whether in social movements, military conflict, foreign policy, or domestic politics. The course engages questions of grand strategy from a wide range of perspectives, exploring topics in racial justice, global security, economic development, climate change, immigration, and technological advancement, among others. It emphasizes interaction between academics and practitioners, and between participants of differing political views. Grand Strategy aims to develop students' capacities not only to analyze the past and present, but to act as responsible, thoughtful leaders and citizens of the future. In conjunction with the course, the program hosts a number of events and private dinners with practitioners such as social activists, diplomats, politicians, military personnel, journalists, and media experts. This course is a highly selective and intensive seminar that offers summer research grants to all accepted students.
In 2022 the program will be led by interim Director Professor Michael Brenes, supported by a group of senior Yale faculty, most of whom have taught in the program before, including:
 
Professor Arne Westad https://jackson.yale.edu/person/arne-westad/
Our mixer is designed especially for Yale College students, many of whom are among the first in their families to attend college and come from low income backgrounds. Sharing similar experiences, alumni want to hear from Yale students about their career interests as well as share their own career journeys. We want to help all our students be successful at Yale and in their personal career explorations…and avoid some of the roadblocks which got in our way. All students are welcome to participate!
Selection of breakout rooms for discussion with alumni in these fields:  
3. Communications & Media.
4. Computer & Data Science.
8. Environmental Policy & Science.
11. Law & Social Justice.
13. Non-Profit & Public Service.
14. Thinking about Graduate School?
15. Career Exploration Process.
ACADEMIC STRATEGIES WORKSHOPS (some will now be in person!)
ADHD Monthly Support Groups (online discussion)
Wednesday, Nov. 17, 4-5 pm
Do you struggle with time management, disorganization, or other classic symptoms related to ADHD? Come share, reflect, and strategize in our monthly meetings. No diagnosis required.
 
Get the Most Out of Your Reading (online workshop)
Tuesday, Nov. 16, 7-8 pm
Learn general strategies for effectively reading texts for any Yale class. Learn how to preview a text, effectively interact with the text while reading, and review your reading for class, essays, and exams.
 
Imagining Your Summer (w/CIPE) (online workshop)
Wednesday, Nov. 17, 4-5 pm
Interested in summer study abroad, fellowships, or internships, but don't know how to get started? Hear from students who have done these things to help you identify some possible summer opportunities. You will leave with a clearer idea of what is possible and the resources you can access to make your vision happen. Now is the perfect time to start planning!
 
Time Management (online workshop)
Wednesday, Nov. 17, 9-10 pm
Time management is key for lowering stress at Yale. Set priorities and develop a weekly schedule that can lead to an active and balanced academic life.               
 
Cultivating Faculty Mentors/Recommendations (in-person workshop)
Thursday, Nov. 18, 4-5 pm
Initiate conversations, ask for assistance, request recommendations, and build mentoring relationships with Yale faculty, teaching fellows and staff.