TIMOTHY DWIGHT NOTES & NEWS
WEEK OF 11/1/21
HL'S PIECES
Dear Red Lions,
I hope everyone enjoyed the Halloween weekend in TD!  Our "photo of the week" features our artists across all four TD classes at work during last Friday's pumpkin carving event! 
And, of course, FroCo Clayton Land and I had to stop and take a photo with Richard Corrente TD '25 in his amazing Among Us costume!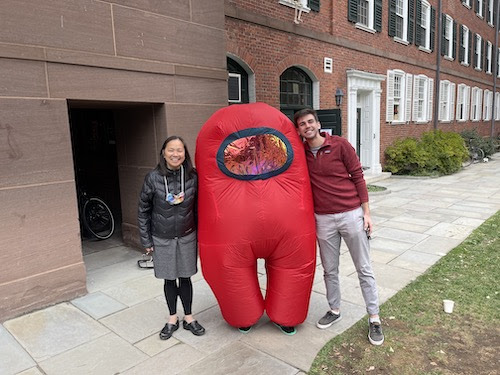 Many thanks to our wonderful TD Dining Hall staff for putting together a great pumpkin scavenger hunt and fun games last night.  Our five lucky winners should be hearing from Zina Anwar about getting TD fleeces!  
Here are some more important TD events and dates for the next two weeks:
Thursday 11/4 4-5pm Meet Comedian/TV writer Justin Noble (Thompson Room)
Justin Noble TD '06 screenwriter for Brooklyn Nine-Nine is back on campus!  He has just finished working on a new HBO comedy series with Mindy Kaling and will be back to talk about his work.  If you would like to attend this informal talk in the TD Thompson Room, please sign up here by 5pm on Wednesday 11/3.  Seating is limited to 20 total in accordance with Yale's indoor gatherings policy.
Thursday 11/4 to Saturday 11/6 Shakespeare's A Winter's Tale (TD Upper Courtyard)
Please remember that A Winter's Tale, directed by Raquel Sequeira TD '21 will be staged in the TD Upper Courtyard this week starting on Thursday evening and going until Saturday evening.  It is already sold out so unfortunately there are no more tickets.  But we would appreciate everyone staying away from the area when the performance is in progress and keeping noise to a minimum.
Saturday 11/6 12:00pm-5:30pm Mott Woolley Paintball Trip 
The paintball trip is full!  Please plan to meet in the TD courtyard at 12pm to board the bus for Waterbury, CT!  Hopefully next year we will be able to take more TDers.  If it's any consolation, folks camped out pretty early to get their spot.  Here is a picture of the eager mob that gathered outside my office!
 
Sunday 11/7 8-10pm TD Buttery Musubi Night (TD Buttery)
Our amazing TD Buttery hosts several special high-quality events featuring food from around the world done up in our own basement!  Our Buttery team is proud to launch their first special of the year featuring a selection of musubi and onigiri, featuring rice balls flavored with marinated SPAM, egg, or kombu, as well as an array of delicious dipping sauces.  Vegan and vegetarian options available so all are welcome!  We will start service at 8pm sharp and go until we are sold out!  
Saturday 11/13 2-4pm Beginner Food Styling and Photography Drop-In Workshop (TD Student Kitchen)
Love sharing photos of food with others?  But do your photos seem a little … lackluster in comparison to all the food bloggers and Instagrammers out there?  Come to this drop-in workshop with the TD kitchen aides and photography aides to get tips for plating your food to look its best, as well as advice for how to take good food photos (with your iphone or whatever camera you have).  
Sunday 11/14 12:45-4pm TD Workday on the Yale Farm (Meet up in TD Courtyard)
Have you always wanted to visit the Yale Farm or dig in dirt?  Our TD Outreach Aides are hosting a college workday on the farm.  No gardening experience is necessary to participate.  Just bring a water bottle and wear weather- and work-appropriate clothing.  The workday will proceed rain or shine.  The aides will plan to take everyone out for a post-workday snack.  A Google sign-up form will be forthcoming!  Any questions, feel free to reach out to Anna Tredway and Sumedha Chowdhury at sumedha.chowdhury@yale.edu or anna.tredway@yale.edu.
Without further ado, here is a word from Dean Mahurin…
Àshe,
HL
***
Meditation XVII
John Donne
No man is an island entire of itself; every man 
is a piece of the continent, a part of the main; 
if a clod be washed away by the sea, Europe 
is the less, as well as if a promontory were, as 
well as any manner of thy friends or of thine 
own were; any man's death diminishes me, 
because I am involved in mankind. 
And therefore never send to know for whom 
the bell tolls; it tolls for thee. 
DATES AND DEADLINES
Nov. 11


 

Th


 

Last day to withdraw from a fall second half-term course without the course appearing on the transcript.


 

Nov. 18


 

Th


 

Early registration for spring 2022 opens, 9:00 a.m.


 

Nov. 19


 

F


 

November recess begins after last class.


 

Nov. 29


 

M


 

Classes resume; 8:20 a.m.


 

Dec. 10


 

F


 

Classes end; reading period begins.


 

Dec. 10


 

F


 

Last day to convert from a letter grade to the Cr/D/F option for a full-term course and/or a course offered in the second half of the fall term.


 

Dec. 10


 

F


 

Last day to withdraw from a full-term course and/or a course offered in the second half of the fall term.


 
LIBRARY WORKSHOPS
How to Find Scholarly Articles
Tuesday, November 2 at 12:30pm | Register: schedule.yale.edu/event/8141076
This 30-minute workshop will cover the fundamentals of how to find scholarly articles from Yale Library, using Quicksearch and other library databases, such as Academic Search Premier (EBSCO), ProQuest News & Newspapers, and JSTOR. Attendees will also learn best practices for how to request articles using Interlibrary Loan.
Demystifying the Literature Review
Wednesday, November 3 at 2:00pm | Register: schedule.yale.edu/event/8141132
Learn how to conduct a literature review for your research papers, independent projects, and fellowship applications. This 1-hour workshop will cover:
·         Why a literature review is important
·         How to conduct a literature review
·         Ways to evaluate your sources
·         How to use citation management software (like Zotero) to organize sources, take notes, and attribute authors
 
Reading Strategies for Writing Papers
Wednesday, November 3 at 4:00pm | Register:
schedule.yale.edu/event/8363211
Doing original research can feel overwhelming, especially when you need to read scholarly texts to prepare to write a paper. Join librarians and the Poorvu Center to learn strategies to tackle scholarly texts efficiently. Attendees will:
o    Learn the benefits of and how to do pre-reading and selective reading
o    Learn how to identify key elements of a scholarly text
o    Gain practice doing lateral reading
 
 
ACADEMIC STRATEGIES WORKSHOPS
 
ADHD Monthly Support Groups
Monday, Nov. 1, 1:15-2:15 pm
Wednesday, Nov. 3, 4-5 pm
Do you struggle with time management, disorganization, or other classic symptoms related to ADHD? Come share, reflect, and strategize in our monthly meetings. No diagnosis required.
 
Reading Analytically for Social Science
Monday, Nov. 1, 4-5 pm
This workshop provides an overview of deep reading to generate effective contributions to class discussion, develop essay topics, and identify strong evidence for essays. Participants will get practice with these strategies in our interactive session.
 
Strategies for Reading Literature
Monday, Nov. 1, 7-8 pm
How do we read deeply and completely without running out of time? This workshop introduces techniques to help you effectively read and respond to literary works.
 
Procrastination: How to Work Through It
Tuesday, Nov. 2, 7-8 pm
This workshop offers strategies for identifying the sources of procrastination and pursuing productive habits that can get you back on track.
 
Imagining Your Summer (w/CIPE)
Wednesday, Nov. 3, 4-5 pm
Interested in summer study abroad, fellowships, or internships, but don't know how to get started? Hear from students who have done these things to help you identify some possible summer opportunities. You will leave with a clearer idea of what is possible and the resources you can access to make your vision happen. Now is the perfect time to start planning!
 
Time Management
Wednesday, Nov. 3, 7-8 pm
Time management is key for lowering stress at Yale. Set priorities and develop a weekly schedule that can lead to an active and balanced academic life.               
 
Getting the Most Out of Mentorship
Thursday, Nov. 4, 4-5 pm
Join Yale undergraduates for a conversation on how to make the most of any mentorship opportunity, including peer, graduate student, faculty, and alumni mentorship.
 
Cultivating Faculty Mentors/Recommendations
Thursday, Nov. 4, 7-8 pm
Initiate conversations, ask for assistance, request recommendations, and build mentoring relationships with Yale faculty, teaching fellows and staff.