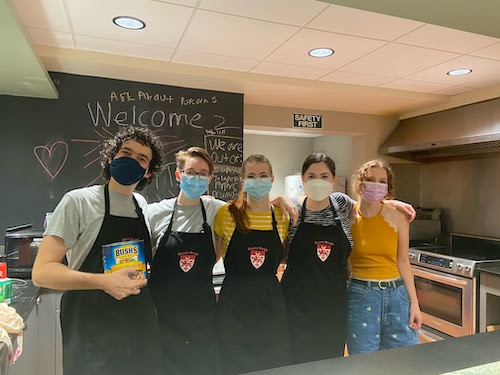 TIMOTHY DWIGHT NOTES & NEWS
WEEK OF 10/4/21
HL'S PIECES
Dear Red Lions,
Midterms season is in full swing and it looks like our TD Buttery opened just in the nick of time.  Our "photo of the week" comes from TD Buttery co-manager, Franklin Bertellotti, who aptly titled this photo "Open for Business!"  From left to right we have Franklin, Lia Eggleston, Carli Roush (Buttery Co-Manager), Lila Selin, and Jasmine Gormley.  Word on the street is TD has the best Buttery in town so please give some love to our hard working Buttery crew!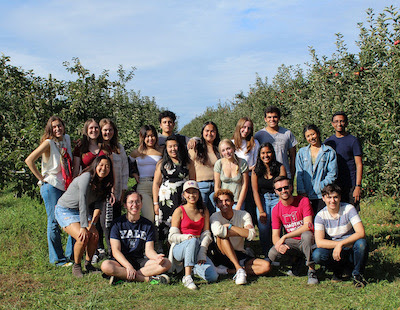 Congratulations to Mott/SAC on a great fall apple picking trip this past Sunday to Bishop's Orchards in nearby Guilford, CT. 
Friday is the start of Family Weekend and I am truly sorry that we are not able to host your families in the college this year but we hope to do so in the future.   We are delighted to announce that this Saturday evening at 7:30pm will be the premier of "Project XIV," a historic collaboration between the Yale Glee Club, Yale Bands, and the Yale Symphony Orchestra that aims to challenge and enrich the American musical canon through 10 newly commissioned works together with 4 historic works by composers of African and African American descent. We have a number of TD performers in the video so please support our TD musicians!  To access the premiere, please go to this link.
Here are 2 quick TD space updates:
TD Recording Studio is Reopening!  If you're interested in gaining access to the studio, you need to undergo training with our TD Recording Studio Engineer Eric Jimenez.  To start, come to one of the upcoming info training sessions: Sunday 10/10 from 2-3:30, Sunday 10/10 from 3:30-5pm, or Monday 10/11 from 7-9pm.  Please go to this Google Form to sign up.
TD is the proud owner of a disc golf basket!  While not currently on the sports list at Yale, rumor has it that a club could be forming or even become a part of Yale College IMs.  In the meantime, feel free "putting" into the new basket and please remember to the leave the discs in the basket once you're finished so they are not lost in the lawn.  Any questions on how to play, please contact Noah Riley at noah.riley@yale.edu.
Here are some more important TD events and dates for the next two weeks:
Wednesday 10/6 4:30pm TD Tea with Sue Chan, Production Designer of Shang Chi and the Legend of Ten Rings
We are so excited to welcome Sue Chan to TD.  She will be talking to us about her career in television and film and showing examples of her design work on a range of projects including the smash hit Shang-Chi and The Legend of Ten Rings!  Results of the lottery will be posted later tonight so stay tuned.
Friday 10/8 4:00-5:15pm HoC Hors d'Oeuvres Reception to Kickoff Virtual Family Weekend (TD HoC House)
We are doing a partial reopening of the TD House to host a light reception featuring a delicious assortment of hors d'oeuvres to kickoff virtual family weekend.  All four classes are welcome!  Dr. B and I are particularly excited to have finally a meet and greet for our TD first-years and sophomores in the TD House – even if briefly.  
Saturday 10/9 4:00-6:00pm Family Recipes Cooking Event (TD Student Kitchen)
Last call to share your family recipes!  The kitchen aides plan to select two cooks to come to the kitchen, make their recipes, and share their stories with the TD community.  Sign ups close today so please go to this link to participate and submit your family recipes.   All recipes submitted will be shared with the TD community.  Please contact either grace.macdonald@yale.edu or eva.syth@yale.edu if you have questions.
Wednesday 10/13 4:30pm Tea with LaVita Tuff and Kathy Mae Min of Asian Americans Advancing Justice – Atlanta (Location to be announced)
LaVita Tuff is the Policy Director of AAAJ Atlanta and Kathy Min '21 just joined this important Asian American advocacy group.  AAAJ Atlanta had been doing incredible social and legal advocacy work on behalf of immigrants and communities of color in the southeast prior to the horrific Atlanta shooting last March.  Please join them for a talk about their ongoing work to promote equity, justice, and economic opportunity for immigrant families in the greater Atlanta region.
Thursday 10/14 4-5:15pm Midterm Stress Kit Study Break with YC3 (TD Upper Courtyard) 
We are delighted to welcome the YC3 team working with TD this year.  They will bring an assortment of stress busting items to help us through midterms season.  Light refreshments will be provided!
Without further ado, here is a word from Dean Mahurin…
Àshe,
HL
***
"I am so far from being a pessimist…on the contrary, in spite of my scars, I am tickled to death at life."
(Eugene O'Neill)
DATES AND DEADLINES
Oct. 15


 

F


 

Last day of courses offered in the first half of the fall term.


 

Oct. 15


 

F


 

Last day to withdraw from a course offered in the first half of the fall term.


 

Oct. 15


 

F


 

Last day to convert from a letter grade to the Cr/D/F option in a course offered in the first half of the fall term.


 

Oct. 15


 

F


 

Applications to study abroad during spring term 2022 are due.


 
LIBRARY SESSIONS
Library Tour: Get to Know Yale Library in Person | Registration required, tours run through 10/12
Join a librarian for a tour of Sterling Library and Bass Library! This 1-hour tour covers study spaces and practice navigating the library's physical book stacks. Attendees will also learn about the library's history and architecture, along with practical information about borrowing privileges, research support, library jobs, exhibit curation opportunities, and more.
How to Find Scholarly Articles
Wednesday, October 6 at 1:00pm | Register: https://schedule.yale.edu/event/8140573
This 30-minute workshop will cover the fundamentals of how to find scholarly articles from Yale Library, using Quicksearch and other library databases, such as Academic Search Premier (EBSCO), ProQuest News & Newspapers, and JSTOR. Attendees will also learn best practices for how to request articles using Interlibrary Loan.
Demystifying the Literature Review
Wednesday, October 6 at 4:00pm | Register: https://schedule.yale.edu/event/8140758
Learn how to conduct a literature review for your research papers, independent projects, and fellowship applications. This 1-hour workshop will cover:
why a literature review is important

how to conduct a literature review

ways to evaluate your sources

wow to use citation management software (like

 

Zotero

) to organize sources, take notes, and attribute authors
FELLOWSHIP EVENTS
FAO Schwarz Fellowship Info Session 
ACADEMIC STRATEGIES
So You Don't Feel Like Doing Your Work…
Tuesday, Oct. 5, 4-5 pm
Have trouble staying focused and on task? Learn how to get motivated and keep engaged with your work while giving yourself the time you need to be healthy and grounded.
 
Time Management
Tuesday, Oct. 5, 7-8 pm
Time management is key for lowering stress at Yale. Set priorities and develop a weekly schedule that can lead to an active and balanced academic life.               
 
Fresh Start: Midterm Edition
Wednesday, Oct. 6, 7-8 pm
Want to refresh your approaches to your academic work? Our mentors will lead you through a series of activities to help you identify your current strengths and develop new strategies for meeting the new challenges presented by your current semester's courses.
 
Exam Study Strategies
Wednesday, Oct. 6, 9-10 pm
Reduce exam stress by learning new strategies for preparing and studying for midterms and finals. This workshop offers suggestions for preparing for and taking problem-based, short answer, and essay exams
 
Strategic Planning for Your Senior Project
Thursday, Oct. 7, 4-5 pm
Learn how to plan your writing and research, and how to access support resources for your senior thesis. For full-year and 1-semester senior thesis writers.
 
Cultivating Faculty Mentors/Recommendations              
Thursday, Oct. 7, 7-8 pm
Initiate conversations, ask for assistance, request recommendations, and build mentoring relationships with Yale faculty, teaching fellows and staff.