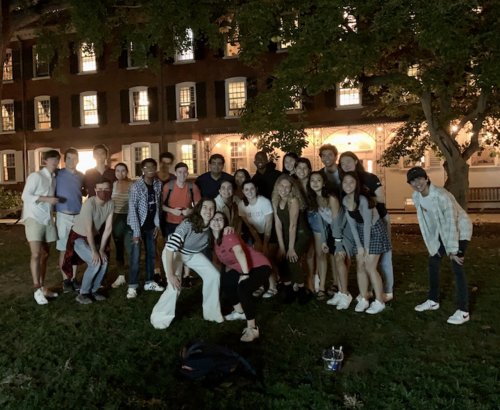 TIMOTHY DWIGHT NOTES & NEWS
WEEK OF 10/18/21
HL'S PIECES
Dear Red Lions,
Hope you all enjoyed the gorgeous weekend and got out to Fall Fest!  Please remember that the Guacamole Cart returns to the TD Dining Hall tomorrow night for dinner.  Our dining hall will also remain open throughout this break.
Many thanks to Jack Denning '24, TD SAC Secretary, for sending in our "photo of the week" of the SAC Karaoke night in the lower courtyard.  It was great to see so many folks come out to sing! Hope you are all looking forward to the start of Fall break!  Whether you are headed off-campus or staying put, I hope everyone will take the time to catch up on work and sleep and just take things a little slowly for the next few days.  And please remember to fill out the TD – 2021 Fall Break Energy Saving Checklist.  
For any red lions hanging around TD for any part of fall break, our TD Outreach Aides team have put together a terrific local fall grade guide to New Haven events as well as places to explore – hiking spots, beaches, and restaurants.
The TD Graduate Affiliates team has also put together some terrific outings that are all within a short walk or Yale Shuttle ride from TD.  All events are subsidized by TD:
Wednesday 10/20 10:45am "Brain Room" tour in the Cushing Center at Yale School of Medicine (Meet in TD Courtyard)
Come to a tour of the Cushing Center, led by the TD Graduate Affiliates and Cushing Center Coordinator, Terry Dagradi.  Located in the Medical School Library, the Cushing Center hosts a collection of thousands of human brain specimens - from whole brains to tumor specimens to microscopic slides!  Meet in the TD Courtyard at 10:45 am to walk over to the Medical School together. After a guided tour of the "Brain Room," interested students can get lunch at the food trucks on Cedar St.  Because of COVID-19 restrictions we have to restrict sign ups to 15 TDers.  Please go here to sign up to confirm your spot!
Friday 10/22   10am East Rock Park Hike (Meet in TD Courtyard)
Join our TD Graduate Affiliates for a hike up to the top of East Rock Park for a great view of the city of New Haven and the beautiful fall foliage that is now starting to emerge.  If time allows, we will stop at one of the local delis or cafes along Orange Street.  No need to sign-up.  Meet in the TD courtyard at 10am and you'll take the Yale Shuttle to about 2 blocks from the park entrance. 
Saturday 10/23 10:00am Kayak Trip of the Mill River (Meet in TD Courtyard)
I am excited to announce our first-ever fall break kayak trip!  We are partnering with Kingfisher Adventures who recently opened up a launch site at the base of East Rock Park.  We have reserved 10 spaces for TDers to paddle!  There will be a combination of single and tandem kayaks available and life jackets will be provided.  The Mill River is very calm and great for first-time or experienced paddlers.  Plan to meet in the TD Courtyard at 10am to go with the group to the launch point for our 10:30am reservation.  Please sign up here to confirm your spot!
When we return on 10/25, it will be the start of playoffs for IMs.  We are still in first place, folks, so let's keep it that way!  We will also have a list of fun activities to get us into the Halloween spirit!  So there is much to look forward to post-break!
Without further ado, here is a word from Dean Mahurin…
Àshe,
HL
 
"I don't care about truth. I want some happiness." (F. Scott Fitzgerald, The Beautiful and the Damned)
DATES AND DEADLINES
Oct. 19


 

T


 

October recess begins after last class.


 

Oct. 25


 

M


 

Classes resume, 8:20 a.m.


 

Oct. 29


 

F


 

Midterm.


 

Oct. 29


 

F


 

Last day to withdraw from a fall full-term course without the course appearing on the transcript.


 

Oct. 29


 

F


 

Deadline to apply for double credit in a single-credit course.


 

Oct. 29


 

F


 

Withdrawal from Yale College on or before this date entitles a student to a rebate of one-quarter of the term's tuition.


 
COMMUNICATION AND CONSENT EDUCATORS
Interested in becoming a CCE?  The Communication and Consent Educators are a diverse, creative group of undergraduates drawn from across campus to foster a more positive social and sexual climate.  Through workshops, programs, and conversations, they collaborate within their own communities to build a culture of respect and support. They also serve as a resource for students who have experienced or heard about sexual misconduct, providing a peer avenue to SHARE, the UWC, and Title IX. The CCEs are paid employees of the YCDO, working 5-10 hours per week, with longer hours during training periods in August and January.  There's no need for prior experience in sexual violence prevention. If you want to apply please visit yale.edu/cce and check out the form on the first page, or follow this link directly: tinyurl.com/ccehiring2022. Once you submit your interest, you'll be sent the full application in the form of a Word document. The applications are due October 25th. 
FELLOWSHIP EVENTS
World Class Study in London - Graduate Studies Info Session 
Thursday, October 21, 12pm - 1pm 
Register Here 
 
Yale College Postgraduate Fellowships Info Session 
Monday, October 25, 12:30pm - 1:30pm     
Webinar Link 
    
Imagining Your Summer Information Session #2   
Monday, October 25, 4pm - 5pm   
Register here 
  
Interviewing for National Fellowships Workshop 
Monday, October 25, 4pm - 5pm   
Webinar Link 
 
Cultivating Faculty Mentors/Recommendations 
Monday, October 25, 9pm - 10pm       
Register here 
Light Fellowship Information Session 4 of 6     
Tuesday, October 26, 4pm - 5pm     
Zoom Links available here   
OFFICE OF CAREER STRATEGY
Biomed Virtual Grad School Fair, October 20
Considering a Creative Master's Degree Panel, October 20
U.S. Environmental Protection Agency Career Fair, October 20
Graduate School Virtual Fair, October 21
Navigating the Health Professions as an Underrepresented & Disadvantaged Student, October 21
UChicago MSTP & Building the Next Generation of Physician Scientists, October 23
Info Session for Yale Scholars Program with Sidney Kimmel Medical College at Jefferson University, October 26 (registration required)