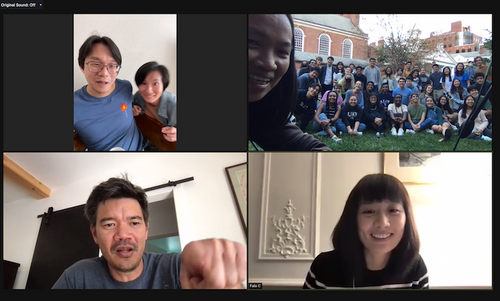 TIMOTHY DWIGHT NOTES & NEWS
WEEK OF 10/11/21
HL'S PIECES
Dear Red Lions,
We had a terrific week in the Upper Courtyard starting first with our TD tea with Sue Chan, the Production Director of Shang-Chi.  It was a treat to hear her explain her creative process in conjuring up her film set designs from small budget films like Shirley to the big budget action film, Shang-Chi, for the Marvel franchise.  Of course, the surprise Zoom visit from director Destin Cretton, stunt coordinator Yung Lee, and actor Fala Chen was such a treat as we got to hear the ensemble talk about the behind-the-scenes work of bringing Shang-Chi to life on the screen.  Our "photo of the week" taken at the very end of the tea shows actress, Meng'er Zhang, photo bombing (upper left-hand corner) as the audience gasped and cheered.   
 
Aside from the amazing tea, I am thrilled to announce that TD is once again making our way back to the top of the leader board for the Tyng Cup race.  To follow the IMs schedule and cup standings please click on this link.  Now that we are headed in the right direction, let's keep the momentum going Red Lions and bring back another cup win!
This Saturday 10/16, TD senior George Hua will be the featured soloist in the YSO's first concert of the year.  George won the William Waite Concerto Competition back when he was a sophomore in the spring of 2020 so we are thrilled that he will finally get to play Sergei Rachmaninoff's Piano Concerto no. 2, op. 18 with the YSO.  Tickets are already gone, but we can watch him on the YSO's livestream beginning at 7:30pm.  Break a leg, George!
Please remember that this Saturday 10/16 is also Fall Fest!  The TD dining hall will be closed for brunch and all students should plan to head to Cross Campus for a great selection of food and fun organized by Yale Dining Services.
Here are some more important TD events and dates for the next two weeks:
Wednesday 10/13 4:30pm Tea with Asian Americans Advancing Justice – Atlanta (TD Upper Courtyard)
Meet LaVita Tuff, the Policy Director of AAAJ Atlanta, and Kathy Min '21, who just joined this important Asian American advocacy group.  AAAJ Atlanta works on social and legal advocacy work on behalf of immigrants and communities of color in the southeast prior to the horrific Atlanta shooting last March.  Please join them for a talk about their ongoing work to promote equity, justice, and economic opportunity for immigrant families in the greater Atlanta region.
Thursday 10/14 4-5:15pm Midterm Stress Kit Study Break with YC3 (TD Upper Courtyard) 
We are delighted to welcome the YC3 team working with TD this year.  They will bring an assortment of stress busting items to help us through midterms season.   Light refreshments will be provided!
Friday 10/15 7:30-8:30pm TD Senior Cocktails Hour (TD House Patio)
We will be throwing a cocktail party at the house patio for our wonderful TD seniors.  We have planned a wonderful fall menu featuring apple cider sangria, classic hot toddy, and the martini.  We will also have non-alcoholic spiced hot apple cider as well as light snacks.  So please stop by Senior Lions!
Friday 10/15 8:30-10:30pm SAC Karaoke Night (TD Lower Courtyard)
SAC is excited to host its first big courtyard event of the year and it will be a karaoke night!   So cue up your favorites and warm up those singing voices and get ready to belt out those tunes.
Tuesday 10/19 5:00-7:30pm  Guac Cart (TD Dining Hall)
One of our favorite Yale Dining Pop-ups is back!  Fresh guacamole and chips made on the spot with your choice of toppings: cheese, bacon, eggs, sour cream, and much more!  So if you love avocados you will be delighted with this fun and delicious event!
Wednesday 10/20 4:00-6:00pm Beginner Cooking Workshop (TD Student Kitchen)
Have you always wanted to learn to cook but did not know where to start?  In this beginner's workshop, you'll learn how to make STUFFED PEPPERS (vegan, non-vegan, and gluten-free options available), a side salad, and a surprise dessert.  You'll pick up basic kitchen skills and boost your cooking confidence.  Space is limited so please sign up at this Google Form.
Without further ado, here is a word from Dean Mahurin…
Àshe,
HL
***
The Blessing of the Old Woman, The Tulip, and the Dog
Alicia Suskin Ostriker
To be blessed
said the old woman
is to live and work
so hard
God's love
washes right through you
like milk through a cow
To be blessed
said the dark red tulip
is to knock their eyes out
with the slug of lust
implied by
your up-ended skirt
To be blessed
said the dog
is to have a pinch
of God
inside you
and all the other
dogs can smell it
DATES AND DEADLINES
 
Oct. 15


 

F


 

Last day of courses offered in the first half of the fall term.


 

Oct. 15


 

F


 

Last day to withdraw from a course offered in the first half of the fall term.


 

Oct. 15


 

F


 

Last day to convert from a letter grade to the Cr/D/F option in a course offered in the first half of the fall term.


 

Oct. 15


 

F


 

Applications to study abroad during spring term 2022 are due.


 

Oct. 18


 

M


 

Fall second half-term classes begin.


 

Oct. 19


 

T


 

October recess begins after last class.


 

Oct. 25


 

M


 

Classes resume, 8:20 a.m.


 

Oct. 29


 

F


 

Midterm.


 

Oct. 29


 

F


 

Last day to withdraw from a fall full-term course without the course appearing on the transcript.


 

Oct. 29


 

F


 

Deadline to apply for double credit in a single-credit course.


 

Oct. 29


 

F


 

Withdrawal from Yale College on or before this date entitles a student to a rebate of one-quarter of the term's tuition.


 
SILVER SCHOLARS PROGRAM WITH THE SCHOOL OF MANAGEMENT
The 

Silver

 

Scholars

 

Program

 at the Yale School of Management allows students to earn a Yale MBA degree within three years, directly after graduation, spring-boarding them toward their career goals and leadership positions. The program is designed for exceptional students with strong leadership potential.  These students enroll in our full-time MBA program where they make up about 5% of the student body. Rather than the traditional summer MBA internship, Silver Scholars complete a year-long internship, extending their experience to three years.  All Yale College students receive a 50% tuition discount and an application fee waiver.
The admissions committee seeks applicants with a combination of intelligence, maturity, and curiosity who aim to be future leaders in their field of interest. Candidates from all majors are welcome to apply; we enjoy the diversity of interests and backgrounds that Silver Scholars bring to the broader MBA class at Yale SOM.
If you would like to speak with an admissions representative, please email maria.derlipanska@yale.edu to schedule an appointment.
OFFICE OF CAREER STRATEGY EVENTS
 
ACADEMIC STRATEGIES WORKSHOPS
Tackling P-Sets: Physics
Monday, Oct. 11, 7-8 pm
This workshop helps you understand the role of problem sets in Physics courses and suggests strategies and resources for completing them efficiently and effectively.
Imagining Your Summer (with CIPE)
Tuesday, Oct. 12, 4-5pm
Interested in summer study abroad, fellowships, or internships, but don't know how to get started? Hear from students who have done these things to help you identify some possible summer opportunities. You will leave with a clearer idea of what is possible and the resources you can access to make your vision happen. Now is the perfect time to start planning!
Procrastination: How to Work Through It
Tuesday, Oct. 12, 7-8 pm
This workshop offers strategies for identifying the sources of procrastination and pursuing productive habits that can get you back on track.
So You Don't Feel Like Doing Your Work…
Tuesday, Oct. 12, 9-10 pm
Have trouble staying focused and on task? Learn how to get motivated and keep engaged with your work while giving yourself the time you need to be healthy and grounded.
Exam Study Strategies
Wednesday, Oct. 13, 4-5 pm
Reduce exam stress by learning new strategies for preparing and studying for midterms and finals. This workshop offers suggestions for preparing for and taking problem-based, short answer, and essay exams.
Time Management
Wednesday, Oct. 13, 7-8 pm
Time management is key for lowering stress at Yale. Set priorities and develop a weekly schedule that can lead to an active and balanced academic life.               
Getting the Most Out of Your Reading
Thursday, Oct. 14, 4-5 pm
Learn general strategies for effectively reading texts for any Yale class. Learn how to preview a text, effectively interact with the text while reading, and review your reading for class, essays, and exams.
Public Speaking
Thursday, Oct. 14, 7-8 pm
Professors are increasingly asking students to engage in public speaking, from leading class discussion to more formal presentations. This workshop suggests preparation and performance strategies to help you do your best.
Time Management for Student Athletes
Thursday, Oct. 14, 8-9 pm
Set priorities and develop a weekly schedule that can lead to an active and balanced academic and athletic life.