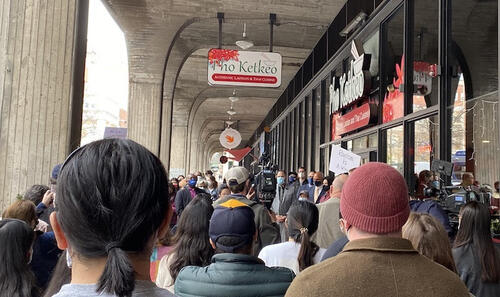 Dear Red Lions,

After a very tough week I hope that the sunshine and signs of spring are helping to give everyone a sense of renewal and possibility. 

I am sharing this "photo of the week" that I took at last Thursday's Stop AAPI Hate rally in downtown New Haven.  I was joined by many Yale faculty, administrators, and students who gathered with New Haven residents and leaders to protest racial violence and work on solutions toward peace in our city.
Speaking of hope, Connecticut is allowing adults over the age of 16 to schedule COVID-19 vaccination appointments starting this week on Thursday April 1st.  Please know that you will need to be persistent and patient to get an appointment but there are lots of options available.  To register through the Yale-New Haven Hospital System (YNHH) and your Mychart account, please go to this link.
Because of the limited supply in YNHH, I strongly urge you all to look at the many resources available throughout the city of New Haven and beyond.  For a zip code-based search, please go to this site provided by the state of Connecticut.
If you have questions and seek advice on how to get vaccinated, please know that our TD PHEPS (Public Health Education for Peers) will be hosting an info session in the TD Courtyard this Saturday 4/3 at 12pm.  Stop by to ask your questions and pick up some baklava from Havenly Treats.
Please remember to sign-up for TD Community Night set for Friday 4/9, 8-9:30pm!  This will be a truly hybrid event with performances to be uploaded or performed live over Zoom.  We'll set up the TD inflatable screen and watch together and serve snacks.  Please go here to sign-up!
Hey Senior Lions – with the news that we will have Commencement this May – I have appointed the following members of your class to be on the TD senior events committee:  Brittany Boyce, Ashwin Chetty, Angel Mora, Saul Roselaar, Kingrey Sullens, and Antalique Tran.  Please be in touch with any of them to offer any suggestions for events you would like to take place in the TD courtyard to celebrate your class.  And don't forget to order your caps and gowns before the 4/13 deadline!
Here are our events and deadlines for this week:
Tuesday 3/30 5:30pm TD Senior Mellon Forum 
We continue with our TD Senior Mellon forum series with Grace Bartlett and Kayla Mapotaringa.  To join us over Zoom please go to this link:
 
Wednesday 3/31 8pm TD Buttery Cookie Dough (TD Package Room)
Our Buttery Managers are bringing back yet another beloved item – cookie dough!  We'll send out an e-flyer announcing the staggered pickup times by class and last name.  So keep an eye out!
Thursday 4/1 4pm Thursday Snack Break – Cheese Tasting Adventure curated by TD Dining Hall Manager, Brett Rappaport (TD Package Room)
Our newest Dining Hall Manager, Brett Rapapport, will be subbing in for Sharon Goldbloom this Thursday.  We're leaning on his years of expertise running Murray's Cheese shop in NYC to bring you some exciting artisanal cheeses.  You'll get a choice between 2 boxes – "Easy to Love" and "Daring to be Different" – depending on your desire to go on a journey of discovery or not.  We will even have vegan selections so the dairy-challenged may still partake and enjoy!
Saturday 4/3 12pm Vaccine Info Session with TD PHEPS (TD Courtyard)
Not sure how to sign-up to get vaccinated?   Our TD PHEPS are here to help!  Stop by their info table to ask your questions and pick up some baklava from Havenly Treats.
Without further ado, here is a word from Dean Mahurin…
Àshe,
HL
***
 
"No matter what terror the earth could produce - winds, seas - a person could produce the same, lived with the same, lived with all that mixed-up nature swirling inside, every bit. There was nothing as complex in the world - no flower or stone - as a single hello from a human being." (Lorrie Moore)
 
PERTINENT DATES AND DEADLINES
 
Mar. 30


 

T


 

Midterm.


 

Mar. 30


 

T


 

Last day to withdraw from a spring full-term course without the course appearing on the transcript. See Withdrawal from Courses and Grades.


 

Apr. 1


 

Th


 

Final grades for first half-term courses due.


 

Apr. 6


 

T


 

Preference Selection opens for Fall 2021 limited enrollment courses.


 

Apr. 6


 

T


 

Departmental applications open for Fall 2021 limited enrollment courses.


 

Apr. 8


 

Th


 

Classes do not meet.


 
FIRST WITHDRAWAL DEADLINE: TOMORROW!
As you've just seen above, tomorrow, 3/30, at 5:00pm is the deadline to withdraw from a full-term class without a W on your record.  You may submit an online Course Change Notice by going here: https://registrar.yale.edu/forms-petitions.  
 
DWIGHT HALL PUBLIC SCHOOL INTERNSHIP PROGRAM
Students in the Public School Internship Program serve in a critical role as liaisons between a NewHaven public school and the Yale community by making a two-year commitment to one institution, learning the needs of the community and directing resources from Yale and Dwight Hall in support. In contrast to much volunteering that often begins with the volunteers deciding what to provide, PSIs ask what schools need and think creatively about how the Yale community can support them. 
 
We are seeking current first-years and sophomores to join our 2021-2023 cohort! For more information, check out our website here. Applications can be found here, and are due Sunday, April 4th at 11:59 PM ET. Feel free to reach out to Courtney Nunley or Nandan Patel, the PSI Co-Coordinators, at courtney.nunley@yale.edu and nandan.patel@yale.edu with any questions!
 
STUDY ABROAD
April 1 - Credit for Non-Yale Summer Abroad Application and Petition Application Deadline    
April 15 - Credit for Fall Term Abroad Application and Petition Application Deadline   
April 15 - Credit for Academic Year Abroad Application and Petition Application Deadline 
RESOURCES  
Please be sure to read Yale Study Abroad's COVID-19 Updates page for detailed information and guidance on study abroad options.   
Watch the Planning for Summer 2021 Study Abroad and/or Planning for Fall 2021 or Full Year 2021-2022 Abroad Webinars for the latest policies and planning considerations.   
Schedule a virtual appointment with a study abroad adviser  
 
INTERNATIONAL STUDY AWARD (ISA)  
If, after applying by the April 1st deadline, you receive Yale approval for summer study abroad, you will gain access to the (ISA) request form. This ISA request form is due by 11:59 p.m. (Eastern Time) on May 1. Update: Starting summer 2021, ISA funding can be used to support approved study abroad programs in a student's home country, as long as the home country is outside the U.S. and all other eligibility requirements are met.