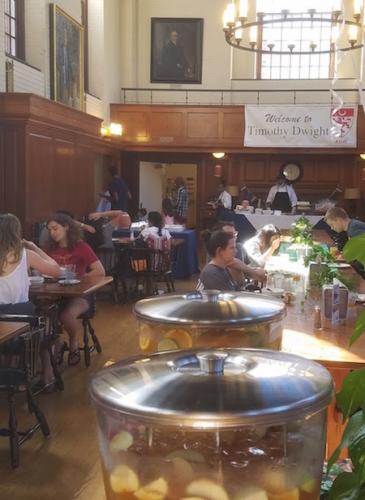 Notes and News – Week of 9/25
HL's Pieces
Dear Red Lions,
I hope many of you were able to enjoy our wonderful Football Tailgate Brunch this past Saturday.  Our wonderful dining hall staff outdid themselves with the festive decorations as well as the delicious menu. I am grateful to our assistant dining hall manager, Kory Evasick, for sending these great photos for "photo of the week".
Speaking of our hardworking TD Staff, I am delighted to announce that Melissa Debies-Carl will be our new facilities superintendent in Timothy Dwight College.  She will be replacing our wonderful Jeanne DeChello who is being promoted into another administrative role.  Before coming to TD, Melissa worked in other parts of the greater Yale campus as a supervisor at Yale-New Haven Hospital as well as an Operations Manager in Environmental Services.  We thank Jeanne DeChello for her many years of service to TD and look forward to welcoming Melissa Debies-Carl to our community!  Please feel free to stop by her office on the ground floor of Entryway K and introduce yourselves.  Her office number is K-12.
I am also delighted to announce the launch of the Timothy Dwight Community Engagement Fellowship to support student efforts to create and foster long lasting relationships with New Haven institutions and organizations.  This new fellowship provides students with an annual stipend of $600 to undertake public service projects in any field, but priority will be given to collaborations with institutions within the vicinity of TD.  Anyone interested in applying should complete the attached application by 5pm on Wednesday 10/4.  
Here are some great events for this week: 
Wednesday 9/27 4:30pm Tea with Lt. Joe Torrillo, "From Devastation to Inspiration" (TD House)
We start our first tea of the year with a talk by Lt. Torillo, a 25 year veteran of the NYC Fire Department, on his experiences during 9/11.  He suffered numerous injuries while working to save others during the disaster.  After his rehabilitation he retired from the department and now tours the country as a lecturer.
Wednesday 9/27 8pm Sophomore Advising Night (TD Dining Hall)
Come and meet our TD Graduate Affiliates in a wide range of academic and professional fields from across the university.  This is a great opportunity to discuss courses of study or future career questions.  To see a list of our Graduate Affiliates, please go to this link.  You can sign up in advance to meet with a Grad Affiliate or just drop in.  
Friday 9/27 7:30-9:30pm TD Board Games Night (TD House)
Join the resident fellow families to play board games in the TD House.  We'll have classics and new board games to share.  Snacks and drinks provided.  Please feel free to come and go as you like!
And next week…
Tuesday 10/3 6-7pm Senior Mellon Forum Kickoff Dinner (TD House)
Senior lions, please come to the TD House to learn about the mellon forum!  An intellectually vibrant and supportive space for sharing and learning about one another's senior project.  Students will get support from graduate mentors to develop their thesis projects and public presentations.  Facilitated by our own wonderful TD residential fellow, Anouk Lloren. 
Without further ado, here is a word from Dean Mahurin…
Áshe,
HL
***
 
"There are years that ask questions, and years that answer." (Zora Neale Hurston, Their Eyes Were Watching God)
UPCOMING DATES AND DEADLINES:
Oct. 6, Friday Last day to convert from the Credit/D/Fail option to a letter grade in a course offered in the first half of the term. See Grades.
Last day to withdraw from a course offered in the first half of the term. See Withdrawal from Courses and Grades.
Oct. 15, Sunday Deadline to apply for a spring 2018 Term Abroad. See Special Arrangements. Oct. 16MClasses begin for courses offered in the second half of the term. 
Oct. 17, Tuesday October recess begins, 11 p.m.  
Oct. 23, Monday Classes resume, 8:20 a.m. 
Oct. 27, Friday Midterm.
Last day to withdraw from a full-term course without the course appearing on the transcript. See Withdrawal from Courses and Grades.
Deadline to apply for double credit in a single-credit course. See Special Arrangements.
Withdrawal from Yale College on or before this date entitles a student to a rebate of one-quarter of the term's tuition. 
HAPPINESS CHALLENGE/REBOOT CAMP
This fall at Yale, we're introducing The Happiness Challenge and ReBoot Camp to help you revamp your habits. It's all about choices. First, you get to choose between the two versions of the programs. Then, every week, both programs cover the same habits—like stress coping, procrastination, communication, exercise, and sleep—and you get to choose options from the weekly instructions that will move you towards your goals. Sign up atbulldoghabits.org.
STERLING TOURS
Sterling Memorial Library is one of the world's largest libraries. Do you know how to navigate it? Take an hour-long tour of the library that will make your academic much life easier. Tours run through October 9th. Sign up here: http://bit.ly/SMLstacks.
DWIGHT HALL FELLOWS
The Yale College Community Service Fellows program, run by the Dwight Hall Outreach Program, is seeking dedicated Yale undergraduates who wish to lead their residential colleges in working for the public good. The ideal candidates will be hardworking, self-driven, reliable, creative and flexible.  The Community Service Fellows program is a program designed to increase the number of Yale undergraduates involved in the city of New Haven. Community Service Fellows work with their heads of college, dean, and the Outreach Program Coordinator to plan community service events for those in their college. The hours of this position are flexible and can fit to each fellow's schedule. Most fellows average about 2-3 hours of work/week.
The fellows will have access to funds, printing resources, and cars through Dwight Hall. The College Community Service Fellows will be supervised directly by Abigail Cipparone, Outreach program coordinator at Dwight Hall, and will be expected to give semesterly reports of their community service work.
To Apply: Email outreach@dwighthall.org a statement of interest and resume. This position will remain open until filled with the right candidates