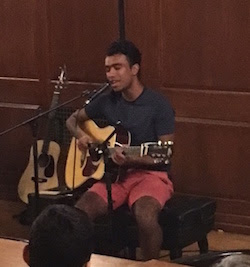 Notes and News – Week of 9/18
HL's Pieces
Dear Red Lions,
I hope many of you were able to attend last Tuesday's wonderful Community Night!  It's one of TD's best traditions for starting a new year and welcoming our first-years into the community.  Everyone performed brilliantly and we owe much of the success to the TD student team.  First I want to acknowledge our very hard-working stage manager, TD junior Dennis Vu, and our aides Jackie Salzinger '18, Andy Evren '18, Jacob Mitchell '18.  Thanks also go to TD juniors Maraya Keny-Guyer and Kaitlin Cardon for emceeing the first part of the evening.  Here are pictures of Derek Demel, Josh Beasley, Jake Mezey, and Ashia Ajani performing!
Speaking of our mighty TD community, our "photo of the week" comes from Dr. Yetsa Tuakli-Wosornu, who is a TD alum/fellow/first-year advisor and is titled "Advising over Pizza".  Dr. Tuakli-Wosornu took her advisees Sophia Ross and Bianca Howell out for their first meeting.  Dr. Tuakli-Wosornu graduated in 2001 and is now back in New Haven with the School of Medicine and School of Public Health.  Welcome back and aboard! 
Last chance to sign up for the Bill McKibben Chubb dinner!  Please go to this link if you would like to be in the lottery.
The TD Recording Studio will be starting up again for the year.  This year we'll be working with studio engineers from Firehouse 12 for four consecutive training sessions. Please go here to sign up for a spot in the training session or attend the studio open house this Sunday from 4:30-6pm and talked to Andrew Evren about getting access. 
Selin Lounge sign up will go up this week. Students must sign up at least 48 hours in advance by going to the Selin Lounge page on the TD website. 
I ask for a little more patience for the TD Art Studio as we complete the reorganization and clean-up on the studio.  When we do, we will have a new printmaking workshop space in the studio!  So TD art lovers please stay tuned…
Here are some great events for this week:
Monday 9/18 10:23pm Student Activities Committee Meeting (SAC)
Come to SAC's weekly meeting to help with great activities for the TD community such as the TD Formal, Smores Night, and many more!  Pizza will be served!
Saturday 9/23 11-1:30pm Football Brunch (TD Dining Hall)
Enjoy a special brunch to celebrate the Yale football season and cheer on the team as we take on Cornell!  Expect bagels, lox, and cream cheese, special hot dog station, and breakfast sandwiches on the grill, along with fresh fruit and pastries.  Family night protocol in effect so all off-campus TDers are welcome to dine on the college.  Please note that we are now requiring TD stickers on ID cards for this event.  Please come to the Head of College office during business hours to get your TD sticker.
Saturday 9/23 12-4pm Fall Free for All 2017 (Whitney/Audubon Retail District)
Our neighbors in the Whitney/Audubon area are offering free arts classes and food samples in this neighborhood street fair.  TD Community Outreach Aides, Dale Maclean and Nikita Raheja, will meet students in the TD courtyard at 1pm to walk over to the fair.
And next week…
 
Wednesday 9/27 4:30pm Tea with Lt. Joe Torrillo, "From Devastation to Inspiration" (TD House)
We start our first tea of the year with a talk by Lt. Torillo, a 25 year veteran of the NYC Fire Department, on his experiences during 9/11.  He suffered numerous injuries while working to save others during the disaster.  After his rehabilitation he retired from the department and now tours the country as a lecturer.
Wednesday 9/27 8pm Sophomore Advising Night (TD Dining Hall)
Come and meet our TD Graduate Affiliates in a wide range of academic and professional fields from across the university.  This is a great opportunity to discuss courses of study or future career questions.
Saturday 9/30 11am Wooster Square Farmer's Market 
Join the TD Community Outreach aides team on a walk to the Wooster Square market.  You will see great local produce, baked goods, and artisanal cheeses!  Join the students in the TD Courtyard at 11am.
Without further ado, here is a word from Dean Mahurin…
Áshe,
HL
***
 
Laughing… hard, loud, and long.  Really laughing, and 
he found himself exhilarated by simply walking the earth.
Walking it like he belonged on it; like his legs were stalks, tree trunks, a part of his body that extended down down down into the rock and soil, and were comfortable there – on the earth and on the place where he walked.
  (Toni Morrison, 
Song of Solomon
)
UPCOMING DATES AND DEADLINES:
Sept. 22

, 

Friday
 Last day to withdraw from a course offered in the first half of the term without the course appearing on the transcript. See 
Withdrawal from Courses
 and 
Grades
. 
Sept. 23, Sunday Withdrawal from Yale College on or before this date entitles a student to a rebate of one-half of fall-term tuition. See Undergraduate Regulations. 
Oct. 6, Friday Last day to convert from the Credit/D/Fail option to a letter grade in a course offered in the first half of the term. See Grades.
Last day to withdraw from a course offered in the first half of the term. See Withdrawal from Courses and Grades.
Oct. 15, Sunday Deadline to apply for a spring 2018 Term Abroad. See Special Arrangements. Oct. 16MClasses begin for courses offered in the second half of the term. 
Oct. 17, Tuesday October recess begins, 11 p.m.  
Oct. 23, Monday Classes resume, 8:20 a.m. 
Oct. 27, Friday Midterm.
Last day to withdraw from a full-term course without the course appearing on the transcript. See Withdrawal from Courses and Grades.
Deadline to apply for double credit in a single-credit course. See Special Arrangements.
Withdrawal from Yale College on or before this date entitles a student to a rebate of one-quarter of the term's tuition. 
LEAP!
Leadership, Education and Athletics in Partnership, Inc. (LEAP) is looking for college students who love working with children and want to inspire and teach them. LEAP provides a free after school tutoring program to over 500 Black and Latinx children between the ages of 7 and 12 from low-income neighborhoods in New Haven. Senior Counselors will be responsible for working with a group of about 10-12 kids of the same age and gender doing a wide range of tutoring, mentoring and enrichment activities. Counselors should be creative, energetic and truly committed to working with children. If you are interested in applying to be a counselor supporting New Haven youth, please find our application here. And learn more about LEAP at https://www.leapforkids.org/. Feel free to call LEAP at (203) 773-0770 or email Shyrelle Spears at sspears@leapforkids.org if you have any questions. Thank you!
5-YEAR MPH
Information Session for the BA-BS/MPH Program (http://medicine.yale.edu/ysph/admissions/programs/mph/select/).  This year's session will take place on Thursday, September 21, 2017 at 5:00 P.M. in Linsly- Chittenden Hall, Room 211. We will cover the academic requirements, the concentrations of study and the admissions process. Program directors and current students will also be available to answer questions.  Any help you can provide in advertising this event to your students would be greatly appreciated.  Students may register for this event at: https://yalesurvey.qualtrics.com/jfe/form/SV_7VP3V22wYaaIkKx.
Safety Net is comprised of representatives from Mental Health and Counseling, Health Education, Yale College, Student Medicine, SHARE, YPD, and leaders or members from a wide range of student groups or organizations on campus (e.g., Walden, CCEs, Peer Health Education, Queer Peers, Mind Matters, Women's Center, YCC, Fraternities and Sororities, and many others…) interested in the health concerns of all students.  This could be anything that includes mental health, physical health, and sexual health. It is a venue to discuss campus events which may include important sports events, individual group activities, or general concerns raised by incidences on campus such as sexual culture, alcohol policies and consumption, and so forth.  It also provides an opportunity to learn from each other, work together, and to support programs sponsored by different groups.  We meet about once per month on Fridays during the academic year at Yale Health (55 Lock Street) and lunch is provided. This semester our meeting dates will be: October 6, November 10, and December 1. Please contact jennifer.czincz@yale.edu if you are interested in Safety Net.
The Yale Scientific Magazine is excited to be announcing a special Poynter Fellowship talk by Dr. David Grimm (GRD '04) on 

Wednesday, September 20th

 from 

3-4pm

 in WLH 201 (Sudler Hall). Dr. David Grimm is currently the Online News Editor of Science, and is an award winning writer and author. His talk is titled "Stop Talking Like a Scientist: Communicating Research to the Public", and will be very helpful for undergraduate and graduate students interested in communicating their research to a general audience.
ACADEMIC STRATEGIES WORKSHOPS
Time Management
Monday, September 18, 6-7 pm, Berkeley South Court Seminar Room
Tackling Problem Sets – Econ
Monday, September 18, 7:30-8:30 pm, Silliman Seminar Room 415, Byers Hall, Silliman College
Writing Essays for a U.S. Audience: An ISO/ASP workshop for international students
Monday, September 18, 8-9 pm, CTL Room M104A (mezzanine)
Fresh Start for Upper-level students
Tuesday, September 19, 6-7 pm, Trumbull College Seminar Room
Get It Done: Academic Resources at Yale
Tuesday, September 19, 7:30-8:30 pm, Branford, Mendell Room
Succeeding in Seminars
Wednesday, September 20, 6-7 pm, Ezra Stiles Fellows Lounge
Succeeding in Seminars & Lectures for Student Athletes
Wednesday, September 20, 7-8 pm, Varsity Room, Ray Tompkins House
Pathways for First-Years
Wednesday, September 20, 7:30-8:30 pm, Branford, Mendell Room
Pathways for Sophomores
Thursday, September 21, 7:30-8:30 pm, Branford, Mendell Room
Writing Essays for a U.S. Audience: An ISO/ASP workshop for international students
Thursday, September 21, 8-9 pm, CTL Room M104A (mezzanine)