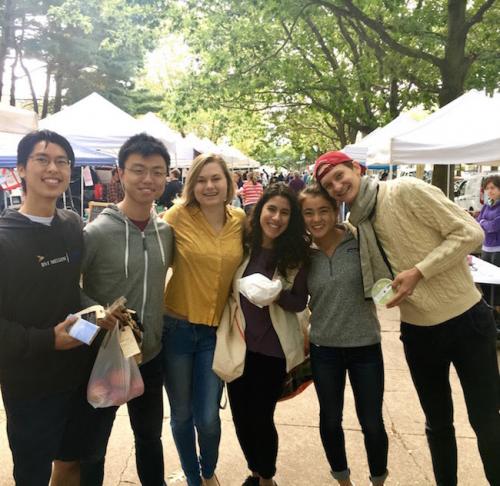 Notes and News – Week of 9/25
HL's Pieces
Dear Red Lions,
I am excited to announce the launch of the Timothy Dwight Printmaking Studio!  Karen Dow (Yale MFA '98) joins us this year to bring monthly studio workshops focusing on dry-point etching and monoprinting techniques to produce a variety of images.  Beginners to experienced artists are welcome to participate!  Workshops are scheduled on Sunday afternoons from 1 to 4pm once a month on the following dates:  10/15, 11/12, and 12/3.  Students may sign up for just one class or all three and we have room for 12 students per workshop session.  All instruction and materials are provided free of charge.  To register, please come to the TD Head of College Office during our weekday business hours. 
I hope many of you had a chance to enjoy the fall weekend weather.  We had another great group of entries for this week's "photo of the week".  I am going with this photo titled "Oysters from the Market" and comes from the TD Outreach Team who took a group of TDers to visit the Wooster Square Market.  Pictured from left to right are Zen '19, Peter '18, Trina '20, Nikita '20, Sofia '20, and Dale '20.  They brought back live oysters and learned to shuck them in the TD dining hall!  
Congratulations to the Buttery team led by Buttery Co-Manager Jack Atwater '19 with Michael Ai '20 and Jack Brownrigg '19 on their very successful "Bao Night" this past Sunday.  Look to this amazing crew and their staff of workers and volunteers to keep serving up great dishes all year!
Here are some great events for this week:
Tuesday 10/3 6-7pm Senior Mellon Forum Kickoff Dinner (TD House)
Senior lions, please come to the TD House to learn about the Mellon Senior Forum!  An intellectually vibrant and supportive space for sharing and learning about one another's senior project.  Students will get support from graduate mentors to develop their thesis projects and public presentations.  Facilitated by our own wonderful TD residential fellow, Anouk Lloren. Dinner and drinks will be served!
 
Wednesday 10/3 Timothy Dwight Community Engagement Fellowship Due
The Timothy Dwight Community Engagement Fellowship supports student efforts to create and foster long lasting relationships with New Haven institutions and organizations.  This new fellowship provides students with an annual stipend of $600 to undertake public service projects in any field, but priority will be given to collaborations with institutions within the vicinity of TD.  Anyone interested in applying should complete the attached application by 5pm on Wednesday 10/4.  
 
Wednesday 10/3 8pm Timothy Dwight Chaplaincy Fellows Study Break (Student Kitchen)
Please join the TD fellows Noah and Ahmed for baked goods and photo printing, along with some good discussion. Take home a photo for you dorm and some ideas about what "home" means. Not a religious event–all faiths (and the lack thereof) are welcome!
And next week…
Tuesday 10/10  Chubb Lecture and Dinner with Bill McKibben 
Bill McKibben (Environmental activist, writer, and co-founder of 350.org) will deliver his Chubb address at 4:30pm in Woolsey Hall.  The talk, titled "Simply Too Hot: The Desperate Science and Politics of Climate" is open to the public.  Tickets are not required.  All TD students selected for the Chubb dinner through the open lottery should have received a note confirming their seat.
Saturday 10/14 10pm-1am SAC Fall Formal (Olives and Oil)
We will be partying it up at Olives and Oil located at 124 Temple Street.  Come for fun, music, friends, and a GREAT Saturday night.  There will be a pizza bar, salad bar, and drink tickets for students over the age of 21.  Photos will be taken in the restaurant.  Come to the Head of College office during business hours starting this Tuesday 10/3 to Friday 10/13 to by your tickets (only $5 per person).  Feel free to invite friends from other colleges. 
Sunday 10/15 TD Student Kitchen Goes to Edgewood Farmer's Market (10am meet up in TD Courtyard)
The TD Outreach Aides and the Student Kitchen crew team up for a great combo event.  We will have cars to take up to 10 TD students to the Edgewood Farmers' Market in the Westville neighborhood of New Haven to check out local produce and shop.  We'll then return to the TD student kitchen to cook up a special hearty brunch with the freshest seasonal ingredients.  
Without further ado, here is a word from Dean Mahurin…
Áshe,
HL
***
 
The only way to get change is not through the courts or – heaven forbid – the politicians, but through a change of human consciousness and through a change of heart. Only through the arts – music, poetry, dance, painting, writing – can we really reach each other.
(Leslie Marmon Silko)
 
UPCOMING DATES AND DEADLINES:
Oct. 6, Friday Last day to convert from the Credit/D/Fail option to a letter grade in a course offered in the first half of the term. See Grades.
Last day to withdraw from a course offered in the first half of the term. See Withdrawal from Courses and Grades.
Oct. 15, Sunday Deadline to apply for a spring 2018 Term Abroad. See Special Arrangements. Oct. 16MClasses begin for courses offered in the second half of the term. 
Oct. 17, Tuesday October recess begins, 11 p.m.  
Oct. 23, Monday Classes resume, 8:20 a.m. 
Oct. 27, Friday Midterm.
Last day to withdraw from a full-term course without the course appearing on the transcript. See Withdrawal from Courses and Grades.
Deadline to apply for double credit in a single-credit course. See Special Arrangements.
Withdrawal from Yale College on or before this date entitles a student to a rebate of one-quarter of the term's tuition. 
ATTENTION STEM STUDENTS!
Introducing the peer tutors in the intro STEM courses to underrepresented and first gen students.
Time: Oct 4, 7PM in LC 101
Peer tutors have been shown to promote persistence in our STEM majors, and not all students utilize this valuable resource. This meeting, sponsored by all three cultural houses, will connect first/second year STEM students who are currently in the intro STEM classes with peer tutoring resources.
STARS2 info session
Time: Oct 11 4PM in La Casa cultural house
STARS2 fund juniors and seniors to do paid research during the academic year in a lab. This is a great opportunity for students needing to work to get paid while doing a meaningful research project (10 hours/week max at ~15.00/hr). STARS students also have the option to continue this research over the summer, fully funded as well!
 
SPLASH AT YALE
Splash at Yale runs two programs each semester for middle and high school students. Our Fall Splash program will be on Saturday, November 11th. All of the classes are taught by Yale students and cover a range of topics from cooking to mathematics. Some of our previous classes include: The Geography of Happiness, The Lyrics of Bob Dylan, Love Poetry, Epigenetics, and An Introduction to Skepticism.
Splash is a great opportunity for students who are looking to get involved with teaching or just want to share their passion for a particular topic. We welcome all teachers — regardless of prior experience — and we are happy to work with you throughout the teaching process, from brainstorming ideas to making a lesson plan. Teaching for Splash is a small time commitment but has a huge impact on our students! 
If you're not interested in teaching, we would love to have you as a day-of volunteer! Splash is a great way to be involved with the community as we serve students from New Haven as well as all over New England. We offer a variety of tasks with varying levels of engagement with students — volunteers can meet parents and students during sign-in or lunch, help keep our students safe while walking in between classes, or do homework while being a friendly face! (We have free food & swag!)
Teacher registration for Splash is open now until October 15th. Registering a class is done through our website. Looking for some inspiration? Check out our last program's catalogue! 
Have questions? Email us at yalesplash@gmail.com.
MULTIDISCIPLINARY ACADEMIC PROGRAMS
Multidisciplinary Academic Programs (MAPs) Information Sessions:
Education Studies: Thursday, October 5, 4:30-5:30 pm, SSS Room 405
                              Wednesday, October 11, 3-4 pm, SSS Room 405
Global Health Studies: Friday, October 13, 2-3:30 pm, LC 209
Energy Studies: Wednesday, October 25 5:30-7:30, Fellows' Lounge, Franklin College
CENTER FOR INTERNATIONAL AND PROFESSIONAL EXPERIENCE
RSVP FOR CIPE DAY WITH THE CULTURAL CENTERS!
Tuesday, October 10, 5:00 – 7:00PM @ Afro-American Cultural Center, 211 Park St. 
During CIPE Day with the Cultural Centers, an all-programs overview, followed by smaller break-out sessions, offer opportunities to hear from past participants, speak directly with CIPE staff, get your questions answered, and to learn more about of-interest programs. As appetizers will be served, please RSVP as soon as possible to afamhouse@yale.edu. 
 
Richard U. Light Fellowship Information Sessions
Wednesday, October 4, 1:00 – 2:00 pm - CIPE, 55 Whitney Avenue, 3rd Floor, Room 305
Monday, October 9, 4:00 – 5:00 pm - CIPE, 55 Whitney Avenue, 3rd Floor, Room 305
During information sessions, the Light Fellowship team provides important and detailed information about application procedures and requirements of the Light Fellowship, which funds the study of Chinese, Japanese, and Korean at approved sites in Asia. Applicants are required to attend a session to be eligible to apply for a Light Fellowship.
Fellowships for Seniors and After Graduation Information Session
Tuesday, October 10, 4:00 – 5:00 pm - CIPE, 55 Whitney Avenue, 3rd Floor, Room 305
Geared toward seniors but open to anyone who wants to plan ahead, these sessions serve as an introduction to the range of opportunities available specifically to seniors of Yale College. Come find out what questions to ask, options to pursue and resources to take advantage of. Expect a general overview, with special attention to year-long postgraduate awards.
Upcoming Deadlines
October 3 -  Gilman Summer and Spring Deadline
October 6 - Obama Fellowships Deadline
October 11 - Michel David-Weill Scholarship Campus Deadline
October 11 - Gates Cambridge National Deadline
October 13 - Churchill Scholarship Campus Deadline
October 23 - The National Science Foundation Graduate Research Fellowship National Deadline
October 27 - The Hertz Foundation Graduate Fellowship National Deadline
November 1 - The Paul and Daisy Soros Fellowship for New Americans National Deadline.