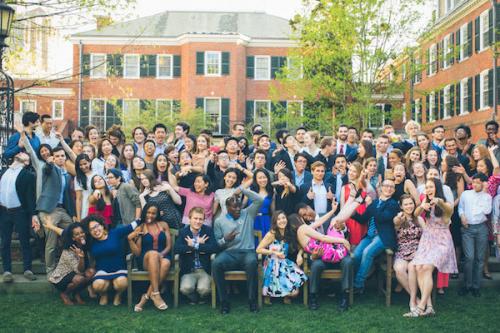 TD Notes and News – Week of 5-08
Head of College's Pieces
Dear Red Lions,
I hope all of you are coming close to finishing up your papers and exams and almost putting this semester to bed.  As I write, I see many of you picking up and moving boxes and suitcases as you pack up and leave campus.  You should have all received my college closing email from 4/28 so please refer to that email if you have any questions about summer storage, furniture, etc.  The College will close on Thursday at 12pm.
For folks who drew the last exam date, please know that we'll keep delivering pizza at 10pm tonight and tomorrow night.  We will make sure you are fueled to go for this last push.  You can do it!
As we get ready to say good bye to the 2016-2017 academic year, I want to share this wonderful "photo of the week" taken by TD senior John Chirikjian at Tuesday night's senior dinner.  Congratulations 2017!
To the classes of 2018, 2019, and 2020 –  I wish you all a terrific summer and look forward to greeting you when you return to the courtyard to start another year!  Please send me a note or a photo when you get a chance.  It's wonderful to hear what everyone is doing!  
For anyone staying in New Haven this summer, Dean Mahurin and I will be organizing another TD courtyard dinner some time in June.  Look for the announcement!
Until then…  get some rest, eat a lot, enjoy the outdoors, and reconnect with family and friends!  
Áshe,
HoC Lui