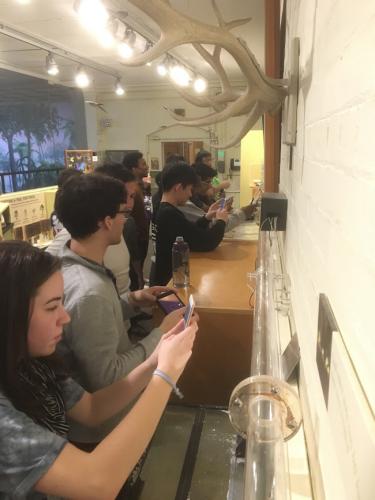 TD Notes and News – Week of 3-6
Head of College's Pieces
Dear Red Lions,
We have a quick "Notes and News" this week as this is the last week before we go on spring break! 
This week's "photo of the week" captures Friday night's TD '20 Dino Sore at the Peabody Museum.  The photo "TD Visits Leaf Cutters" shows folks fascinated by the museum's leaf cutter ant colony at work in the special Discovery Room designed for children ages 5-12.  The photo comes from David Heiser, the Peabody Director of Student Programs.  He writes that TDers stood transfixed for over half an hour watching the colony at work and no one wanted to leave!
In addition, TDers heard a great presentation by paleontologist Chris Norris for discussing the Peabody's vertebrate paleontology collection and showing us an archaeotherium or "killer pig" fossil.  The Peabody staff had a great deal of fun and declared the "pilot" overnight program a solid success.  They have asked that I pass along to TD students a request to apply for their special summer paid internships that allow for a range of fieldwork experiences.  Please visit their website at http://peabody.yale.edu/yale-students/summer-internships for more information.  The deadline is this Friday 3/10.
Speaking of summer internships, please note that the deadlines for all TD summer internships – Bergin, Richter, and Chubb – are coming up at the end of spring break on March 24, 2017.  So please make sure to get in your applications in on time. 
As we head towards spring break – almost their folks – we only have one event this week:
Tuesday 3/7 4:30 pm Tea with Novelist Jade Chang (TD House)
Novelist Jade Chang is the author of The Wangs vs. the World, published this year.  Her debut novel has been named a New York Times Editor's Choice, "one of Amazon's Best Books of 2016" and a BuzzFeed "Incredible Book for Fall." She has worked as an arts and culture journalist and editor for publications like The Los Angeles Times Magazine and Glamour as well as the BBC.  You can read NPR's review here.
Without further ado, here is a word from Dean Mahurin…
Áshe,
HoC Lui
******
"Poetry helps me understand who I am.  It helps me understand the world around me.  But above all, what poetry has taught me is the fact that I need to embrace mystery in order to be completely human."
(Yusef Komunyakaa, who read at the Beinecke just a couple of weeks ago!)
DEADLINES
 
Mar. 10

F

Midterm.
Spring recess begins, 5:30 p.m.
Last day to withdraw from a full-term course without the course appearing on the transcript. See Withdrawal from Courses and Grades.
Deadline to apply for double credit in a single-credit course. See Special Arrangements.
Withdrawal from Yale College on or before this date entitles a student to a rebate of one-quarter of the term's tuition. See Undergraduate Regulations.

Mar. 27

M

Classes resume, 8:20 a.m.

Apr. 6

TH

Deadline to complete applications for financial aid for the fall and spring terms, 2017–2018. See Undergraduate Regulations.

Apr. 7

F

Last day to convert from the Credit/D/Fail option in a full-term course to a letter grade. See Grades.
Last day to withdraw from a course offered in the second half of the term without the course appearing on the transcript. See Withdrawal from Courses and Grades.
---
Spring 2017 Yale Police and Public Safety Citizen's Academy
Chief Ronnell Higgins invites members of the Yale Community to attend The Spring 2017 Yale Police and Public Safety Citizen's  Academy. This is a six week program on Tuesdays, March 28 through May 2 from 6 to 8:30 p.m. at the Yale Police Department.  Our goal is to provide an increased understanding and awareness of police operations, responsibilities and capabilities and to promote the partnership between the police department and the community.  Please visit the public safety website for information and registration:
https://your.yale.edu/community/public-safety/resources/yale-citizens-police-public-safety-academy
Questions?: please contact Lieutenant Jay Jones: jay.jones@yale.edu
Ivy Policy Conference
We are now accepting applications for the 10th-annual 2017 Ivy Policy Conference, which will be hosted by the Ivy Council, at Columbia University from April 14-16! In a special effort to foster our fellowship, this year's theme is "Organize for Social Change." The conference will address mobilization as a community to better campus culture and distribution of resources that facilitate our educational journey in today's politically charged climate. We hope to motivate and educate student-leaders through breakout sessions, peer-led discussions, and keynote speakers that take advantage of our collective momentum in order to affect palpable change.
Applications for this year's IPC will close March 12th 11:59 PM.  Apply at http://www.ivypolicyconference2017.com/ and make sure to click going on Apply to the Ivy Policy Conference 2017!
We would love for you to join us! Please reach out to Lelina Chang, lelina.chang@yale.edu, with any questions.
---
CIPE
 
Public Health & Environmental Sustainability Internships
Yale-Tec de Monterrey Internships in Sustainable Development, Summer 2017
Application deadline: Saturday, April 15, 2017
Join one of two ongoing sustainable development projects in Mexico during Summer 2017. Project work focuses on Diagnosis of Public Health and Education aspects of vulnerable communities (Hidalgo), or Environmental Sustainability (Queretero). Intermediate Spanish is required, and the program is ISA-eligible.  Learn more about the Yale-Tec de Monterrey Summer Internship Program in Sustainable Development.  Deadline to apply is April 15. Please contactMyCIPE@yale.edu with any questions.
Apply to be a 2017-18 Y-VISP Peer Liaison
The Yale Visiting International Student Program (Y-VISP) invites elite students from Y-VISP partner institutions to study at Yale every year. The Y-VISP program is currently seeking Peer Liaison (PL) applications from current sophomores and juniors. Y-VISP PLs will assist with Y-VISP student arrival and orientation beginning and will continue their relationship with the students throughout the 2017-18 academic year. Learn more and apply online by March 31st.
Fellowships and Funding:
The IRB Application Process
Planning on conducting research involving human subjects? In this information session, a Regulatory Analyst from the Human Subjects Committee will guide you through the IRB application process. There will be time for Q and A in this session, so feel free to come along with any questions specific to your application. Wednesday, 3/8 12:30 – 1:30pm @ CIPE, 55 Whitney Ave.
Online Advising Options and Drop-In Hours @ CIPE
Want to schedule a one-on-one appointment with a Fellowships Adviser or get a general fellowships refresher? Watch this pre-advising presentation online. Have a quick question about a fellowship application? Come to Fellowships Drop-In Hours, every Friday afternoon from 2 - 4 PM @ CIPE. 
International Summer Award
The ISA, which provides a stipend for one summer experience abroad for eligible undergraduate students receiving a Yale scholarship, is now open. Learn more online.
Upcoming Deadlines
3/6/17 – Graduating seniors can apply for the Yale University Educational Fellowship, a one-year paid secondary teaching appointment at the Oakham School in the East Midlands of England.
More Ways to Connect
Sync any of these events with your own google calendar.
Receive the entire Fellowships Newsletter for reminders and resources, tailored to your class year, directly from Yale Fellowships
Explore hundreds of campus, national, and international opportunities in the Student Grants Database.  
Office of Career Strategy:
Summer 2017 Yale-coordinated Internships: Re-Opened Opportunities
Numerous Yale-coordinated Internship opportunities for summer 2017 have been re-opened in Yale Career Link, powered by Symplicity.  The application deadline is Tuesday, March 7 at 9:30am.
Yale-coordinated Internships: Drop-in Hours
Mondays, Tuesdays, and Thursdays, 10:00am-12:00pm, Office of Career Strategy
Do you have an interview coming up for a Yale-coordinated Internship? Do you have general questions about the program?  Come see Julia Bourque and Janelle Lewis to discuss any questions relating to international or domestic Yale-coordinated Internships.
Drop-in Advising During Spring Break 
There will be no drop-in hours during spring break, March 13-24.  Regular drop-in hours will commence on March 27.  Advisors will be available for regular appointments.  For more information, visit the Office of Career Strategy website.
Careers, Life & Yale (CLY)-Leadership Forum
Want to make a deep dive into an alumni/ae-led leadership think tank?  To explore career and life leadership lessons learned by Yale alums–in an elegant/intimate setting? Yale's alumni offer in-person, semi-annual, 1.5-day leadership forums (hosted by the Association of Yale Alumni). On Friday evening, March 3 and Saturday, March 4, alumni/ae leaders (Vassar's next President, Yale's VP/Secretary, a bomb-defusing Navy Seal, and the founder of Blue State Coffee) will lead discussions with you as part of our 14th AYA-hosted Leadership Forum.  You'll benefit from alumni interaction, Q & A, and healthy doses of career/life wisdom–topped off with networking and fine dining. By application only–limited to 50 students; a full (1.5 day) commitment is required.  Interested?  Go to: https://www.surveymonkey.com/r/SLFMar2017 to apply. Questions? Contact Steve Blum '74 at stephen.blum@yale.edu.
2017 Yale Summer Events in San Francisco Director Position Deadline: March 7. Contact Stephanie Waite with questions. 
Multi-University Career Fair at USC: Friday, March 10, 10:00am-2:00pm. Register here. 
U.S. Career Forum 2017: Saturday, March 25, 10:00am-6:00pm, Javits Center, Hall 1E, 655 W 34th St, NY, NY.
2017 Boston Red Sox Sports & Entertainment Career Fair: Wednesday, April 5, 1:00pm-4:00pm, Fenway Park.
Visit the Calendar of Events for a full list of upcoming events. Log in to Yale Career Link, powered by Symplicity under Events/Employer Information Sessions to RSVP.
Study Abroad:
 Fall Semester 2017 or Full Year 2017-2018 Study Abroad Programs
Application Deadline: Sunday, March 5, 2017
Use these links to search programs and apply:
Global Summer Program (locations abroad)
Application Deadline: Friday, March 17, 2017
For course information and to apply:
Study Abroad Walk-In Hours
55 Whitney Ave, 3rd Floor
Study abroad advisers will be available for walk-ins every Friday, from 2 - 4 pm, during the spring 2017 semester (beginning 1/20 and ending 5/5). These meetings are 15 minutes in length and will be offered on a first-come, first-served basis.
Connect with a Study Abroad Advisor
Yale Summer Session:
It's never too early to think about summer! Check out the Yale Summer Session website for details about what you can do in New Haven during the summer months!
Summer Session Dates in New Haven: 
Session A (

May 29 to June 30, 2017

)
Session B (

July 3 to August 4, 2017

) 
For all other dates, please see our website
We offer:
Study in New Haven with the Global Summer Program

 During Session B:

ANTH S207: The Sustainable Preservation of Cultural Heritage
EVST S314: The Future of Food
Global Summer Program Abroad
There is still time to apply for a program abroad that is ISA and transfer credit eligible! Certain GSP programs are ISA and credit eligible. The application deadline for the Global Summer Program is March 17, 2017. Click here for a quick glance of all of the GSP programs. Questions about Global Summer Program: Contact kathy.trputec@yale.edu