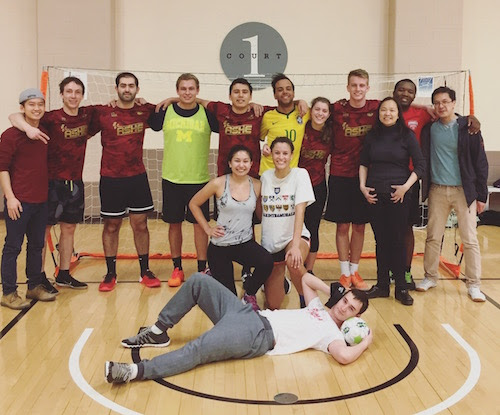 TD Notes and News – Week of 3-27
Head of College's Pieces
Dear Red Lions,
Welcome back everyone!  Hope all of you got some terrific rest and are ready to finish out the spring semester. 
Right before we left for break, I announced the exciting news that our spring Chubb Fellow will be Dr. Hawa Abdi, renowned Somali physician and humanitarian.  Dr. Abdi's incredible work to provide food, clean water, medical care, schooling, and shelter to over 90,000 displaced people in her home country of Somalia has garnered enormous international praise and we look forward to hearing from her.  Please note that we have had to reschedule the talk and dinner to Tuesday April 18th.  We'll make available by the end of the week the student lottery sign up for the Chubb dinner.  Please stay tuned!
As spring IM competition starts up this week, it's fitting to look back on a great winter IM season.  This week's "photo of the week" features some of the wonderful photos of TDers from the classes of '17, '18, '19, and '20 working together in water polo, bowling, basketball, and soccer.  Dr. B and I enjoyed cheering the TD soccer team to victory over Ezra Stiles for the championship title!  If you're looking to join in the fun this spring, please email our amazing IM secretaries at maraya.keny-guyer@yale.edu; briggs.bulkeley@yale.edu; david.amanfu@yale.edu; or kaitlin.cardon@yale.edu.
I hope everyone saw the note about our spring TD art show out in the New Haven community at the storefront of 77 Audubon Street.  Please contact luna.beller-tadiar@yale.edu and liana.murray@yale.edu by Friday 4/14th.
Here are our wonderful events for this week:
Wednesday 3/29 5:30-7pm TD Sophomore Class dinner (TD House)
Calling all TD sophomores  … enjoy a night of great food and company with your wonderful class!  We'll feature a menu from Mamoun's and desserts from Donut Crazy and Sweet Mary's!  Make some memories for senior dinner… thankfully still a few years away…
 
Saturday 4/1 4pm TeaD and Conversation: What Are Breaks? with TD '18 (RH Common Room)
What did you do during break? Drop by for a few minutes or an hour and tell us over some tea and snacks! Add the Facebook event and invite your friends here.
 
Sunday 4/2 11-1:30pm Special Head of College Berry Brunch (TD Dining Hall) 
It will be fresh berries galore for our special brunch this semester.  Our Dining Hall staff is excited to roll out the amazing spread of bagels, lox, cream cheeses, pastries, fresh fruit, and some specialty made-to-order stations.  "Family dinner" protocol in effect so all off-campus students are invited.  Only TD students please!
And here are some important dates for next week:
Monday 4/3 Creative Performing Arts Grant Deadline
Last submission cycle of the academic year.  Please go to the CPA website http://creativeandperformingarts.yale.edu/ for the application and all supporting materials.
 
Tuesday 4/4 5:30pm Senior Mellon Forum Closer (TD House) 
Seniors, you've done an amazing job on your projects and presentations.  Please support this last group of presentation and toast your hard work.
 
Wednesday 4/5 8:30-9:30pm TD Community Chamber Orchestra Concert (TD Dining Hall)
The TD orchestra is ending a fun year with a performance of George Gershwin's "Rhapsody in Blue", Aaron Copland's violin concerto featuring guest soloist Katie Lansdale, and an original composition by TD senior Jordan Plotner. 
Without further ado, here is a word from Dean Mahurin…
Áshe,
HoC Lui
******
"This wasn't the person he'd thought he was, or would have chosen to be if he'd been free to choose, but there was something comforting and liberating about being an actual definite someone, rather than a collection of contradictory potential someones." 
(Jonathan Franzen, Freedom)
IMPORTANT DEADLINES
Apr. 6

TH

Deadline to complete applications for financial aid for the fall and spring terms, 2017–2018. See Undergraduate Regulations.

Apr. 7

F

Last day to convert from the Credit/D/Fail option in a full-term course to a letter grade. See Grades.
Last day to withdraw from a course offered in the second half of the term without the course appearing on the transcript. See Withdrawal from Courses and Grades.

Apr. 21

F

Last day to convert from the Credit/D/Fail option to a letter grade in a course offered in the second half of the term. See Grades.

Apr. 28

F

Classes end, 5:30 p.m.; reading period begins.
Last day to withdraw from a full-term course or a course offered in the second half of the term. See Withdrawal from Courses and Grades. 
---
ON CAMPUS HOUSING
Things to remember:
1. Talk to your friends honestly about what you do and don't want, living-wise.  Try to take housing as impersonally as possible.
2. Fill out your class google doc! 
3. If you are a rising senior or junior interested in living in a single or double in an first-year entryway, email me asap.
Confused about anything?  Write your housing reps!  2018 – Eilaf Elmileik; 2019 – Jemimah Orevaoghene, Briggs Bulkeley; 2020 – Spencer Johnson, Sebastian Rodriguez-Vars
Or bother Blake Mueller as this is her last go-round with this gig!  You can cc Blake on emails just for the fun of it!
2018 and 2019 will draw on Monday, April 3
2020 will draw on Tuesday, April 4.
Both draws will take place in the dining hall in the evening.  Stand by for exact times.
---
YALE COLLEGE COUNCIL ELECTIONS
What is Yale College Council?
We are students. We want flexible dining hours, valuable student jobs, and accessible financial support. We want professors who look like us, classes that speak to us, advisors who understand us. We value free speech. We value each other. We value progress. We want to make Yale the paradise in the brochure. We are not just student government. We are students, and we want you. Join the Yale College Council on Tuesday, March 28 at 8 p.m. in WLH 107 to learn more about how you can join the council for students, by students. 
---
YALE PATHWAYS SUMMER SCHOLAR PROGRAM:  EMPLOYMENT OPPORTUNITY
The Yale Pathways Summer Scholar Program is a free selective summer day and residential science program that brings 100 New Haven and West Haven public high school students to study science for two weeks on Yale's campus. Each summer, Pathways students have the opportunity to select from a variety of STEM workshops collaboratively designed and taught by Yale faculty and graduate students. In addition to attending the STEM workshops during the day, rising high school seniors have the opportunity to live in Yale dormitories and participate in college preparatory programming.
Our workshop leaders are hard at work preparing their courses, and we've accepted 100 local high school students into the program – now we're looking for qualified graduate and undergraduate students for the Pathways Summer Scholars TA and RA/TA team!
We're hiring for two positions: first, our classroom and lab-based TAs support our workshop leaders and help with in-class activities in the Day Program. In the other role, our Program Associate RA/TAs also assist during workshops, but supplement in-class help with mentorship and enrichment activities. Program Associate RA/TAs live and work with the students attending our Residential Program, and room and board is included in their compensation.
More details about both positions can be found at the following links:
onhsa.yale.edu/SummerScholarsTA
onhsa.yale.edu/SummerScholarsRA
For more information about the program, please visit PathwaysSummerScholars.yale.edu or email brendan.ternus@yale.edu
---
CIPE
Apply to be a 2017-18 Y-VISP Peer Liaison
Apply online by Friday, March 31st.
The Yale Visiting International Student Program (Y-VISP) invites elite students from Y-VISP partner institutions to study at Yale every year. The Y-VISP program is currently seeking Peer Liaison (PL) applications from current sophomores and juniors. Y-VISP PLs will assist with Y-VISP student arrival and orientation beginning and will continue their relationship with the students throughout the 2017-18 academic year.
Yale-Tec de Monterrey Internships in Sustainable Development & Public Health, Summer 2017
Application deadline: Saturday, April 15, 2017
Join one of two ongoing sustainable development projects in Mexico during Summer 2017. Project work focuses on diagnosis of public health and educational aspects of vulnerable communities (Hidalgo), or environmental sustainability (Queretero). Intermediate Spanish is required, and the program is ISA-eligible. Please contact MyCIPE@yale.edu with any questions.
Study Abroad
Upcoming Financial Aid Information Session for Year or Term Abroad Students
Thursday, March 30 at 4pm in CIPE Room 369, 55 Whitney Avenue, 3rd Floor
Shalane Hansen-Rodriguez, a representative from Yale's Student Financial Services (SFS) office, will go over the financial aid transfer process for Year or Term Abroad students: To learn more, visit: http://studyabroad.yale.edu/finances/funding#need_funding
Fellowships and Funding
Rhodes & Beyond: UK Postgraduate Fellowships Information Sessions
Tuesday, March 28th at 4 @ CIPE, 55 Whitney Avenue, 3rd Floor
Tuesday, April 4th at 4 @ CIPE, 55 Whitney Avenue, 3rd Floor
There are UK fellowship options post-graduation in almost any subject, scientific research, and more—for US citizens and international students. Get the inside scoop from Yale's UK fellowships adviser. Application deadlines begin in August before senior year, so now is the time to begin. You must attend a Rhodes & Beyond Information Session before you can meet with Yale's UK fellowships adviser for a one-on-one appointment.
Global Health: Yale-Collaborative Action Project (Y-CAP) Deadline
Applications are due on Thursday, March 30th by 1:00 PM in the Student Grants Database.
Y-CAP awards teams of 2 - 4 students (undergraduate and graduate) funding for summer global health projects. Projects should address challenging problems affecting the health of global disadvantaged populations.
Fulbright Information Sessions
Friday, April 7th at 12:30 PM @ CIPE, 55 Whitney Avenue, 3rd floor.
Fulbright Grants offer many terrific postgraduate opportunities—from scientific research to the practice of an art to the teaching of English in more than 160 countries. Start by getting the inside scoop from Yale College's Fulbright Program Advisers. Campus review process begins in August, so now is the time to begin planning your application. 
Writing for National Fellowships
Friday, April 7th at 2:00 PM @ CTL, 301 York Street, Room 120C
Thinking of applying for national fellowships like the Fulbright, Marshall, Mitchell, and Rhodes, Schwarzman, or the Truman? Get a head start on your application essays with insights and advice with experts from the Center for Teaching and Learning.
Office of Career Strategy
Drop-in Advising 
Monday-Thursday, 10:00am-4:00pm, Office of Career Strategy
Friday, 10:00am-4:00pm, Hall of Graduate Studies, Room 122
Life After Yale Series: Success Your First Year on the Job
Wednesday, March 29, 4:00pm-5:00pm, Office of Career Strategy
Learn tips and strategies on how to succeed during your first year on the job.
Life After Yale Series: Financial Literacy
Tuesday, April 4, 4:00pm-5:30pm, Rose Alumni House
Join Yale Alums, Stephen Blum, career long CPA and investment banker and John Caserta Managing Partner at Caserta & de Jongh, to discuss financial literacy.  Topics will include: how to prepare income taxes, understanding your pay stub, how to budget money for eating, clothes and entertainment.
Yale Career Panels: 'A Candid View of the Real Estate Profession' 
Tuesday, April 4, 4:30pm-5:30pm Register for just one venue.
2017 Yale Summer Events in San Francisco Director Position
Apply by April 4. Contact Stephanie Waite with questions.
2017 Boston Red Sox Sports & Entertainment Career Fair
Wednesday, April 5, 1:00pm-4:00pm, Fenway Park
Careers, Life and Yale: Entrepreneurship: Starting, Surviving, Sustaining, Succeeding
Join fellow students and alums on Friday evening, April 7 and Saturday afternoon, April 8.
Want to join forces with Yale alums to explore the joys and challenges of entrepreneurial careers? Of getting in on the ground floor? Or maybe even…of building the ground floor? Yalies have great stories for you – with lots of career/life wisdom. From Yale alums, learn how to start, survive, sustain and succeed in diverse fields such as education, technology, not-for-profit, finance, and many more. Limited capacity. Deadline April 5. Register at: https://www.surveymonkey.com/r/CLYApr2017
Visit the Calendar of Events for a full list of upcoming OCS events. Log in to Yale Career Link, powered by Symplicity under Events/Employer Information Sessions to RSVP.