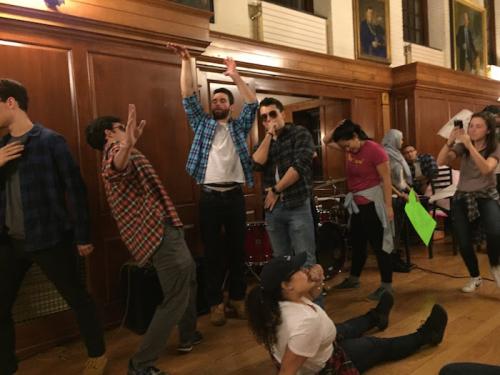 TD Notes and News – Week of 1/23
Head of College's Pieces
Dear Red Lions,
We had a great TD turnout yesterday for the Integrated Refugee & Immigrant Services Run/Walk in East Rock park.  A record-breaking 2500 participants from New Haven and beyond showed up to run through beautiful East Rock Park to raise money for IRIS.  This week's "photo of the week" features our amazing Tim Foldy-Porto '19 who won first place in the 16-19 age division!  Some of you may remember that he came in 6th in the New Haven Road Race this year.  Congratulations, Tim! 
Congratulations also go to all the wonderful performers in our spring Community Night who again lit up the evening with their talents and spirit!  Everyone was wonderful, but I want to especially thank the Frocos for performing in their last Community Night!  As we've come to expect they were a model of precision in showing off their teamwork!  Only thing missing was a cowbell…
And we also want to congratulate Sem Kroon '18, Jack Atwater '19, and Tong-il Ko '18 on their big Final Cut win this Wednesday.  Look for them to practice their cooking skills during the dinner service.  
Here are our important events for this week:
Tuesday 2/7 5:30pm Senior Mellon Forum
Our spring Senior Mellon Forum Series starts up again.  Wonderful senior project presentations and great food. 
Tuesday 2/6 & Wednesday 2/7 Freshman Fireside Chats (TD House)
All freshmen should have received a note from chief Froco, Blake Mueller, regarding sign ups for a session. 
Thursday 2/8 Yohannes Abraham Yale '07 (TD House)
Yohannes Abraham served as the Special Assistant to President Obama and the Chief of Staff for the Office of Public Engagement and the Office of Intergovernmental Affairs. Abraham also served as the Deputy National Political Director on the Obama-Biden 2012 campaign.  Before joining the Obama-Biden 2012 campaign, Abraham was the National Political Director at Organizing for America, and also served in the White House Office of Legislative Affairs during the passage of the Affordable Care Act, the American Recovery and Reinvestment Act, and other key pieces of legislation.
Here are wonderful events coming up for next week:
Sunday 2/12 12-1pm "Meet the Alum" Brunch with Shelley Fisher Fishkin Yale '71, PhD '77
Professor Fishkin graduated in the first class of women at Yale.  She is currently one of the most well known and respected scholars in the field of American literature and American Studies writing and teaching today.  Much of her work has focused on Mark Twain but the breadth of her research includes Gloria Anzaldua, John Dos Passos, Federick Douglass, Theodore Dreiser, W.E.B. Du Bois, Paul Laurence Dunbar, Charlotte Perkins Gillman, Maxine Hong Kingston, Tillie Olsen, and Walt Whitman.  She has focused on recovering and interpreting voices that were silenced, marginalized, or ignored in America's past.  At Stanford University where she teaches, she has also been instrumental in launching digital humanities initiatives.  To learn more about her work, please go to her webpage.  If you're interested in brunch with Professor Fishkin, please sign up at this link. 
Sunday 2/19 2-4pm Baking Class with Katalina's Cupcakes (Student Kitchen)
Back by popular demand, we are excited to host Katalina of Katalina's cupcakes just one block up from TD on Whitney Avenue.  We'll be baking in the TD student kitchen.  We have room for 15 students to attend.  Please go to this link to sign up!
Without further ado, here is a word from Dean Mahurin…
Áshe,
HoC Lui
******
 
"For the Boys at the Bottom of the Sea"
Clint Smith
We are charred vessels
vestiges of wood & wonder
anchors tethered to our bows.
It is the irony of a ship burning
at sea, surrounded by
the very thing that could
save us.
 
(If you liked that, there are still a couple of openings in TD Reading Group for Thursday 1:00-2:00… email me for more details.)
IMPORTANT DEADLINES
 
 
 
 
 
 

Feb. 10

F

Withdrawal from Yale College on or before this date entitles a student to a rebate of one-half of spring-term tuition. See Undergraduate Regulations.
Last day to convert from the Credit/D/Fail option to a letter grade in a course offered in the first half of the term. See Grades.

Feb. 15

W

Deadline for applications for Yale Faculty-led Programs Abroad.

Feb. 24

F

Last day to withdraw from a course offered in the first half of the term. See Withdrawal from Courses and Grades.

Mar. 1

W

Classes begin for courses offered in the second half of the term.

Mar. 5

SU

Deadline to apply for a fall-term 2017 Term Abroad or a 2017–2018 Year Abroad. See Special Arrangements.

Mar. 10

F

Midterm.
Spring recess begins, 5:30 p.m.
Last day to withdraw from a full-term course without the course appearing on the transcript. See Withdrawal from Courses and Grades.
Deadline to apply for double credit in a single-credit course. See Special Arrangements.
Withdrawal from Yale College on or before this date entitles a student to a rebate of one-quarter of the term's tuition. See Undergraduate Regulations.
---
On Saturday, February 11th, 2017, Commons will fill up for a Spring Organizations Bazaar!
Do you find yourself wishing you had a way to explore a new interest? Are you looking at your schedule this semester and feeling like something is missing? Come join us from 11 am-1:30 PM on February 11th in Commons.  You don't have to be a first-year student to find a new group to join—student organizations are fluid and any time is a good time to jump into a new organization. The Spring Bazaar will feature both undergraduate organizations and graduate/professional school organizations that welcome undergraduates.
Questions about the Spring Bazaar? Email us at student.organizations@yale.edu. We'll see you February 11th!
Finance/Consulting Career and Life Lessons… From, With, and For Yalies (Feb 10/11)
Register at: https://www.surveymonkey.com/r/CLYFCFeb2017  and also RSVP to stephen.blum@yale.edu(Feb 3 deadline)
Want career and life insights from amazing people? Want to network and problem-solve with caring alums? In an elegant on-campus setting?Register for Careers in Finance and Consulting in New Haven on Friday night, February 10thandSaturday afternoon, February 11th.
The AYA has invited alums from varied finance and consulting fields back to campus on February 10th and 11th as part of Yale's innovative "Careers, Life, and Yale" (CLY) program.  This is your special chance: a deep dive into a finance/consulting focused career/life think-tank.  In panel workshops, you'll brainstorm side-by-side with Yale College and G&P students while hearing from (and networking with) with alums. Our alums will describe their career challenges and life-lessons-learned.  Our Friday session kicks-off with a keynote session followed by dinner-plus-working sessions (life skills) at the Whitney Humanities Center (53 Wall Street). You'll continue on the following (Saturday) afternoon with workshops focused on finance and consulting.  Your sessions will be truly interactive. You'll have time and ways to connect with students and (especially) alums. Right afterwards, we'll host a networking reception.
Next steps. Want to attend? Space is limited! Feb 3 deadline:
• Register at: https://www.surveymonkey.com/r/CLYFCFeb2017 and also
• RSVP to stephen.blum@yale.edu
 
The 2017 Acheson Prize For Outstanding Essays in International Studies - Presented by YRIS
 
The Acheson Prize is awarded for original, unpublished undergraduate essays on international questions broadly understood. Winners will receive cash prizes, and winning submissions will be published in the Acheson Prize Issue of the Yale Review of International Studies (YRIS) in Spring 2017.  Cash prizes will total $1000. A blind panel of Yale professors with diverse expertise will serve as judges and select winners.
 
The deadline to submit is Wednesday, February 8 at 11:59pm.  Please see below for eligibility rules and submission criteria.
Eligibility
All undergraduates currently enrolled as full-time students in Yale College are  eligible to enter, excluding editors of the Yale Review of International Studies. 
Submissions may have been written for any class from any major, or  independent of coursework.
Entrants are limited to a single submission each. 
Rules and Procedures
Essays should be submitted as word files via email to yris@yira.org. 
Essays should be between 10 and 40 pages, double-spaced, Times New  Roman font, size 12, with 1 inch margins.
In the text of your email, you must include: name, class, college, phone  number, and major.
Because selection is blind, essays must not include: name, course title, or  professor.
Essays must use full footnotes, formatted according to the Chicago Manual of  Style. Essays not formatted accordingly will be disqualified.
Essays will be considered to be in their final, finished form, and will be published as written.
Feel free to direct any questions to yris@yira.org
---
French Tables Spring 2017
Jonathan Edwards
Mondays, 12:30 to 1:30 p.m.
Jessica Kasje
Timothy Dwight
Tuesdays, noon to 1 p.m.
Matuku Ngame
Saybrook College
Wednesdays, 12:30 to 1:30 p.m.
Ruth Koizim
Trumbull College
Thursdays, noon to 1 p.m.
TBA
Davenport College 
Fridays, 12:30 to 1:30 p.m.
Candace Skorupa
---
CIPE
STUDY ABROAD
Information Session and Party for the Yale Summer Session in Paris
Wednesday, February 8, 4pm – 6pm
Romance Language Lounge, 82-90 Wall St., 3rd Floor (map)
Prospective 2017 summer participants should come and enjoy delicious French deserts with the instructors and past participants of the Elementary & Intermediate French I & II Program. Please RSVP Prof. Matuku Ngame (matuku.ngame@yale.edu) if you plan to attend to ensure there is enough desert to go around! 
FELLOWSHIPS AND OTHER FUNDING
Programs and Events
Proposals Writing Workshop: Tuesday, 2/7, 3-4pm @ CIPE, 55 Whitney Ave.
Learn what goes into an effective fellowship proposal, how to create a budget, and other resources you can use to construct a successful fellowship application.
Interviewing for National Fellowships Workshop: Friday, 2/10, 12:30-1:30pm @ CIPE, 55 Whitney Ave.
Fellowships and OCS team up for an interview workshop tailored to impressing the selection committee of major national fellowships you may apply to.
Fellowships for Seniors and After Graduation Information Session: Thursday, 2/16, 3-4pm @ CIPE, 55 Whitney Ave.
Come learn about fellowships for seniors and after graduation. (Some national fellowships have deadlines as early as the summer; juniors are very welcome to attend.)
Upcoming Deadlines
2/13/17 - YALE NOMINATION DEADLINE EXTENDED -  Native American, Alaska Natives, and U.S. citizens and permanent residents committed to environmental conservation can apply for the Udall Undergraduate Scholarship. Scholarships in: Tribal Policy, Native Health Care, and Environment. Scholars receive $7,000, attend Scholars Orientation, and gain access to a network of change-makers working in Indian Country and environmental fields. More at udall.gov. 
2/15/17 - Apply for CIPE Summer Fellowships using the CIPE Common Application: one application that can be used to apply for multiple CIPE fellowship competitions. This fellowship collection includes funding for internships, such as the Sunrise Travel Grant, funding for studying abroad, such as the Class of 2004 Fellowship, and funding for independent projects and research, such as the Thomas C. Barry Fellowship. 
2/22/17 - Apply for Global Health Fellowships including the Seed Funding Award for Global Health Scholars, Global Health Field Experiences Fellowships, and Research Fellowships in Global Health Studies. 
2/28/17 - Apply for CIPE Summer Research Fellowships for Juniors using the CIPE Common Application: one application that can be used to apply for multiple CIPE research opportunities for Juniors, many of which support senior essays and senior projects in a range of social science and humanities fields. 
3/1/17 - Apply for the U.S. Department of State's Benjamin A. Gilman Scholarship Program, an undergraduate grant program for U.S. citizens of limited financial means to study or intern abroad. 
OFFICE OF CAREER STRATEGY
Drop-in Advising 
Monday-Thursday, 10:00am-4:00pm, Office of Career Strategy
Friday, 10:00am-4:00pm, Hall of Graduate Studies, Room 122
Summer 2017 Yale-coordinated Internships: Re-Opened Opportunities
Over 50 Yale-coordinated Internship opportunities for summer 2017 have been re-opened in Yale Career Link, powered by Symplicity.  The application deadline is Tuesday, February 7 at 9:30am.
What is a Career in Criminal Law?
Wednesday February 8, 4:15pm-5:15pm, Office of Career Strategy
Join a federal defender, state prosecutor, public defender and an attorney in private practice as they talk about their careers in criminal law.
RSVP
Conducting the Job Search
Thursday, February 9, 5:00pm-6:00pm, Office of Career Strategy 
RSVP
Effective Cover Letter and Resume Writing Workshop
Wednesday, February 15, 5:00pm-6:00pm, Office of Career Strategy
RSVP
CT Exchange-Virtual Career Fair
Monday, February 13-Friday, February 17
Click here to register
CBI Insights at Yale Webinars
Friday, February 24, 10:00am-11:0am (details at: http://schedule.yale.edu/event/3087471)
Careers, Life and Yale–The Art of Public Speaking
Friday, February 10, 1:30pm–4:00pm, Afternoon snacks on hand
Workshop leader: Robert Russell '89 (actor, comedian, director/producer, Yale Drama School grad)
Requirement: Be ready to give a 2-3 minute pitch on whatever you want (e.g., informative, persuasive, autobiographical)
Apply to attend at https://clyartofspeaking.eventbrite.com – $9 deposit ($10 to be refunded at event)
Careers, Life and Yale: Finance and Consulting: Career and Life Skills
Friday, February 10, 5:00pm–9:00pm PLUS Saturday, February 11, 1:00pm–5:00pm
Friday evening (February 10) keynote informal dinner alumni-led life-skills workshops (choose 2): Mock interviews, Networking, Resumes
Saturday afternoon (February 11) continuation–keynote (Yale Senior VP/Operations Jack Callahan '80) alumni-led career workshops (choose 2):  Banking, Alternative Finance, In-house Finance, Consulting
Concluding reception (with food): networking with alumni
Apply to attend at https://www.surveymonkey.com/r/CLYFCFeb2017
Space for both events is limited. Contact AYA Senior Director Steve Blum '74  with questions at stephen.blum@yale.edu.
Yale Career Panels: A Candid View of R&D
Tuesday, February 14, Rose Alumni House, Great Hall
Registration required-Please register for just one venue (Yale or the webinar)
Visit the Calendar of Events for a full list of upcoming events. Log in to Yale Career Link, powered by Symplicity under Events/Employer Information Sessions to RSVP.
YALE SUMMER SESSION
Click here to apply for Summer Session courses in New Haven and online.
Be a Residential Counselor this Summer!
Yale's residential colleges are an exciting place to be during the summer. In addition to the Yale students taking summer classes, we have an extremely talented and diverse group of students from all over the U.S. and the world. Spend your summer living and guiding these students through their Yale summer experience. We are looking for motivated and energetic students to share their love of Yale with all of the summer students. Please click here for the detailed job description and application.
GLOBAL SUMMER PROGRAM
NEW PROGRAM! University of Cape Town in South Africa
We are thrilled to announce that the University of Cape Town in South Africa has joined the IARU partnership and will join the 2017 program with the course: "Sustainable Water Management in Africa" from July 17-28, 2017. 
Earn Yale Credit on a Global Summer Program
Southeast Asia in Context in Singapore
1 Yale Credit, 1 general transfer credit
Southeast Asia in Context is five-week exploration of Southeast Asia's geographical, historical and cultural diversity. This course takes advantage of Singapore's strategic position in offering a unique blend of classroom instruction at NUS campus with hands-on fieldwork in Myanmar and Indonesia. http://studyabroad.yale.edu/programs/southeast-asia-context
Funding for a Global Summer Program
Students interested in the University of Tokyo can apply for a scholarship offered by the Friends of UTokyo. Application due Feb. 15, 2017.
Yale Summer Session
New Haven ● Online ● Abroad