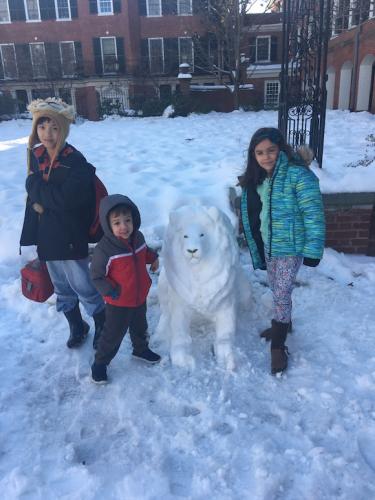 TD Notes and News – Week of 2-13
Head of College's Pieces
Dear Red Lions,
Winter has finally arrived and TD is definitely in winter wonderland mode.  This week's "photo of the week" comes from TD Resident Fellow Lisa Bajwa and is titled "Snow Lions" and features some of the TD children – Octavio, Luqman, and Aya – and a stunning lion sculpture!  Thank you, Lisa!
TD Aides applications are here!  We are looking for energetic TDers to be a part of our aides team to support all the great events we do in the college – teas, dinners, trips, etc.  Aides also are critical to the care of TD's spaces – buttery, student kitchen, weight room, etc.  If you are interested please send in your application (attached to this email) by Sunday 2/19.  
Here are our important events for this week:
Sunday 2/19 2-4pm Baking Class with Katalina's Cupcakes (Student Kitchen)
Please note that sign-ups have closed.  We'll notify folks who made it through the lottery by tomorrow.
Sunday 2/19 10pm TD Ramen Night (TD Buttery)
The TD Buttery staff will be hard at work making beautiful bowls of ramen this Sunday night.  They plan to have pork and vegetarian options so come on down before the food runs out!  If you need more convincing check out this picture of the sample bowl they made last weekend!
Here are wonderful events coming up for next week:
Thursday 2/20 4:30pm Tea with Henry Blodget, CEO of Business Insider
Henry Blodget is cofounder, CEO, and editor-in-chief of Business Insider, one of the most-read business and tech news sites in the world. Business Insider has 80-plus million visitors a month worldwide.  A former top-ranked Wall Street analyst, Henry is often a guest on CNBC, CNN, MSNBC, NPR, and other networks. He has contributed to The Atlantic, Slate, The New York Times, Fortune, New York, the Financial Times, and other publications. Henry graduated from Yale and TD in 1988.
Without further ado, here is a word from Dean Mahurin…
Áshe,
HoC Lui
*****
"First Sight" (Phillip Larkin)
Lambs that learn to walk in snow
When their bleating clouds the air
Meet a vast unwelcome, know
Nothing but a sunless glare.
Newly stumbling to and fro
All they find, outside the fold,
Is a wretched width of cold.
As they wait beside the ewe,
Her fleeces wetly caked, there lies
Hidden round them, waiting too,
Earth's immeasurable surprise.
They could not grasp it if they knew,
What so soon will wake and grow
Utterly unlike the snow.
IMPORTANT DEADLINES
Feb. 15

W

Deadline for applications for Yale Faculty-led Programs Abroad.

Feb. 24

F

Last day to withdraw from a course offered in the first half of the term. See Withdrawal from Courses and Grades.

Mar. 1

W

Classes begin for courses offered in the second half of the term.

Mar. 5

SU

Deadline to apply for a fall-term 2017 Term Abroad or a 2017–2018 Year Abroad. See Special Arrangements.

Mar. 10

F

Midterm.
Spring recess begins, 5:30 p.m.
Last day to withdraw from a full-term course without the course appearing on the transcript. See Withdrawal from Courses and Grades.
Deadline to apply for double credit in a single-credit course. See Special Arrangements.
Withdrawal from Yale College on or before this date entitles a student to a rebate of one-quarter of the term's tuition. See Undergraduate Regulations.
---
---
SPRING OFF-CAMPUS HOUSING FAIR
Sunday, March 5, 2017
1:00-4:00 p.m.
Schwarzman Center
---
For Fiction and Non-Fiction
DEADLINE IS WEDNESDAY, MARCH 8, AT 5 PM
The Prize:
The editors of the Yale Daily News Magazine would like to invite you to apply for the Wallace Prize, the most prestigious independently awarded undergraduate writing prize for fiction and non-fiction at Yale. Winners will receive a substantial cash prize and winning submissions in each category will be published in a special issue of the Yale Daily News Magazine.
Submissions Procedure:
The cover sheet is attached to this email. Cover sheets are also available in the foyer of the Yale Daily News building (202 York Street), across the street from Jonathan Edwards College. The building is generally open from 7 PM onwards Sunday through Thursday evenings. Sheets will also be available in the English Department office. 
Entrants must submit four copies of each piece to the Wallace Prize box in the foyer of the Yale Daily News building by MARCH 8, at 5 p.m. No late entries will be accepted. Please do not put your name anywhere on the submissions except on the cover sheet.
Judges are professionals drawn from the fields of academia and journalism, and have no connection to the Yale Daily News. The specific division of funds will be distributed to the top winners according to the discretion of the judges.
The Fine Print:
•   Each submission must be between six and twenty double-spaced pages in length.
•   Each entrant may submit up to three previously unpublished pieces of fiction or non-fiction.
•   By unpublished, we mean that pieces may not have been printed in any campus or professional publication. Winning submissions have been disqualified in past years for failure to comply with this rule.
•   Special to non-fiction: The Magazine reserves the right to revoke the prize from a recipient who has not made reasonable attempts to uphold professional standards of accuracy. After winners have been selected, the Magazine may request to see notes on sources and research for the piece.
•   All undergraduates currently enrolled as full-time students in Yale College are eligible to enter except previous winners.
•   The Yale Daily News Magazine will print winning pieces as written. All submissions will be considered to be in their final, finished form. The Magazine reserves the right to disqualify pieces with numerous grammatical and spelling errors.
•   All work will be published under the writer's real name. No awards will be given to writers who wish to publish under pseudonyms.
•   The Wallace Prize is awarded annually in memory of Peter J. Wallace '64, a former member of the Yale Daily News editorial board. It is endowed by the Peter Wallace Memorial Fund and is presented in conjunction with the Yale Daily News Magazine.
Questions?
Email the Yale Daily News Magazine editors at gabriella.borter@yale.edu and monica.wang@yale.edu
FELLOWSHIPS AND OTHER FUNDING
Programs and Events
Fellowships for Seniors and After Graduation Information Session: Thursday, 2/16, 3-4pm @ CIPE, 55 Whitney Ave.  Come learn about fellowships for seniors and after graduation. (Some national fellowships have deadlines as early as the summer; juniors are very welcome to attend.)
Upcoming Deadlines
2/15/17 - Apply for CIPE Summer Fellowships using the CIPE Common Application: one application that can be used to apply for multiple CIPE fellowship competitions. This fellowship collection includes funding for internships, such as the Sunrise Travel Grant, funding for studying abroad, such as the Class of 2004 Fellowship, and funding for independent projects and research, such as the Thomas C. Barry Fellowship. 
2/22/17 - Apply for Global Health Fellowships including the Seed Funding Award for Global Health Scholars, Global Health Field Experiences Fellowships, and Research Fellowships in Global Health Studies. 
2/28/17 - Apply for CIPE Summer Research Fellowships for Juniors using the CIPE Common Application: one application that can be used to apply for multiple CIPE research opportunities for Juniors, many of which support senior essays and senior projects in a range of social science and humanities fields. 
3/1/17 - Apply for the U.S. Department of State's Benjamin A. Gilman Scholarship Program, an undergraduate grant program for U.S. citizens of limited financial means to study or intern abroad. 
Yale Career Panels: A Candid View of R&D
Tuesday, February 14, Rose Alumni House, Great Hall
Registration required-Please register for just one venue (Yale or the webinar)
Visit the Calendar of Events for a full list of upcoming events. Log in to Yale Career Link, powered by Symplicity under Events/Employer Information Sessions to RSVP.
YALE SUMMER SESSION
Click here to apply for Summer Session courses in New Haven and online.
Be a Residential Counselor this Summer!
Yale's residential colleges are an exciting place to be during the summer. In addition to the Yale students taking summer classes, we have an extremely talented and diverse group of students from all over the U.S. and the world. Spend your summer living and guiding these students through their Yale summer experience. We are looking for motivated and energetic students to share their love of Yale with all of the summer students. Please click here for the detailed job description and application.