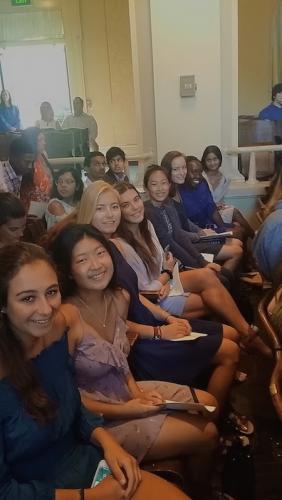 Notes and News – Week of 8/28
HL's Pieces
Dear Red Lions,
Welcome back everyone and welcome to the first issue of "Notes and News" for the 2017-2018 year!  First, a warm welcome to the class of 2021!  As in year's past, we moved in our new first years with great energy and spirit thanks to the tremendous help from our TD community!
Speaking of the first years, this week's "photo of the week" is titled "Welcome to Yale," and is from TD senior and Froco Claire Kim.  She snapped this picture of her froco group and other TDers at our First Year Assembly this past Saturday!  Going from left to right, we have: Ariadne Letrou, Clare Wu, Emery Wallace, Erin Gerardo, Antalique Tran, Marianna Costeletos, Rebecca Amonor, and Ananya Kumar-Banerjee.  Sitting right behind them are Allie Gonzalez, Ashwin Chetty, and Ziad Ahmed.  Welcome to all of you and the Class of 2021!
For all of you new to TD and our weekly "Notes and News," please note that we feature a special photo in each issue.  So please consider sending in a picture to be the "photo of the week".  The photo should capture a day in the life of TDers – inside or outside of the college – accompanied by a title or caption and the names of the TDers pictured.  Please email them to my email address mary.lui@yale.edu and I'll select a photo from the entries for the upcoming week's newsletter. 
Please note that my TD office hours this year will be on Wednesday and Fridays from 1:30-3:30pm.  I'll meet everyone in the TD Head of College office during that time.  To make an appointment, please contact my senior administrator, Karen McGovern, at Karen.mcgovern@yale.edu.  She'll also help you find an alternative time to meet if those hours are not convenient.
Lastly, Community Night is set for September 12th starting at 8:30pm!  TD junior Dennis Vu is once again organizing the night's festivities.  Please go to this link to sign up! 
Looking ahead, here are some important dates to note: 
Monday 8/28 7-8pm Big Sibs/Little Sibs Ice Cream Social (TD Courtyard)
If you haven't already found your sibs, here is a wonderful opportunity to meet up and enjoy some good ice cream in our lovely courtyard!
Tuesday 8/29 First Years' Reception (5:30pm) and Dinner (6:15pm)
Dress up and celebrate the start of your Yale career.  We begin with a light reception in the Timothy Dwight College house where you'll receive your TD college pin.  Then we'll make our way to our beautiful dining hall for dinner.  All upperclassmen from all colleges will head to Old Campus for a cookout. 
 
Monday 9/4 4pm Creative and Performing Arts (CPA) Awards Deadline 
Deadline to apply for funding for and performing arts, visual, or publication project is fast approaching. For this funding cycle, we are accepting proposals for projects that will go into the first half of the spring semester.  Please go to http://creativeandperformingarts.yale.edu/ for a more detailed description and a link to the application.  Please make sure to discuss the project with myself before submitting your application.  You can make an appointment for my TD office hours by contacting my Karen McGovern.
Monday 9/4    Annual Labor Day New Haven Road Race
There are still a few spots left in the Labor Day race so please sign up this week!  Go to the New Haven Road Race Registration Link and enter the code TD5K for the 5K race and TDHALF20K for the 20K race for your free entry.  Online Registration closes at 12pm on Sunday 9/4 so don't delay.  
Monday 9/4  First Years' Outing to Sunnyside Farm
For decades, TD has had the tradition of taking our first years on a special class outing.  This year, we're fortunate to have the opportunity to go to Sunnyside Farm, the home of Timothy Dwight College fellows Judge Guido Calabresi and Anne Calabresi.  We'll have a cookout and games to celebrate the start of your Yale career!  Stay tuned for our departure time shortly after New Haven roads reopen following the annual Labor Day race.
Without further ado, here is a word from Dean Mahurin…
Áshe,
HL
 ****
 
Welcome back, TD!  As I did for the last two years, I will ingurate Dean's Domain with the opening poem from Shel Silverstein's collection Where the Sidewalk Ends. 
 
"Invitation"
If you are a dreamer, come in
If you are a dreamer, a wisher, a liar,
A hope-er, a pray-er, a magic bean buyer…
If you're a pretender, come sit by my fire
For we have some flax-golden tales to spin.
Come in!
Come in!
 
ACADEMICS – come in!
Don't forget tomorrow's mandatory registration meetings for upperclassmen in the dining hall.
Class of 2020 – 9:00 a.m.
Class of 2019 – 9:45 a.m.
Class of 2018 – 10:30 a.m.
 
If you miss this meeting, the registrar's office will charge you fifty bucks, and you'll need to petition Dean Joel Silverman in Academic Affairs for permission to register late.  Additionally, after a certain point, lateness is equivalent to absence, and you'll also be charged fifty bucks.  None of these fees line my or ML's or TD's pockets, and we don't enjoy having them imposed on you.  Please be on time!
(Also, I want to see all of your smiling faces.)
 
UPCOMING DATES AND DEADLINES
August 30                Classes begin
September 1           Friday classes do not meet; Monday classes meet instead
September 4           Labor Day; classes do not meet
September 13         Deadline to apply for a fall term Leave of Absence. See me if you are thinking about requesting a leave of absence for this fall term.
                                  All students planning to complete degree requirements at the end of the fall term must file a petition by this date.
 
Preliminary Online Course Schedules
In both fall and spring terms, students in all classes must create a preliminary course schedule in Online Course Selection (OCS) by 11:59 p.m.on the day before classes begin – that's Tuesday night!  Students who fail to submit a preliminary schedule by the deadline will be charged a fine of fifty dollars by the registrar (this is their magic number).  The preliminary course schedule must contain at least three course credits.  You're expected to edit their online course schedules regularly during the course selection period, retaining courses they are actively considering and removing courses in which they do not plan to enroll.
 
Course Schedule Deadlines (all at 5:00 p.m.):
Classes of 2021 – Monday, September 11
Classes of 2019 and 2020 – Tuesday, September 12
Class of 2017 – Wednesday, September 13
Schedules are handed in to Trish Cawley in the TD Dean's Office.  The 5:00 p.m. deadline is strictly enforced.  A late schedule incurs a fine of fifty dollars (there it is again!) and a late schedule may not elect any courses CR/D/Fail. 
A schedule of 3.0 or 3.5 course credits OR a schedule of 6.0 or 6.5 course credits needs my permission before the schedule is handed in.  Email Trish at patricia.cawley@yale.edu to schedule an appointment to see me.
 
On-line Course Selection: www.yale.edu/sis
1.       Use the worksheet capabilities to search courses to shop during shopping period.  
2.       After you have settled on the courses you will take, print your final schedule.
3.       Take the final schedule to your adviser for the signature. Sign the schedule.
4.       Hand in your signed schedule to the TD Dean's Office by the deadline for your class. 
     
I'll remind you that (1) the program does not check for conflicts in class meeting times (that is every student's responsibility) and that (2) once you print your final schedule, you cannot reenter the program to make changes and print a different final schedule.  Including or removing a course (after meeting with your adviser, for instance) must be hand written on the printed final schedule itself (in the Include and Remove Sections), and each change must be initialed by your adviser or me before the deadline for handing in the hard copy.
 
Independent Studies (Directed Reading, Directed Research, etc. as listed by most departments). There are limits on the number that a student can enroll in during a given year and over four years. Enrolling in an independent study requires the additional permission of a Director of Undergraduate Studies.
 
A list of Sc courses without prerequisites may be found at http://science.yalecollege.yale.edu/academics/faculty-resources/science-courses-without-prerequisite.
 
A list of QR courses without prerequisites may be found at http://science.yalecollege.yale.edu/academics/courses/qr-courses/qr-courses-without-prerequisite.
 
Welcome back, again!