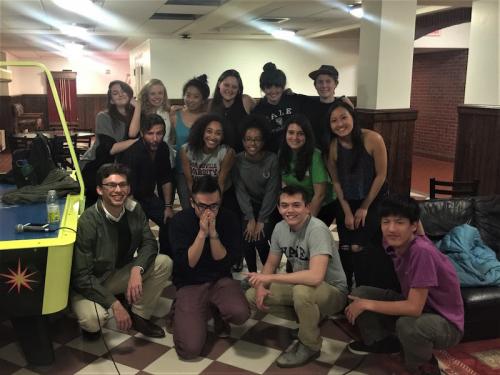 TD Notes and News – Week of 4-24
Head of College's Pieces
Dear Red Lions,
Welcome to the last week of classes in Yale College and Bulldog Days!  Hard to believe but we are quickly moving toward the finish line of the spring 2017 semester!   I hope everyone gets a few quiet minutes to reflect on this past year before the semester has truly ended.  
Our writing tutor, Diane Charney, wants all of you to know that she has created special TD office hours for anyone who'd like to work with her.  She will be available through the reading period to 5/4.  To reach her, please email her directly at diane.charney@yale.edu.
Please note that the Buttery's last day of food service will be on Thursday 4/27.  We are closing the gym and multi-purpose room after Sunday.  On Monday the staff will need to start clearing out the area and setting up for summer storage.  You will all be receiving a note this week about summer storage so stay tuned!  
So much happened last week – Chubb Fellowship, TD Formal, Dinner/Talk with Artist Rick Berry dinner, and TD Crawfish Boil to name just a few – that it's almost impossible to select just one "photo of the week".  But I'm going to go with this shot of SAC's Karaoke Night in the Buttery sent by SAC president, Elayna Garner '20.  Great to see the mix of TD freshfolk and juniors and seniors!
This week will be less packed, but the events will be just as important! 
 
Tuesday 4/25 5:30-7pm Farewell BBQ for the McCormicks
A special dinner to honor the many years of incredible service that David and Lanch McCormick have given TD.  Please remember "family dinner" protocol will be in effect so the dining hall will not be accepting dinner transfers.  Please note that there is a forecast of rain for tomorrow but the celebration will go on!  We will just move inside.  So no rain date!
 
Friday 4/28  TD Day
Celebrate the last day of classes with bouncy houses galore accompanied by a great cookout, pop corn, cotton candy, and ice cream. 
 
Sunday 4/30 TD 2-4pm Block Party (Temple between Grove & Wall) 
We are celebrating the new crosswalk on Temple and Wall by throwing a neighborhood block party!  We're working on closing the street to set up lemonade, cookies, face painting and chalking!  We're inviting our Silliman neighbors as well as our New Haven neighbors.  Come join the fun!
 
Next week, TD senior dinner will be on Tuesday 5/2 in the TD Dining Hall.  We look forward to celebrating the last 4 years with all of you!
Without further ado, here is a word from Dean Mahurin…
Áshe,
HoC Lui
******
"All Your Horses"
Kay Ryan
Say when rain
cannot make
you more wet
or a certain
thought can't
deepen and yet
you think it again:
you have lost
count. A larger
amount is
no longer a
larger amount.
There has been
a collapse; perhaps
in the night.
Like a rupture
in water (which
can't rupture
of course). All
your horses
broken out with
all your horses.
---
IMPORTANT DEADLINES
Apr. 28

F

Classes end, 5:30 p.m.; reading period begins.
Last day to withdraw from a full-term course or a course offered in the second half of the term. See Withdrawal from Courses and Grades. 

May 1

M

Applications for fall-term Leaves of Absence due. See Leave of Absence, Withdrawal, and Reinstatement.

May 4

TH

Reading period ends, 5 p.m.
Final examinations begin, 7 p.m.†
Deadline for all course assignments, other than term papers and term projects. This deadline can be extended only by a Temporary Incomplete authorized by the student's residential college dean.

May 10

W

Examinations end, 5:30 p.m.
Deadline for all term papers and term projects. This deadline can be extended only by a Temporary Incomplete authorized by the student's residential college dean.

May 11

TH

Residences close for underclassmen, 12 noon.

May 22

M

University Commencement.

May 23

T

Residences close for seniors, 12 noon.
---
---
INTERNSHIP OPPORTUNITY FOR RESIDENTS OF L.A. COUNTY
The Getty Foundation, with the LA County Arts Commission, has funded internships for undergraduates of color for the past 25 years.
These are 10-week internships at the Getty and arts organizations throughout LA County that are designed to offer students exposure and experiences in the arts and to career fields they may have never considered, so the students need not have any background in the arts. Here is all the info for students: http://www.getty.edu/foundation/initiatives/current/mui/mui_students.html
Positions at the Getty have already been filled (stay tuned next year for notice of when those opportunities are posted for summer 2018), but they also fund internships ($5000 for 10 weeks) at many LA arts organizations. 
These students are eligible:
Be of a group underrepresented in museums and visual arts organizations, including, but not limited to, individuals of African American, Asian, Latino/Hispanic, Native American, or Pacific Islander descent;
Be currently enrolled undergraduates. Students must have completed at least one semester of college by June 2017. Students graduating in May or June 2017 are also eligible. (Students who are enrolled in a second BA or BS program are not eligible.)
Reside or attend college in Los Angeles County; and
Be a United States citizen or permanent resident.
And these are the current opportunities:
http://www.getty.edu/foundation/initiatives/current/mui/internship_positions.html
https://www.lacountyarts.org/arts-internship-program (This is a sister program to the Getty's, funded by the LA County Arts Commission. Same eligibility requirements as above.)
CIPE
Fellowships and Funding:
Fulbright Information Sessions
Wednesday, May 3rd at 12:30 PM @ CIPE, 55 Whitney Avenue, 3rd Floor
Fulbright Grants offer many terrific postgraduate opportunities—from scientific research to the practice of an art to the teaching of English in more than 160 countries. Start by getting the inside scoop from Yale College's Fulbright Program Advisers and past winners. Deadlines begin in August, so now is the time to start the process. Add a Fulbright session directly to your calendar.
Schwarzman Scholars Program
Tuesday, May 16th at 1:00 PM – Live Webinar, register here.
Inspired by the Rhodes Scholarship, Schwarzman Scholars is an international scholarship program designed to prepare future leaders for success in a world where China plays a key global role. The program will give young leaders from around the world the opportunity to develop their leadership skills through a fully-funded one-year Master's Degree at Tsinghua University in Beijing. No knowledge of Chinese is required. Add a Schwarzman Scholars session directly to your calendar.
Rhodes & Beyond: UK Postgraduate Fellowships Information Sessions
Monday, May 1st at 12:30 @ CIPE, 55 Whitney Avenue, 3rd Floor – last chance this semester
There are UK fellowship options post-graduation in almost any subject, scientific research, and more—for US citizens and international students alike. Get the inside scoop from Yale's UK fellowships adviser and past winners. Deadlines begin in August, so now is the time to start the process. You must attend a Rhodes & Beyond Information Session before you can meet with Yale's UK fellowships adviser for a one-on-one appointment. Add a Rhodes & Beyond session directly to your calendar.
Study Abroad:
International Summer Award
The deadline to receive International Summer Award applications is May 1st.
The International Summer Award (ISA) provides a stipend for one summer experience abroad for all eligible undergraduates receiving Yale financial aid. For information, and to review the application process and deadlines, please visit the ISA website. ISA questions should be directed to MyCIPE@yale.edu.