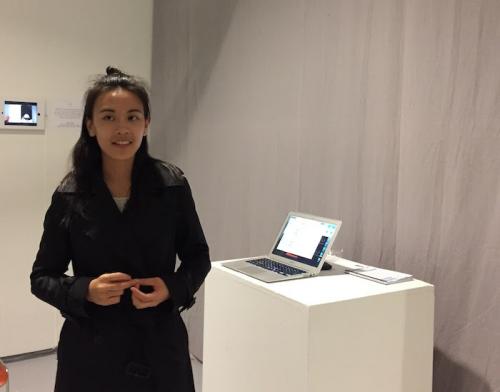 TD Notes and News – Week of 4-17
Head of College's Pieces
Dear Red Lions,
We have two very packed weeks of end of the semester activities including our Chubb events this Tuesday 4/18 with Dr. Hawa Abdi who arrived over the weekend.  We are delighted to have her and her family stay in the college's Chubb guest suite in Entryway A. 
As we move towards the end of the semester, many seniors are celebrating the completion of their senior projects.  This week's "photo of the week" features TD senior Wa Liu at her senior thesis show at the Green Hall Gallery in the School of Art at 1156 Chapel Street. You can see, "Still," by Wa and the work of another TD senior, Chris Paolini (the designer of the many wonderful TD t-shirts these for the last 4 years), at the Undergraduate Senior Projects show on view until 4/21.  In addition, Gian-Paul Bergeron will be screening his senior thesis film, "Periphery", as part of the Yale Student Film Festival this Saturday 4/22.
 
Speaking of the end of the term, I write to remind everyone that our wonderful TD writing tutor, Diane Charney, is open for business and she plans to add extra hours to get TD students over the writing hump!  She does not need a finished draft to help students and can be there to help with any stage of the writing process from brainstorming to polishing.  She will be a great time-saver and stress reliever!  To schedule an appointment, you may just email here at diane.charney@yale.edu.
Here are the important dates for this week:
Tuesday 4/18 4:30pm Chubb Lecture and 7:30pm Chubb Dinner with Dr. Hawa Abdi and Dr. Deqo Mohamed
We are thrilled to be hosting Dr. Abdi in one of her rare appearances in the U.S.  Particularly as Somalia is facing one of the most sever famine and droughts in their recent history, her address is more important than ever.  She will give her Chubb address at SSS auditorium at 1 Prospect.  Everyone who made it through the Chubb lottery has already been notified.  Please note that the TD dining hall will be closed for the special post-lecture dinner so TDers not attending the Chubb dinner will have to dine elsewhere.  I truly apologize for any inconvenience!
Wednesday 4/19 9-10pm TD Karaoke Night (TD Buttery)
SAC is setting up karaoke in the TD Butt.  Bring your friends – singing and non-singing – for some great singing and a good time! 
Thursday 4/20 5:30-7pm Dinner/Talk with Artist Rick Berry (TD House)
Rick Berry's expressionistic figurative paintings are in private collections worldwide, including those of authors Neil Gaiman, Stephen King and George R.R. Martin. His art is exhibited in venues such as Italy's Lucca Museum of Contemporary Art and galleries in NYC, Boston, and San Francisco.  Berry is also credited with creating the world's first digitally painted book cover in 1984 for William Gibson's Neuromancer. 
Friday 4/21 10pm-1am SAC TD Formal (Anna Liffey's)
TD's favorite local spot.  Come with your TD friends to dance the night away!  Drink vouchers available for anyone 21 and over. 
Saturday 4/22 10a-6pm Mott Woolley Six Flags Trip
With just one more week of classes to go… great trip to release some pre-finals stress!  Make sure to sign up and pay your $10 fee in the TD Head of College office.  Bus departs the Temple Street gate at 10am!
Form: https://docs.google.com/a/yale.edu/forms/d/1VsbC2IKmVL__eM5upg93FQC106DFGStosNhWlzlY-ts/viewform?edit_requested=true
Sunday 4/23 2pm Kay's Senior Recital (TD House)
Come hear TD senior Kay Nakazawa perform in her senior violin recital.  We'll hear a wonderful selection of pieces by Ysaÿe, Brahms, Ravel.
Sunday 4/23 3:30-5pm TD Crawfish Boiln (TD Courtyard)
An annual TD tradition!   Whether you come for the crawfish, the wonderful vegetarian sides, or the music and company – you will have a great deal of fun!
And please save the date for some great events next week:
Tuesday 4/25 5:30-7pm Courtyard Farewell BBQ for the McCormicks 
A special dinner to honor the many years of incredible service that David and Lanch McCormick have given TD.  Please remember "family dinner" protocol will be in effect so the dining hall will not be accepting dinner transfers.  We will go inside in case of rainy weather… but let's hope for plenty of sunshine!
Friday 4/28  TD Day (TD Courtyard)
Another great TD tradition!  Celebrate the last day of classes with bouncy houses galore accompanied by a great cookout, pop corn, cotton candy, and ice cream. 
Sunday 4/30 TD 2-4pm Block Party (Temple between Grove & Wall)
We are celebrating the new crosswalk on Temple and Wall by throwing a neighborhood block party!  We're working on closing the street to set up lemonade, cookies, and chalking!
Without further ado, here is a word from Dean Mahurin… 
Áshe,
HoC Lui
******
 
"What I'm saying is right and true.  Good and important."  (ZZ Packer)
---
IMPORTANT DEADLINES
Apr. 21

F

Last day to convert from the Credit/D/Fail option to a letter grade in a course offered in the second half of the term. See Grades.

Apr. 28

F

Classes end, 5:30 p.m.; reading period begins.
Last day to withdraw from a full-term course or a course offered in the second half of the term. See Withdrawal from Courses and Grades. 

May 1

M

Applications for fall-term Leaves of Absence due. See Leave of Absence, Withdrawal, and Reinstatement.

May 4

TH

Reading period ends, 5 p.m.
Final examinations begin, 7 p.m.†
Deadline for all course assignments, other than term papers and term projects. This deadline can be extended only by a Temporary Incomplete authorized by the student's residential college dean.

May 10

W

Examinations end, 5:30 p.m.
Deadline for all term papers and term projects. This deadline can be extended only by a Temporary Incomplete authorized by the student's residential college dean.

May 11

TH

Residences close for underclassmen, 12 noon.
---
THE RICHARD MAXWELL PRIZE FOR TRANSLATION AND TRANSLATION STUDIES 
 
A $500 prize, open to any undergraduate student in Yale College, shall be awarded annually to the best essay in Translation Studies or to the best Literary Translation.  "Translation studies" is understood to include theoretical and historical questions involving language, culture, and medium, while "literary translation" encompasses all genres, so long as the chosen work is deemed substantial.  Submissions that combine actual translation and reflections on issues raised or exemplified by the process are welcome.
Submissions must include: (1) a cover letter with basic information about the student's studies/major and about the context in which the essay/translation was written; (2) a translator's introduction describing the intellectual, historical, and/or technical context of the translated text; (3) a copy of the translated text(s) in the original language, as an appendix to your translation; (4) annotation, as deemed relevant, for literary translations.  Please submit three hard copies of work to the Comparative Literature Department office by Friday, April 28.  The prize will be presented along with other Comparative Literature prizes at the department's Spring reception in early May.
 
The Richard Maxwell prize for Translation and Translation Studies commemorates the scholarly and pedagogical legacy of Richard Maxwell (1948-2010), an exceptionally wide-ranging undergraduate teacher, scholar and critic. He was an historian of the novel, of visual culture, and of urban life, and a critic of poetry and film.  Moreover, during his final illness he dictated an experimental novel about architectural, literary, and film life in 1950s Los Angeles. Richard Maxwell believed deeply in the discipline of Comparative Literature and the ideal of world literature, and he championed his Yale students as aspiring translators, critics, and writers.
---
ELIZABETHAN CLUB ESSAY PRIZE FOR A YALE UNDERGRADUATE STUDENT 
The Elizabethan Club at Yale University, awards two Prizes for the best undergraduate student term paper or senior thesis/project on a subject of interest to the Club:
Outstanding work on literature, arts, or culture of the Renaissance.
Outstanding work on interpretations, re-creation, or criticism relating to literature, arts, and culture of the Renaissance.
Outstanding work based on research done in the Elizabethan Club Library (used at the Beinecke Library).
Work from any department is eligible and nominations can come from faculty, advisors, or the students themselves. The competition is open to all Yale students, regardless of department. They do not need to be members of the Club.  The winner will receive a $1000 prize.  In order to be considered for this prize, the following deadlines must be met:
By 4 P.M. on Friday, May 12: Submit an electronic copy of a completed paper or dissertation by sending it as an email attachment to eliz.club@yale.edu. Please use the subject line "Elizabethan Essay Prize, Undergraduate".
For each submission, a letter of nomination or reader's report from the department should also be sent to eliz.club@yale.edu. Please use the subject line "Elizabethan Essay Prize, Undergraduate—Nomination".
Papers received after 4 P.M. that day cannot be considered because of the tight deadlines under which the selection committees must operate.
If you have questions or for additional information contact
Joseph W. Gordon
jwgordon1229@gmail.com
President of the Elizabethan Club
---
NEW MB&B COURSE (WR CREDIT)
Professor Carl Zimmer is a columnist for the New York Times. He is also the author of 13 books and hundreds of articles for magazines including National Geographic, The Atlantic, and Scientific American. His journalism has earned awards from the National Academies and the American Association for the Advancement of Science. Zimmer has also taught science writing at Yale to both undergraduates and graduates since 2008. You can learn more about his interests and accomplishments here (http://carlzimmer.com/). Because the seminar class is capped, Professor Zimmer requires applications due Aug. 16. 
MB&B 459a/EVST215/ENG459, Writing about Science, Medicine, and the Environment  Carl Zimmer
Advanced non-fiction workshop in which students write about science, medicine, and the environment for a broad public audience. Students read exemplary work, ranging from newspaper articles to book excerpts, to learn how to translate complex subjects into compelling prose.   Prerequisites:  Admission by permission of the instructor only.  Applicants should email the instructor at carl@carlzimmer.com with the following information:  1. One or two samples of nonacademic, nonfiction writing. (No fiction or scientific papers, please.) Indicate the course or publication, if any, for which you wrote each sample.  2. A note in which you briefly describe your background (including writing experience and courses) and explain why you'd like to take the course. WR  T 9:25-11:15.
 
---
MB&B STUDY HALL
MB&B will hold an "MB&B Study Hall" on Wednesday, May 3 from 2:30 to 4:30 p.m. in BASS 405, 260 Whitney Avenue (not Bass Library).  MB&B Professors from our spring courses, the DUS and Registrar, as well as the undergraduate advisors will be present to answer all of your questions, whether they are review questions in preparation for final exams, help with term papers, or questions about next term's curriculum!  We welcome all students taking MB&B spring courses, students majoring in MB&B and/or students interested in the major! Refreshments will be served.
---
COLLEGE NIGHT:  

THURSDAY, APRIL 20

, 

4 TO 9 P.M.
Registration and check-in for pre-registrants begins at 3:30 on Broadway Island, across from Apple/J.Crew/Urban Outfitters. There will be FREE Yorkside Pizza, Ashley's Ice Cream, Insomnia Cookies, Chips & Salsa, Henna Tattoos, Fortune Telling and much, much more! Plus one-night-only exclusive discounts to retailers & restaurants. There will also be a raffle with a grand prize of an iPad, gift cards and product items from The Shops at Yale retailers and restaurants that will begin at 9 p.m. on Broadway Island. 
This is a great opportunity for you to explore the Chapel and Broadway District as well as meet other students from other colleges and universities in the area. This event would also serve as a great study break, with many fun activities planned to help you take a breather from the stress of college demands and exams, etc. 
For more information see attached document. To pre-register, visit http://theshopsatyale.com/collegenight/ .
---
---
CIPE
Office of Career Strategy:
Announcement
Yale is retiring its old travel registration database and moving to a new system built on the software platform Veoci.  Prior to recording travel in the new system, you will need to create and set up a user account. Access and instructions for setting up an account on Yale's new travel registry are at http://world-toolkit.yale.edu/yale-travel-registry-instructions.  The account setup is a one-time process and takes less than 5 minutes.  If you have any difficulties, try a different browser or contact Carolyn Marks.
An Entrepreneur's Prescription for Biopharma with Vivek Ramaswamy, CEO, Roivant Sciences-Hosted by CBIT
Thursday, April 20, 2:15pm-3:15pm, Center for Engineering Innovation and Design (CEID), Room M105
Fireside Chat with Vivek Ramaswamy, CEO, Roivant Sciences
Thursday, April 20, 4:15pm-5:15pm, Yale School of Management, Room 4400
Fellowships and Funding:
The IRB Application Process
Monday, April 17th at 12:30 @ CIPE, 55 Whitney Avenue, 3rd Floor – last chance this semester
In this information session, a Regulatory Analyst from the Human Subjects Committee will guide you through the IRB application process. There will be time for Q and A in this session, so feel free to come with any questions specific to your project and application. Add the final IRB Application Process session of the semester directly to your calendar.
Fulbright Information Sessions
Tuesday, April 18th at 12:30 PM @ CIPE, 55 Whitney Avenue, 3rd Floor
Monday, April 24th at 4:00 PM @ CIPE, 55 Whitney Avenue, 3rd Floor
Wednesday, May 3rd at 12:30 PM @ CIPE, 55 Whitney Avenue, 3rd Floor
Fulbright Grants offer many terrific postgraduate opportunities—from scientific research to the practice of an art to the teaching of English in more than 160 countries. Start by getting the inside scoop from Yale College's Fulbright Program Advisers and past winners. Deadlines begin in August, so now is the time to start the process. Add a Fulbright session directly to your calendar.
Schwarzman Scholars Program
Thursday, April 20th at 4:00 PM - Live Webinar, register here.
Tuesday, May 16th at 1:00 PM – Live Webinar, register here.
Inspired by the Rhodes Scholarship, Schwarzman Scholars is an international scholarship program designed to prepare future leaders for success in a world where China plays a key global role. The program will give young leaders from around the world the opportunity to develop their leadership skills through a fully-funded one-year Master's Degree at Tsinghua University in Beijing. No knowledge of Chinese is required. Add a Schwarzman Scholars session directly to your calendar.
Writing for National Fellowships
Friday, April 21st at 12:30 PM @ CTL, 301 York Street, Room M104 A – last chance this semester
Thinking of applying for national fellowships like the Fulbright, Marshall, Mitchell, Rhodes, Schwarzman, Beinecke, Goldwater, or Truman? Get a leg up on your application essays with insights and advice with experts from the Center for Teaching and Learning. Add a Writing for National Fellowships session directly to your calendar.
Rhodes & Beyond: UK Postgraduate Fellowships Information Sessions
Monday, May 1st at 12:30 @ CIPE, 55 Whitney Avenue, 3rd Floor – last chance this semester
There are UK fellowship options post-graduation in almost any subject, scientific research, and more—for US citizens and international students alike. Get the inside scoop from Yale's UK fellowships adviser and past winners. Deadlines begin in August, so now is the time to start the process. You must attend a Rhodes & Beyond Information Session before you can meet with Yale's UK fellowships adviser for a one-on-one appointment. Add a Rhodes & Beyond session directly to your calendar.
Study Abroad:
International Summer Award
The deadline to receive International Summer Award applications is May 1st.
The International Summer Award (ISA) provides a stipend for one summer experience abroad for all eligible undergraduates receiving Yale financial aid. For information, and to review the application process and deadlines, please visit the ISA website. ISA questions should be directed to MyCIPE@yale.edu.